Estimated read time: 6-7 minutes
SALT LAKE CITY — As Rev. Jacques Richards listed off a long list of accolades and accomplishments in Rev. France Davis's life to date — something that took quite a few minutes to do — a thought popped into Jody Wilkinson's mind as he sat in a pew nearby inside the Calvary Baptist Church.
It had everything to do with a block of Harvard Avenue outside the church now named after his dear friend.
"I thought. 'This isn't a big enough road,'" he said, garnering a chuckle from the audience inside the building. "We need a big large boulevard somewhere, or something like that, to really size up the level of accomplishment this gentleman has had."
Wilkinson was among the dozens of family, friends, church congregants, state legislators and Salt Lake City leaders who came to the chapel Thursday to celebrate the renaming of the street in honor of Rev. Davis.
The section of 1110 South in the city from Main Street to State Street now reads "Pastor France Davis Way" in honor of Rev. Davis, who served as the church's pastor for 46 years before retiring in 2019. He remains the longest-serving pastor in the church's history, which dates back to 1898.
While his friend Wilkinson, whose car dealership is across the newly named street from the church, joked there was enough reason to name a bigger street after the former longtime pastor, Rev. Davis said he's touched the city would name a section that can still be seen by Salt Lake City's two most prominent streets: State and Main.
"Today means the world ... that's a great honor," Rev. Davis said, standing feet from a version of the sign he was gifted by the city as a memento. "It means a lot not only me but those who stand beside me — my wife, my children but the whole community — in order to effectuate meaningful change in the community."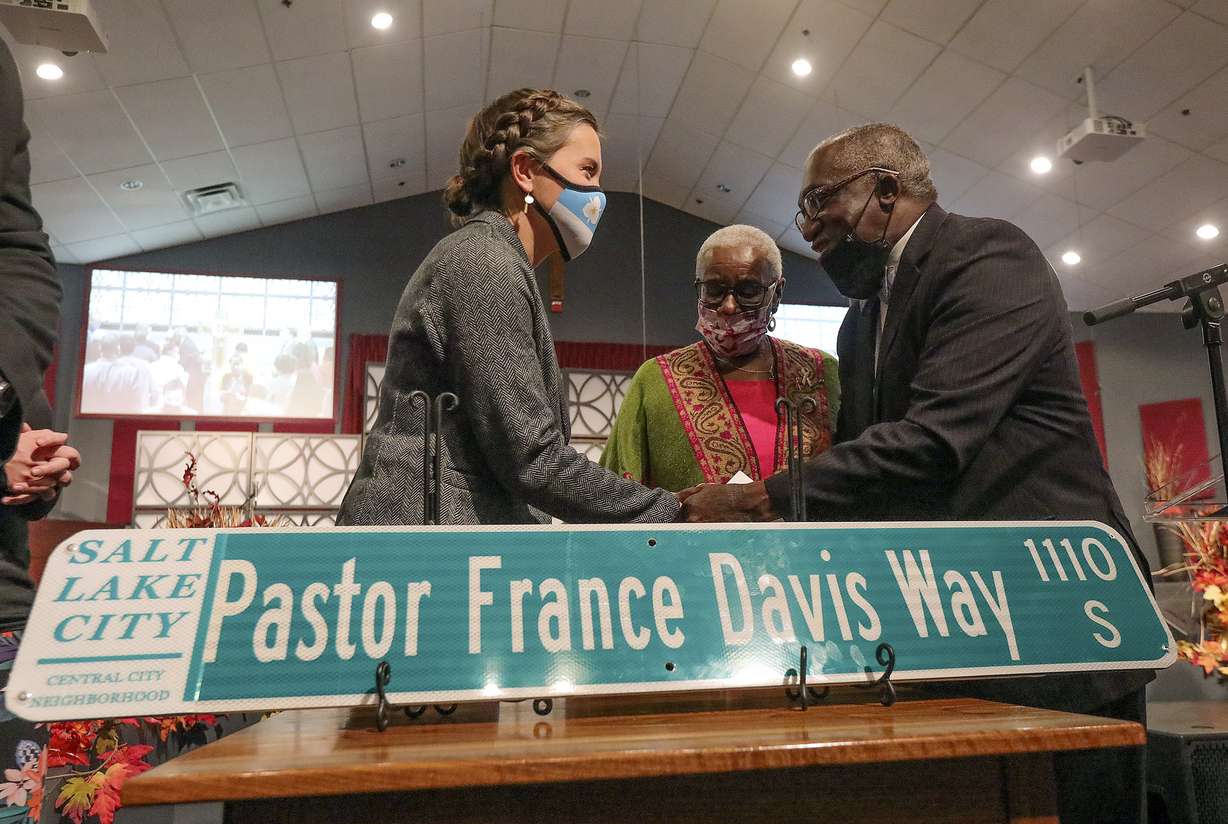 Salt Lake City Council Chairwoman Amy Fowler said the city doesn't take renaming streets lightly. They look to honor a person's "genuine integrity and how their life strengthens our city." So it's easy to see why the city was very welcome to the idea of naming a street after Rev. Davis.
The street may be small but it's clear his impact on Salt Lake City — and Utah — has been huge.
Rev. Davis' impact on Utah
Prior to arriving in the Beehive State, the Georgia native participated in the civil rights movement of the 1960s, including marching along with Martin Luther King in Washington, D.C., and from Selma to Montgomery, Alabama. Salt Lake City, by the way, named 600 South after King years ago; it runs just a few blocks north of Pastor France Davis Way.
"I learned a great deal by marching with him about what life is really all about for all of the people," Rev. Davis recalled of those times Thursday. "He said that injustice anywhere is injustice everywhere."
That's a spirit Rev. Davis brought with him to Utah. In 1972, he arrived in Salt Lake City as a teaching fellow and University of Utah graduate student. It wouldn't take long for him to be the interim and then permanent pastor for Calvary Baptist Church, which has kept him in Salt Lake City for nearly five decades now.
---
If we could just clone him, it would be a beautiful thing. I've never seen somebody so endlessly, unselfishly serving the people, the public, individuals, I don't know where he gets all the energy.
–Rev. Jacques Richards
---
Salt Lake City Mayor Erin Mendenhall said Rev. Davis has inspired "thousands and thousands" of people throughout those years.
While he remained a pastor, he also served as a faculty member at the University of Utah, on the Utah State Board of Regents and many in other roles for the city and state. He has a plethora of honorary degrees; in fact, he's received at least one from nearly every state university in Utah. Most recently, he was named a core member of the Salt Lake City's Commission on Racial Equity in Policing, formed last year following the murder of George Floyd in Minnesota.
Despite having a busy schedule, congregants of the church say he has always been there for them.
"There are no words to describe Pastor Davis, and I'm very serious. ... If we could just clone him, it would be a beautiful thing," Richards said. "I've never seen somebody so endlessly, unselfishly serving the people, the public, individuals — I don't know where he gets all the energy. I have no clue."
Shawn Newell — a Utah System of Higher Education board member, candidate in the upcoming Cottonwood Heights election and Calvary member — shared a story about the first time he met Rev. Davis back when Newell was a University of Utah student in the 1980s and all the times Rev. Davis has checked in on him over the years.
"When I think of Pastor Davis, I think about love. And I think about the meaning behind love and work that goes behind love," Newell said of his friend and mentor.
Renaming a street
The process to rename the block outside of the church's building began in 2019, about the same time as Rev. Davis retired. Newell said other leaders of the church proposed the change. Mendenhall added that the city "probably would have done it faster than the public process allows" if it could. City leaders passed the measure without hesitation when it finally came up for a vote in August.
Prior to unveiling a sign gifted to Rev. Davis, Mendenhall said she is thrilled that thousands of motorists will pass by the new street signs annually for generations to come.
"For us to put an outward facing symbol of this great man that will last as long as our city is called Salt Lake City, what an incredible honor," she said. "And what a symbol of hope and faith and joy for all those who haven't met this person yet and don't maybe know yet of the ways he is always impacting their lives."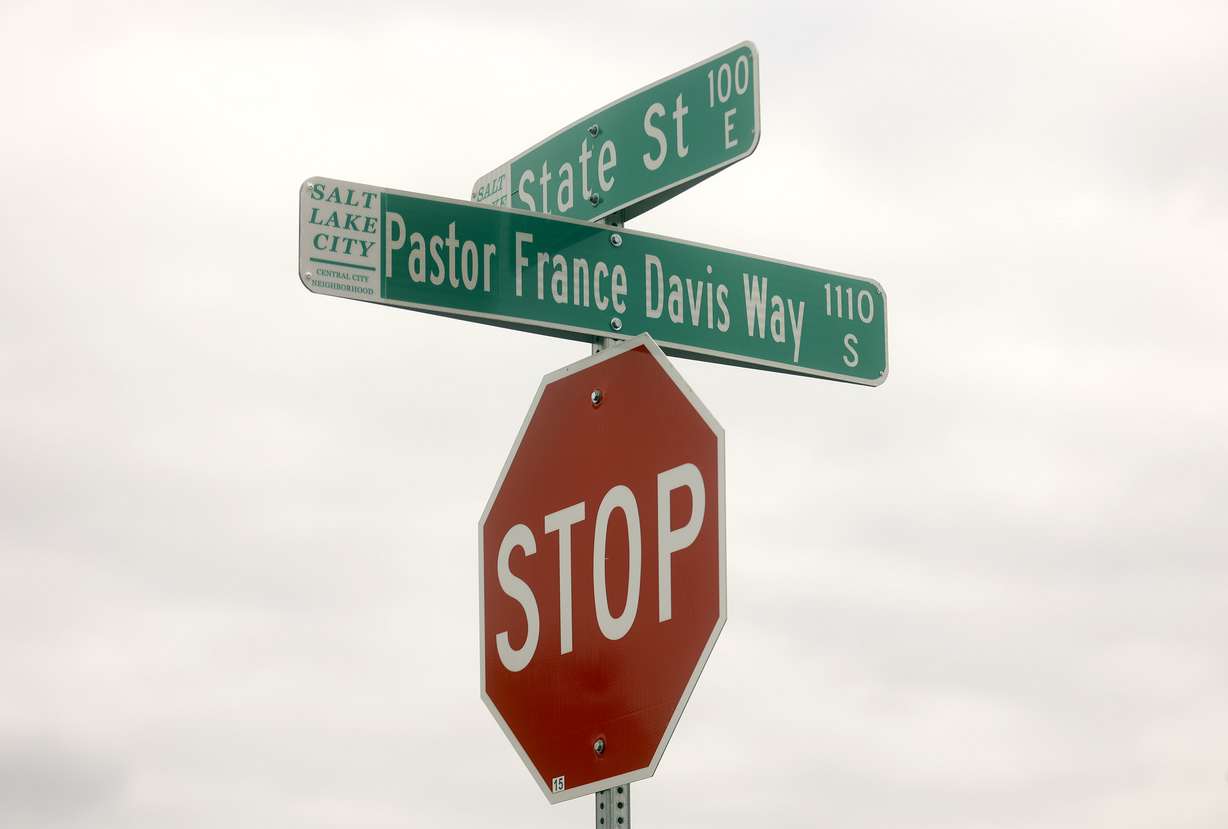 After accepting the sign, Rev. Davis spent the event thanking his wife, Willene, and his family for their support. The man of the hour also deflected most of his time off himself, thanking all sorts of friends and colleagues for their time and effort in various endeavors. He also asked those in attendance to continue to wear their masks and get vaccinated — including booster shots — following the COVID-19-related death of his daughter, Carolyn, in August.
As for the sign he was given, Rev. Davis said that he'll find a place for it at home. It's something that he can look at almost as an award for his life's work.
"The sign will just hang perhaps on my door," he said. "For sure, it'll be a reminder within the house that there are others who honor me for what I've done."
×
Photos
Related Stories