Estimated read time: 4-5 minutes
This archived news story is available only for your personal, non-commercial use. Information in the story may be outdated or superseded by additional information. Reading or replaying the story in its archived form does not constitute a republication of the story.
SALT LAKE CITY — Halloween is right around the corner, which means so are Halloween parties. Whether you are attending a party or not, make the holiday even more fun by getting in the kitchen and making a fun Halloween recipe together.
Even if you don't have kids at home, there is sure to be someone around who is a kid at heart. These 13 Halloween kid-friendly snack and treat recipes are sure to be a hit with kids of all ages!
Kids will certainly enjoy sipping on some of this green witches brew. Little will they know, this fun concoction from registered dietitian nutritionist Betsy Ramirez not only tastes yummy, but it contains good-for-you ingredients like spinach, banana and milk that will help give them the nutrients they need to fuel their day.
These cute monsters from registered dietitian nutritionist Mary Ellen Phipps make for a fun activity to make with your kids and double as a fun treat to eat when you're done. You can get creative with different toppings to make your monster your own.
This bark from registered dietitian nutritionist Rebecca Clyde is a great way to use up leftover Halloween candy. The secret ingredient of toasted quinoa adds a fun crunch and pleasant nutty flavor, plus some nutrients like fiber, plant-based protein, manganese, phosphorus and folate
This recipe from registered dietitian nutritionist Chelsea Jackle takes the Halloween classic of caramel apples and reimagines it into a delicious trail mix. Full of whole grains, fiber, healthy fats and the perfect balance of sweet and salty, this Halloween trail mix hits all the marks.
If you are a fan of the kid-friendly afternoon snack of ants on a log, you won't want to miss out on this Halloween version from Andrea Mathis, a registered dietitian nutritionist and licensed dietician. Swapping out the raisins for some spooky eyes takes this healthy snack to the next spooky level.
Naturally sweetened with dates, these pumpkin balls from registered dietitian nutritionist Elysia Cartlidge make for a delicious fall snack for both kids and adults. Using your food processor or high-powered blender, this simple recipe is a breeze to make.
These sweet apple nachos from registered dietitian nutritionist Judy Barbe won't last long at your next gathering. With plenty of crunch and a mix of sweet and savory, they're sure to be a hit for kids and adults alike.
Get in the Halloween spirit without too much added sugar with these candy corn fruit parfaits from registered dietitian nutritionist Kristy Hegner. With only three ingredients, the kids will have fun helping make them and even more fun eating them.
Simple, yet spooky and fun, these "BooNana" ghost pops from registered dietitian nutritionist Katie Sullivan Morford are sure to be a hit with the kids. Covered in yogurt with mini chocolate chips for eyes, this healthy recipe will help put you in the Halloween mood.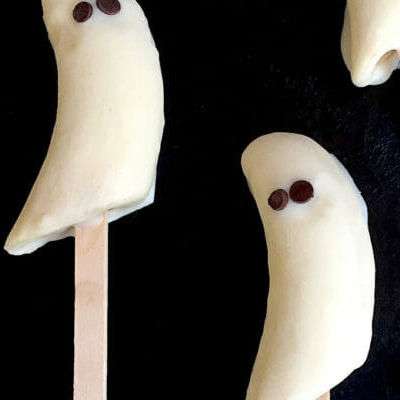 Take a break from the sweet and enjoy some savory with this Halloween guacamole from registered dietitian nutritionist Christie Gagnon. Choose between two different designs for this simple Halloween dip, which is easy to make and a fun way to get in some healthy fats, fiber and flavor.
Kids will surely love this Halloween treat from registered dietitian nutritionist Anne Mauney. These maple brownie Halloween spiderweb cookies use whole-wheat pastry flour, which adds fiber, vitamins and minerals without sacrificing flavor or texture. Make the spider web design, or Anne also shares an easy mummy design if little kids want to help.
Bring on the Halloween vibes with this orange and purple Halloween popcorn mix from Andrea Mathis. Whether you're having a family movie night or a Halloween bash, this delicious sweet and savory treat won't last long.
What is Halloween without pumpkin? These pumpkin chocolate chip muffins from registered dietitian nutritionist Stacey Mattinson cut down on added sugars by replacing some of them with unsweetened applesauce. Use Halloween-themed muffin liners to add in more Halloween fun, or make these into mini-muffins (be sure to decrease the baking time), making them the perfect size for little mouths to eat.
---
---
Editor's Note: Anything in this article is for informational purposes only. The content is not intended, nor should it be interpreted, to be a substitute for professional medical advice, diagnosis, or treatment. Always seek the advice of your physician or other qualified health provider with any questions you may have regarding a medical condition; Any opinions, statements, services, offers, or other information or content expressed or made available are those of the respective author(s) or distributor(s) and not of KSL. KSL does not endorse nor is it responsible for the accuracy or reliability of any opinion, information, or statement made in this article. KSL expressly disclaims all liability in respect to actions taken or not taken based on the content of this article.
×
Photos
Most recent Lifestyle stories