Estimated read time: 5-6 minutes
SANDY — At times during the season, Miya Turner was buried on the depth chart as Morgan High's third goalkeeper during the Trojans' 16-2 season.
Other times — as recently as last month, when she had surgery on her appendix — she was completely off it.
But the Trojans sophomore bided her time and knew her chance would come to defending Class 3A state champions.
That chance came Thursday afternoon.
Turner had five second-half saves — and caught a good bounce with a penalty kick off the crossbar in the final moments — to help Morgan advance to the 3A championship match for the fourth consecutive year with a 2-1 win over Real Salt Lake Academy at Jordan High.
"I'm not gonna lie, I was really nervous. I've been stressing about it since our starting goalkeeper went out," said Turner, who saw most of her minutes with Morgan's JV squad during the regular season. "But I knew that if the team came together and we all worked together, it would work out.
"I just knew I had to keep working. No matter what happened, someone could get hurt. You've just gotta keep pushing yourself, because eventually your time would come."
Aspen Telford and Brecklee Charlton scored a goal in either half, and Kaydence Wardell had an assist for the Trojans (17-2).
But it was Turner's heroics who preserved the win, especially after Taija Anderson pulled one back for the Griffins (13-5) in the 64th minute.
That capped off a heavy run of possession and pressure by RSL Academy that extended back to the final 10 minutes of the first half when Turner pushed aside back-to-back corner kick attempts to maintain a 1-0 halftime lead on Telford's rocket in the first 10 minutes.
"She did great. Some of those saves were incredible," Morgan coach Bryan Searle said. "She had a first-half save with her left hand was incredible.
"We have three really good keepers, and all of them probably could start. But her commitment is great. (Turner's) been out up until about 5-6 days ago — we didn't think she'd be ready to go for this one. But she was great; she was outstanding out there."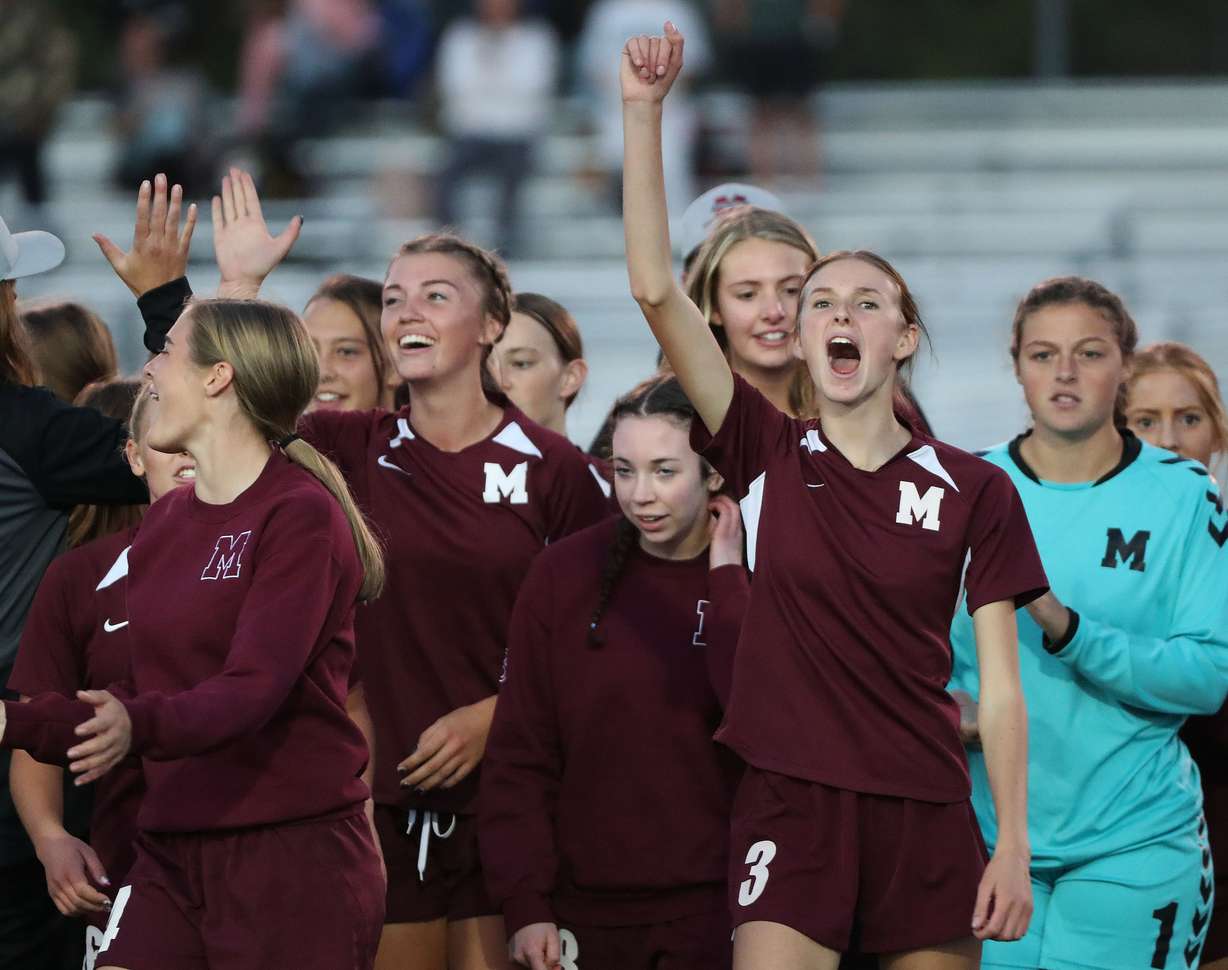 After Anderson's goal, the Griffins continued on the offensive, seeking the equalizer. Turner saved a shot from distance in the 74th minute, added another on an intercepted cross in the 77th minute, and then faced RSL Academy striker Maia Case after a penalty kick was awarded with just over two minutes remaining.
But Case's strike caromed off the underside of the crossbar, and Turner corralled the ensuing effort to force a corner kick that went nowhere as the Trojans held on for another title match tilt.
"You can't do much on the line; the ref will get mad at you," Turner said. "But I knew that if I put my arms out, she'd think I'm big. You just try to fill up the goal so she doesn't think she has anywhere to shoot."
The Trojans will face Ogden in Saturday's 3A championship at 2 p.m. MT at Rio Tinto Stadium.
Ogden 3, Canyon View 0
At Jordan High, Ruth Larsen had a goal and two assists — assisting on nearly the same play — a cross from the left corner to an open attacker to send the Tigers through to the 3A championship.
Larsen's cross to Tori Kalista opened the scoring in the 23rd minute with a near-post finish, and Grace Pulley doubled the advantage with a similar one-touch effort in the 36th minute.
"It's something we've worked on all season," Larsen said. "We just try to get as many people in the box, and then trust your teammates to know that they'll be there no matter what."
Credit to the passer, too.
"I think that's just her soccer IQ," Ogden coach Ryan Robinson said. "She plays a lot of soccer, and when the goalie chases her out wide like that, we know we have to have runners there.
"You just create spaces and fill spaces. By Ruth going out wide and the keeper following, there was a big space in the middle. Ruth put the ball in the space, and Grace knew to be there."
Larsen did it herself in the 68th minute, dribbling at an on-rushing goalkeeper and trickling a shot on goal that put the Tigers up 3-0.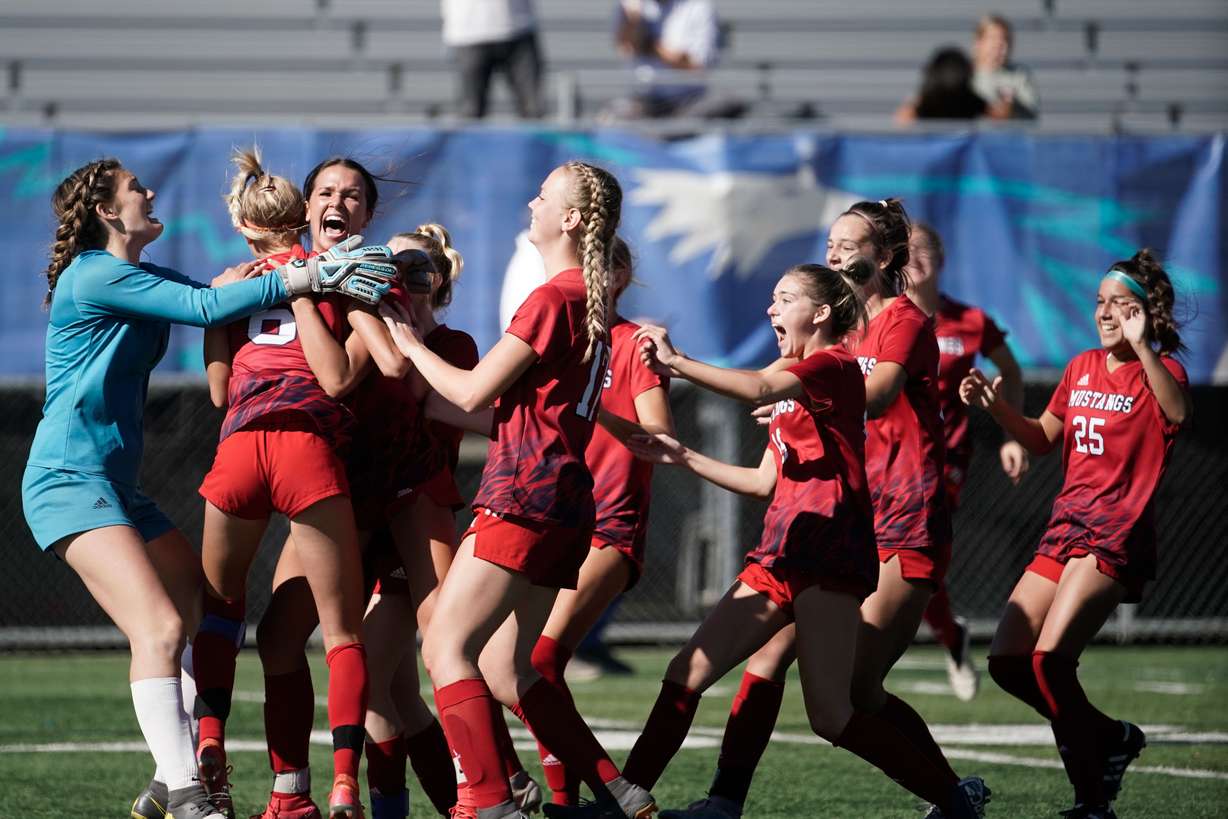 Class 4A semifinals
Kate Young scored a first-half goal, and the top-seeded Mustangs held off the Bobcats 3-2 via penalty shootout to advance to Friday's 4A championship.
Mia Morrison scored on an assist from Delaney Gibbons for Sky View (12-8).
Crimson Cliffs (17-2) will face Mountain Crest at 5 p.m. MT Saturday at Rio Tinto Stadium.
Dakota Andersen had a shutout through regulation, and Mountain Crest survived Region 11 rival Ridgeline on a penalty shootout after scoreless regulation.
Lily Loyet also had a shutout for Ridgeline, which fell 6-5 on penalty kicks.
Class 2A semifinals
At Juan Diego, Summer Connery scored three goals, and Zakrie Smith added a brace as the Winged Lions cruised past American Heritage and into Saturday's 2A championship.
Paige Connery added a goal for Rowland Hall (13-3), which scored three goals in each half.
Isabel Straton had a brace for the Patriots (8-4).
The top-seeded Winged Lions will face Waterford in the 2A championship match Saturday at 5 p.m. MT at Rio Tinto Stadium.
At Juan Diego, Seven Castain scored four goals, and Molly Mascardo notched a brace as the Ravens overwhelmed the Eagles in the other 2A semifinal.
Adeline Lin and Grace Morris each added a goal for Waterford (13-2), which has faced Rowland Hall in each of the last five 2A championships.
×
Photos
Related Stories