Estimated read time: 5-6 minutes
PROVO — A man acquitted of murder last year after he shot and killed another man in the doorway of his apartment is no longer facing a perjury charge after a judge decided to dismiss it mid-trial.
Elbert John Paule, 21, was acquitted of murder in March 2020 after he took the stand in his own defense, stating that when he shot and killed Dominique Barnett, 26, near his apartment door in self-defense. He was convicted of obstructing justice, a second-degree felony, and remains in Utah State Prison.
Following the murder acquittal, Paule was charged with two counts of perjury, a second-degree felony, for statements he made during the trial. One count was dismissed earlier and the other was considered in a jury trial this week.
Judge Robert Lunnen, however, dismissed the second perjury charge Friday following testimony from the prosecution's witnesses. Lunnen determined that a reasonable jury would find that Paule was "not sure" when he answered questions during his previous trial about where Barnett was standing when Paule shot him and that Paule was not making any knowing or recklessly false statements, as the charge claimed.
Lunnen said that making a directed verdict to dismiss the case, as he did in this instance, is "very, very infrequent." Lunnen said he has not made a directed verdict on any previous cases and that he did not make the decision lightly.
Marissa Marquez, Paule's mother, expressed gratitude following the judge's decision and said that she and her family feel "so blessed."
"This is a young kid that was starting his life out. He had big hopes and dreams," Marquez said. "He was going to the university, to college. He was pursuing a boxing career. He wanted to serve his country to get in the military. And all of this changed because of what happened."
According to testimony at both trials, Paule shot and killed Barnett with a 12-gauge shotgun near the entrance to Paule's apartment at the Parkway Lofts Apartments near Utah Valley University. The two men were friends, and Barnett was allegedly coming over to the apartment to address a disagreement they had talked about on the phone.
Among the questions presented at trial this week was whether Paule gave false statements in the previous trial regarding who opened the door and whether Barnett stepped into the apartment or was coming toward Paule before Barnett was shot.
On Friday, Lunnen ruled that Barnett was outside, as the prosecution argued, but the judge said this determination is not material to the perjury charge against Paule claiming that he lied at the trial about Barnett entering the apartment before he was shot.
At the previous trial, when asked about Barnett moving toward him before he fired the shotgun, Paule said, "maybe a foot, like I said, everything happened so fast," and later "who knows, I'm not sure." Lunnen noted that these answers were in response to leading questions.
"Based on the transcript that I have before me," Lunnen said, "no reasonable jury could find that these statements are so reckless … that they're a false statement or that he intended them to be a false statement."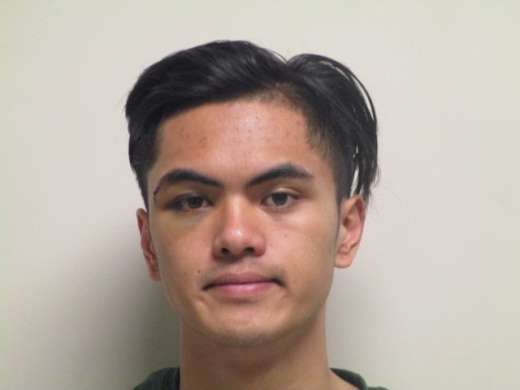 This judge's decision restored Paule's family's faith in the justice system, said Paule's aunt, Jasmin Elpano. She and Marquez attended the murder trial last year and said that they were frustrated about the evidence that was allowed to be presented in this trial.
"When all these things were happening to my nephew, we just felt like, 'Oh, my gosh. Why do they keep pursuing something like that?' You know, he was already acquitted. It was self-defense. But then the (district attorney) still wants to continue," Elpano said.
She said this ruling helped her family believe that "there's still good people out there in the justice system that want to do it right."
---
There's still good judges, still good people out in the judiciary system even though what we went through was really hard.
–Marissa Marquez, mother of Elbert John Paule
---
Marquez said multiple members of her family sacrificed to finance Paule's defense, paying between $70,000 and $80,000 upfront and additional money for the second trial. Members of the family withdrew money from their retirement plans, she said, in addition to taking time off work to travel from California to Utah for the trials and to visit Paule to help support him.
"We can't just give up on family," Marquez said.
Paule is still incarcerated while waiting for Friday's decision to be processed, which could take months according to Marquez. Although she says Paule has served more time than should be given for the one charge of obstruction of justice he was found guilty for, he was kept in prison because of the additional perjury charges.
Marquez said that Paule hopes to go back to school; he was enrolled at UVU before he was arrested but had not yet started taking classes. She said he has talked about studying economics or business, becoming a defense lawyer after his experience in a trial or being a therapist to others who are in the prison system or are dealing with things that he has gone through.
She also expressed gratitude for the lawyers and the investigator who have helped her family through this process, adding they want to share a message of hope with other families who are going through a similar situation and encourage them not to give up.
"There's still good judges, still good people out in the judiciary system," Marquez said, "even though what we went through was really hard."
×
Photos
Related Stories