Estimated read time: 4-5 minutes
AMERICAN FORK — McCae Hillstead was as motivated as he's been all year, putting in perhaps his best week of practice on three days' notice as No. 2 Skyridge traveled to No. 4 American Fork with a shot at a share of the Region 4 title up for grabs.
And one series later, the Cavemen stuffed him on fourth down.
It's not how you start; it's how you finish.
Hillstead ran for three touchdowns and threw for another to help Skyridge to a 42-22 win over American Fork to clinch a share of the league title Wednesday night.
Also with the win, the Falcons (9-1) all-but guaranteed themselves a top-three seed in next week's 6A state playoffs, according to the Deseret News' latest RPI projections.
The final standings and bracket will be revealed by the Utah High School Activities Association Saturday morning. The Falcons' name should be near the top — maybe even at it — after tying with Lone Peak and Corner Canyon atop the Region 4 standings with a 4-1 record.
Not that any of that mattered to Hillstead, either. Maybe a three-game winning streak that dates back to Sept. 24 mattered a little bit, though.
"I try to stay really locked in," Hillstead said while holding the Falcons' WWE-style Player of the Game belt after his four-touchdown night. "Some people may worry about those things, but it's so minute that no one here is really worried about it. We just do our best during the week, and whatever happens, happens. The chips will fall where they will.
"Playoffs, standings, whatever it is; we're going to be back at it, whether we win region or whatever it means."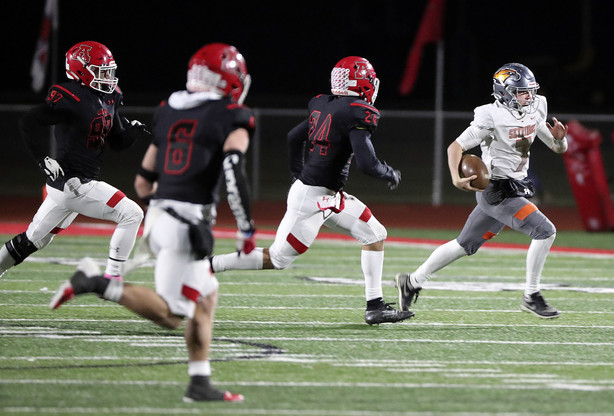 It all came back to a road win over American Fork (6-3, 2-3 Region 4). And that came back to Skyridge's junior signal caller with 1,600 yards and 18 touchdowns through the air.
On Wednesday night, he used his feet, though.
Whether by arm or by legs, Skyridge coach Jon Lehman trusts his signal caller to do his thing in the Falcons' third-highest scoring game of the season and highest since a 44-2 win over Westlake on Sept. 17.
"I thought McCae Hillstead was as sharp as he could possibly be," Lehman said. "Run game, pass game; he was just really comfortable and controlled, even down to the end of just managing clock situations. And defensively, I love how we hung in there with a high-powered offense with a lot of playmakers.
"The decision-making part is all part of the process, and he works really, really hard. This team from American Fork is an awesome football team, and you don't make plays just on instinct, you make plays based on preparation. McCae works really hard to make sure that he's really zeroed in to what he needs to do on each play."
After the Falcons were initially stopped on fourth down, American Fork Maddux Madsen led the Cavemen on a 13-play drive over four minutes, capped by the Boise State commit's 5-yard touchdown pass to Trey Roberts.
But Hillstead responded in a big way, capping a nine-play, 65-yard drive with the final 40 yards on his own two feet to bring the Falcons back. The two-year starting quarterback broke a tackle just past the line of scrimmage and scampered down the American Fork sideline for Skyridge's first score of the game, igniting a 28-0 run that helped turn an 8-0 deficit into a 21-8 halftime advantage and 28-8 advantage on Hillstead's 37-yard run on the Falcons' first drive of the second half.
In between, Hillstead found Jack Hadfield with a 16-yard score and added his second touchdown on a 1-yard keeper near the goal line that put Skyridge firmly in control.
"When we get started like that, we don't get down. We don't get down when we have our pitfalls," Hillstead said. "We stayed up, and the whole time on the sideline, everyone was keeping great energy. Even when we were up 27 points or whatever it was, we were always up.
"It didn't stop the whole night."
Madsen finished the night with three touchdown passes, including two to Roberts and a fourth-quarter score to Maddox Ray that pulled the Cavemen within 35-22 with 7:19 remaining.
American Fork had a chance to cut the deficit even closer after forcing Skyridge to punt. But the Falcons forced a turnover on downs, and Jeter Fenton added a 30-yard run on the next play to put the game away for good with 2:27 remaining.
×
Photos
Related Links
Related Stories