Estimated read time: 5-6 minutes
This archived news story is available only for your personal, non-commercial use. Information in the story may be outdated or superseded by additional information. Reading or replaying the story in its archived form does not constitute a republication of the story.
SALT LAKE CITY — A Salt Lake man arrested and accused of shooting and killing University of Utah football player Aaron Lowe also has a connection to an unsolved murder investigation in Millcreek nearly a year ago, Unified police confirmed Monday.
Although he is not a suspect in that killing, police say they recovered one of the weapons believed to have been used in the fatal Millcreek shooting during one of Buk Mawut Buk's prior arrests in Salt Lake City.
Buk, 22, was booked into the Salt Lake County Jail Sunday for investigation of aggravated murder, attempted murder and discharge of a firearm. He is accused of shooting Lowe, 21, and Lowe's 20-year-old girlfriend multiple times outside a house party on Sept. 26 at 2215 S. Broadmoor Street (2625 East) in Salt Lake City.
In a disturbing jail booking affidavit, police say Buk fired two or three rounds at both victims, then walked up to them after they had fallen to the ground and fired five or six more times to "finish them off." Lowe died at the scene. His girlfriend, whose name has not been released, underwent "extensive surgery," according to police, and remained hospitalized as of Sunday in critical condition.
In the affidavit, police noted that Buk has an "extensive violent criminal history."
That history includes placing ads on social media and other websites to allegedly sell items, and then robbing people when they showed up to buy them, according to court records.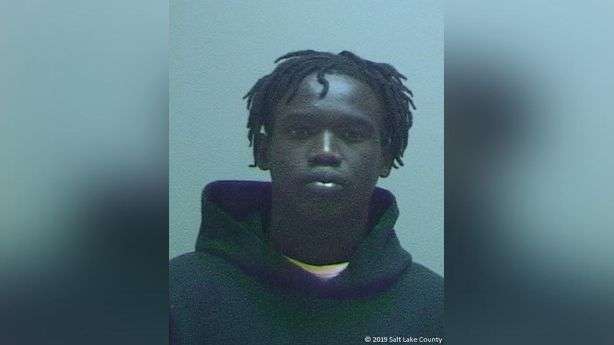 In one case, Buk had set up a fake ad selling a cellphone. On Oct. 12, 2019, Buk and a teenage cousin arranged to meet a father and daughter who wanted to buy the phone. But when they arrived at the arranged meeting place to make the transaction, Buk and the teen robbed them at knifepoint and gunpoint, according to charging documents.
Buk pleaded guilty to a reduced charge of aggravated robbery as part of a plea deal and in exchange, other charges against him were dismissed. On June 8, 2020, he was sentenced to a prison term of one to 15 years, but that was suspended and he was instead placed on probation for three years and ordered to serve a year in jail with credit given for the 240 days he had already served since his arrest.
One of the victims in that case, George Bekmezian, told KSL-TV that he recognized Buk's name when he heard of his arrest on Sunday.
"I saw his name — Buk Buk," Bekmezian said. "To me, it's not a very common name, and 22 years old? I did the quick math. He was 20 two years ago. This is the same guy."
Bekmezian said he felt "frustration, honestly anger, and sad(ness) for Lowe and his family" after seeing that the same man who robbed him and his daughter was already on the streets again.
"If I was (Lowe's) family, I would want to know why this guy is out on the streets today and he was arrested for violent crimes just two years ago," he said.
"This seems to be a recurring theme we read a lot about in Utah," he added. "Violent criminals have minimal sentences, plea deals and they're out on the streets."
"If we had the criminal justice system work, like it was supposed to work, you know, this young man would have had some type of rehabilitation, or some type of intervention in place to stop this behavior," said Chris Jackson, Lowe's brother. Jackson is 16 years older than his brother and said in many ways, his death is like losing a son because he was there for all of the milestones in his younger brother's life.
After his arrest in the Bekmezian robbery, police linked Buk to another similar robbery on May 20, 2019. In that case, Buk arranged to meet a couple who wanted to buy an iPhone from him, and then he robbed the couple at gunpoint, according to charging documents. After Buk was arrested in the Bekmezian robbery, the other couple said they saw a news article on KSL.com about it and recognized Buk as the person who had also robbed them.
Related:
Buk was convicted of another count of robbery, a second-degree felony, for that case and was sentenced to the same conditions as his other case as part of a resolution of all his criminal cases.
Then on Nov. 1, 2020 — five months after he was sentenced for the two robbery cases — investigators say Buk was in a stolen car with four other people that fled from Salt Lake police. The group eventually got out of the car and ran, but were rounded up by officers and arrested.
Police say Buk had been sitting in the back seat of that car. A gun that was stolen out of Cheyenne, Wyoming, on Oct. 14, 2020, was spotted on the floorboard of that car, according to charging documents. Buk also allegedly had ammunition in his pocket.
Despite originally being charged with a felony crime of being a restricted person in possession of weapon, he pleaded guilty to a misdemeanor charge of failing to stop at the command of law enforcement right before his scheduled jury trial. He was given credit for 115 days in jail that he had already served and was released, according to court records.
Unified police confirmed to KSL.com on Monday that the weapon recovered from that incident is believed to be at least one of the weapons that was used in the shooting death of man last year in Millcreek.
In that case, Manuel Felipe Gonzalez-Cortez, 21, of Colombia, was shot to death on Oct. 18, 2020, in front of a car wash near 635 W. 3900 South. No arrests have been made in the case. Ballistic tests, however, matched the gun found in the vehicle Buk was in with the shell casings recovered at the car wash, according to police.
Unified Police Sgt. Melody Cutler said Monday that Buk is not a suspect in Gonzalez-Cortez's death. However, because it is an ongoing investigation, she declined to answer any other questions about the case, including whether detectives had determined how Buk came in possession of the gun and whether any of his associates may be considered persons of interest in Gonzalez-Cortez's death.
Police have requested that Buk remain in the Salt Lake County Jail without bail pending the filing of formal charges from the Salt Lake County District Attorney's Office in connection with Lowe's death.
Contributing: Andrew Adams, Dan Rascon
×
Related links
Related stories
Most recent Utah stories