Estimated read time: 5-6 minutes
SALT LAKE CITY — In a nine-month period, the University of Utah football program has suffered the loss of two of their teammates to tragic shootings.
The two were friends at a Texas high school and shared a special bond outside of the sport they were recruited to the university to play. That bond allowed both Ty Jordan and Aaron Lowe to wear the No. 22 on the field — Lowe switched his number from No. 2 ahead of the 2021 season after Jordan tragically died of an accidental self-inflicted shooting on Christmas.
But after Lowe was tragically shot and killed while attending a private house party in Sugar House on Sept. 26, Utah head coach Kyle Whittingham said Monday in his first public address since Lowe's death that no football player will wear the No. 22 again.
"You won't see anyone wearing No. 22 in this program again, at least as long as I'm the head coach, and we'd like to see that retired permanently," Whittingham said. "That's my wish, and I think you'll see that happen."
The decision to likely retire the number in the football program has the full support of the players, who want to see both Jordan and Lowe remembered past their time with the program.
"It means the world," quarterback Cam Rising said. "Ty and A Lowe, they meant the world to me; I love those guys. They will always hold a special spot in my heart and I'm glad to see that they'll hold a special spot in the university as well."
"I think we should," wide receiver Solomon Enis added. "We had two very significant people wear that jersey, rep that jersey. I would rather have them here at this given moment, but just to honor them and leave a lasting legacy of Aaron Lowe and Ty Jordan, they came through here and they loved every second that they were here. I think it's a great idea and I think we should do it."
The university has already transformed the section 22 portal at Rice-Eccles into a tribute to Jordan, as well as a locker dedicated solely to the former running back in the newly designed Ken Garff Red Zone. Whittingham said the university will look to add something to honor Lowe, as well, but that it will be something that shows the unique bond the two had.
"We're in the formative process of formulating and deciding what we're going to do with Aaron, just like in his remembrance, just like we were with Ty, and I think there'll be some common ground as well that both of them get celebrated in ways," Whittingham added.
"The tragic, devastating loss of Aaron Lowe is still weighing heavy on our hearts here in our program," he added. "We miss Aaron — senseless loss. And for our team to experience the loss that we had less than a year's period of time with Ty and Aaron has been a challenge. It's been a struggle, but we'll get through it."
And for Whittingham, who considers all the players that enters his program as sons, it's "like losing one of your own."
"It's challenging," he said. "A million things go through your head and you just keep going over and over the, you know, essentially the same thoughts and it really brought back Ty's passing. It kind of all is wrapped into one now. So it's been the most challenging year of my coaching career, hands down, without any question at all."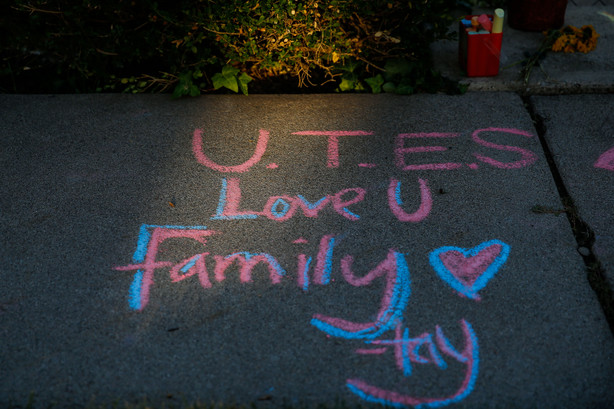 The loss of both players in the program won't be something the coaches or players get over anytime soon — not that anybody is expecting that to happen — but it's something that will be better with time.
"The healing process, the only thing that will heal is time," Whittingham said. "You can do whatever you want to do and as much as you want to do, but time is really the thing that is the ultimate healer."
"We love each other, the whole team's got each other's backs and it's easy to get through times like this because everyone leans on each other and everyone understands what each other is going through," Enis said.
Part of that healing process was meeting early as a Leadership Council — a meeting that took place the Sunday night of Lowe's death — to see how the team wanted to move forward. "Fortunately," as Whittingham said, the team had a bye week to "regroup" and "come to terms with the tragedy." That meeting helped the team forge a path forward in Lowe's absence.
"The best way to heal and the best way to get through this together is to get back to doing what they love and what they're here for. ... Getting back to some sense of normalcy, but at the same time, you never put it out of your mind," Whittingham said, speaking of the team moving forward with football. "It's just a therapy in and of itself, I guess you could say, getting back on the field."
"The Leadership Council thought it was a great idea to just keep pushing forward," Enis added. "We have a big game this weekend — we need this win and we're going to work for it. But life doesn't stop; the sun's gonna come up the next day, so we're just gonna keep working and just lean on each other the best we can."
So while football may seem like the furthest thing on the minds of those within the football program, it's an opportunity to heal and move forward — and most importantly, honor their brothers who wanted nothing more than to play the sport for the University of Utah.
"It's challenging," Whittingham said. "It's a challenge and we've got a lot of football left, and we've got to move forward and carry on."
×
Related Stories