Estimated read time: 7-8 minutes
This archived news story is available only for your personal, non-commercial use. Information in the story may be outdated or superseded by additional information. Reading or replaying the story in its archived form does not constitute a republication of the story.
Editor's note:This article is a part of a series reviewing Utah and U.S. history for KSL.com's Historic section.
SALT LAKE CITY — While COVID-19 continues to pose issues for Utah, the U.S. and everywhere worldwide, there will eventually be a time — perhaps in the not-so-distant future — when it's forgotten.
It'll end up in a section of a history book much like the many pandemics and plagues that have happened throughout the existence of humanity. Since that day will eventually come, Utah historians are already at work cataloging photos and other documents to help future generations understand what it was like to live in this moment.
More than a year into the COVID-19 era, the University of Utah's Marriott Digital Library and the Utah Division of State History have already compiled growing collections that aim to ensure that the unique moments of the COVID-19 pandemic are documented and easy to access decades from now.
"These two COVID projects bridge us in a moment of fractured isolation. They document our diverse presence and, in doing so, bridge us with those in the future by providing them now usable pasts," said Jeff Turner, a University of Utah graduate instructor, during a presentation at the 69th annual Utah State Historical Society Conference last week.
Utah COVID-19 project
The largest so far is the Marriott Library's Utah COVID-19 — a collection of photos and videos, as well as written and oral histories related to the pandemic experience and other facets of life in this era. Since the issues related to COVID-19 are ongoing, the collection is expected to continue to grow with time.
"We're still in the pandemic (and) we're still collecting items," said Rachel Wittmann, a digital curation librarian for the Marriott Library.
Anna Neatrour, the interim head of digital library services at the Marriott Library, explained that she was initially reluctant to begin the project but she and a team of curators ultimately dropped everything else to work on it when they realized the significance of the moment in time. It first started as an idea to collect photos to add to the library's extensive Utah history image archives but expanded into so much more.
She says it's a "unique crowdsource" collection aimed to keep up with how historians in other cities across the globe wanted to preserve history as it was happening. So members of the digital library quickly went to work asking people to submit photos and essays about their experience.
The curators made "strategic choices" as to what to include in the collection so they could ensure there was a wide array of pandemic experiences included in it, Neatrour said. There are now over 1,000 items in the collection as it currently stands. Most of the items are photos that center around subjects like COVID-19 prevention, social distancing and masks.
"Having to wear a mask at a grocery store was a new experience at the beginning of the pandemic, so people were documenting what it was like to go to the store and having to mask up; and also waiting in line to enter the grocery store and staying 6 feet apart from each other for social distancing measures as well, which was very new a year and a half ago," Wittmann said, as she displayed an image in the collection of shopping carts spread 6 feet apart outside of a grocery store to signal where shoppers should be in line.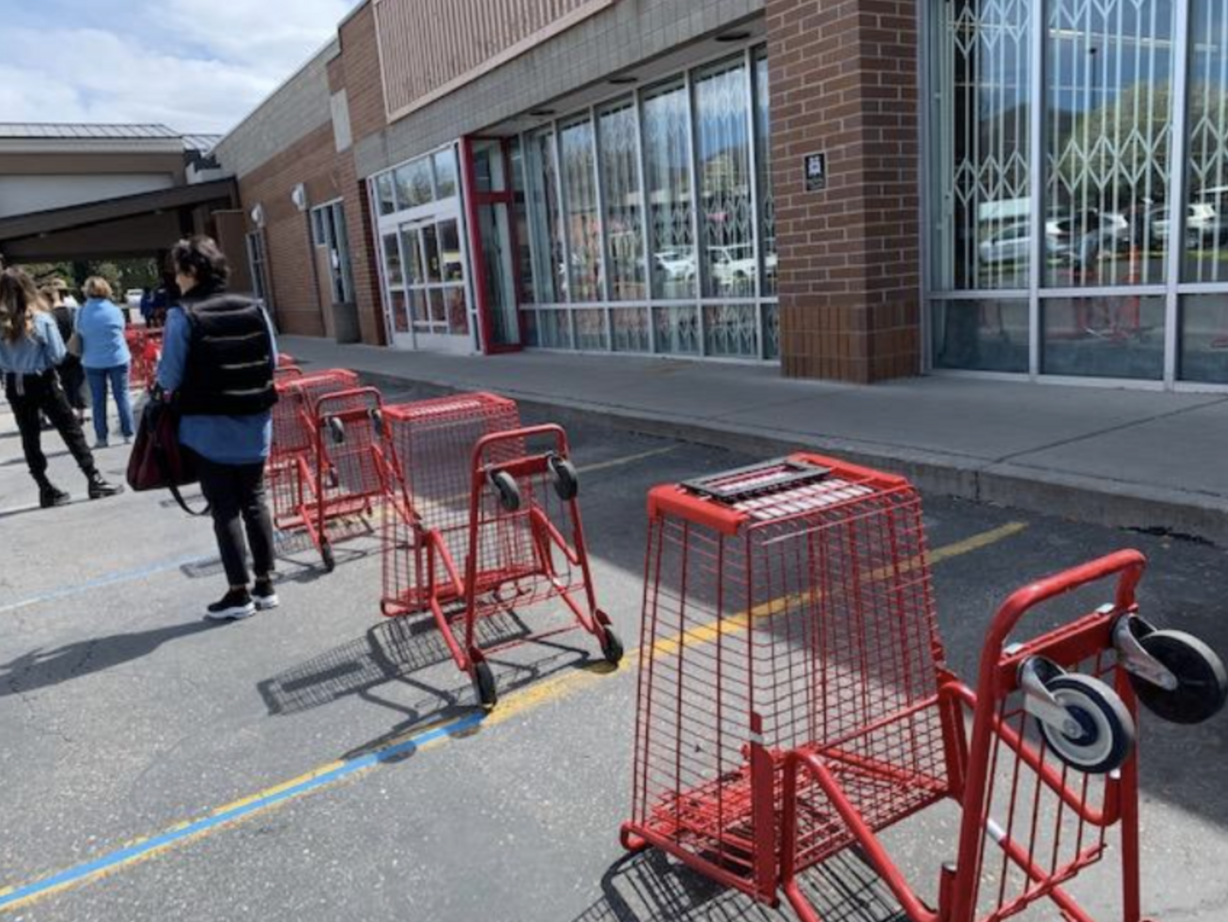 But the team also added in photos of events ranging from the Magna-centered earthquake to COVID-19 panic shopping to the summer protests following the killing of George Floyd to the destructive windstorm along the Wasatch Front to events tied to the 2020 presidential election, gathering other unique aspects of COVID-19 pandemic life in Utah.
They received many photos tied to outdoor recreation, which spiked during the pandemic. That includes photos of signs where neighborhood streets were closed to vehicle traffic, allowing residents more space to walk outside without being too close to each other on the sidewalk. There are also photos of a neighborhood block party held outdoors and socially distanced added to the collection.
As the project continued, the curators realized that just collecting pictures of life outside peoples' homes in 2020 didn't entirely capture the COVID-19 pandemic experience, which is why they also added some screenshots of their Zoom meetings to the collection — adding documentation of work from home life to an official history of the moment.
Some of the newer items center around photos of massive vaccination clinic sites, especially at the beginning of the COVID-19 vaccine rollout.
Utah K-12 COVID-19 Memory Project
The Utah Division of State History's Utah K-12 COVID-19 Memory Project is similar in nature but focused more on the lives of school children during the pandemic. The collection, which is still in the process of being finished and expected to be published early next year, has already received over 300 submissions from all over the state since March 2020, according to Lisa Barr, a historical collections curator for the Utah Division of State History.
Barr explained that state historians chose the angle they did because they didn't want to overlap the work being conducted by the Marriott Library. Students who are a part of the project fill out questionnaires about their experience.
Barr said a majority of the submissions came in from the first few months of the pandemic as schools shifted to online learning. In one example, a Utah student answered what they would like future generations to know about a pandemic experience.
"I want them to know that sometimes it may feel hopeless and desperate that these feelings are normal. I want future generations to acknowledge those feelings, (because) those don't make you weak, they make you human," they wrote. "I want them to know that in experiencing a pandemic, there are going to be a lot of ups and downs but in the long run, everything is going to be alright."
Perspectives missing
The project is expected to be made public for the first time in the near future but, like the Marriott Library collection, still growing as the pandemic continues — albeit not at the pace as when it began. Neatrour said the decline in submissions might be a result of lessened interest in the pandemic but they haven't seen many changes in the tone of the submissions, like how the politics of the pandemic changed over time.
The curators of both projects say there's plenty more that can be added to make the collection more complete for future generations. For instance, the Marriott Library curators say most of their submissions are from the same area in the state.
"We do not have a lot of geographic diversity," Neatrour said. "We're mostly getting things from around Salt Lake. We also do not have a lot of folks from underrepresented populations in the collection."
Wittmann said there isn't any documentation of Utah's ongoing drought submitted either, another key item that has happened alongside Utah's pandemic. Most of the drought issues in Utah have happened this year, which is why they haven't had many submissions regarding low water levels or signage related to the drought.
"I think people are burnt out a little bit," Wittmann said.
Neither project really has an end date because the pandemic hasn't officially ended, either. Barr said she hopes to collect more oral histories from students and teachers for the state project once it does end to have documentation from someone reflecting on the entire experience.
Still, they expect both collections will be a great tool for future generations to learn from. It'll also be easy to access since both will be available through the Marriott Library's digital library.
"They'll be on the same repository, so it'll be easier for researchers to search across both collections as things come online," Neatrour said. "I think that'll be great for people to get that sort of wider context on both projects."
×
Most recent Historic stories