Estimated read time: 5-6 minutes
SALT LAKE CITY — On Oct. 8, Utahns will be able to step into the world of Vincent Van Gogh and stroll through wheat and sunflower fields, join patrons of the Cafe du Terrace on the Place du Forum, walk by the famous yellow house at Arles, stargaze by the Rhone and have the starlight from a starry, starry night pool at their feet, all with the help of a lot of tech.
A year ago, executive creative director and experience designer Mathieu St-Arnaud, the co-founder of Normal Studio, and his colleagues were feeling the effects of the COVID-19 pandemic on the entertainment industry. St-Arnaud is known for his displays at entertainment venues, an industry that was essentially shut down by the pandemic. But creating a meaningful, creative experience, especially during a time in which people are isolated and unable to go out to major events, was still important to him.
So when a producer approached St-Arnaud and his team with a potential solution that investors would back, they leapt at the chance. However, they wanted to make sure that they were providing meaningful entertainment instead of creating something just to create something. They decided to try to use their knowledge of design and technology to allow viewers to step into the iconic paintings of Vincent Van Gogh and experience his art in ways they've never seen before, all with enough room for social distancing.
St-Arnaud studied Van Gogh's life and read his letters, and he realized it made him look at the artist's work differently. He wanted to be able to offer something that a museum could not, to use the spectacular effects of the entertainment industry to make viewers feel like they are a character in the paintings and be able to feel surrounded and completely immersed in his world — to go beyond Van Gogh, which is how the exhibit got its name.
"(Van Gogh's) work is made to be projected. It works so well," St-Arnaud said. "They're not moving images, but they're moving when you see them," because of the vibrancy and electricity of the color and brush strokes.
They put it all together within eight weeks. The final product uses 12-14 video servers and 30 3D projectors, all with a resolution of 10 or 12K, to cover the 120-by-80-foot floor and 22-foot-high walls. The projectors all had to be calibrated amongst each other and globally, as the exhibit would be set up in various places across the world. Speakers line the exhibit and play a musical score specifically selected to accompany the images, mostly from composers and musicians who are still alive.
---
(Van Gogh's) work is made to be projected. It works so well. They're not moving images, but they're moving when you see them.
–Mathieu St-Arnaud, creative director and experience designer
---
The exhibit features many of Van Gogh's well-known pieces, but St-Arnaud hoped that viewers would see beauty in them that they had not seen before.
"We see thousands of images every day with social media. We see magnificent images often. Most of us know Van Gogh through these images, but we rarely take the time to look at them and see the beauty and the emotions right in front of us. You can take an hour of your day and take a break from it all," he said.
Finding images with high resolution and as close to what art historians believe to be the original colors of the paintings was difficult, but the colors are a major part of the story that St-Arnaud wanted to tell with the exhibit. He described how Van Gogh actually gave up painting for a while because he didn't believe that he was good at it. When he came back to painting, he used dark colors with yellows and oranges, as if it was a glimmer of hope.
"He talked about how he wanted to cultivate the earth and labor on his canvas, to plow like they do in the fields," St-Arnaud said. "I wanted to tell this story of Van Gogh and color, following the curve of color. Color chose Van Gogh. He didn't set out to find it. Color found him."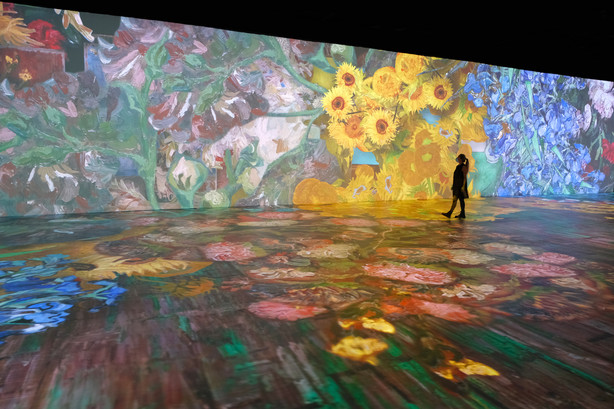 One way that his team decided to tell that story was through subtle animation. Designers and animators expanded the images by adding surrounding material. even using artificial intelligence to recognize and imitate the original down to the brushstrokes and giving the paintings just enough animation to come to life while still trying to hold to the original work and not lose its essence.
St-Arnaud has found that other Van Gogh exhibits can use flashy animation or manipulation of the images that detracted a bit from Van Gogh's style and messages. He tried to prevent this by adding an art historian to his team who could advise them on the best way to create an expansive, immersive experience while being respectful of the original work.
"It's about using animation in the right way to add a bit of movement, to give it a bit of life. We didn't want to go overboard," he said.
Before they set up the exhibit for the first time, he and his team set up virtual reality equipment to experience their work and make any adjustments. When they saw it in action for the first time on April 15 in Miami, they were amazed at how well it all fit together.
Now that so much is possible through technology, St-Arnaud is focusing on doing creative projects that offer a second level of meaning and are worth doing, not just working on projects simply because they can be done.
"It's all about what you can imagine. The sky is the limit, as well as time, money and budget," he said. "We want to really be appealing for a broad audience and be more universal without having to dumb down or simplify (the message).
"You set the table and do part of the work but (the audience does) the rest of it," he added.
The exhibit will be located at Atmosphere Studios in Salt Lake City and is open Wednesday through Saturday from 10 a.m. to 9 p.m. and on Sunday from 10 a.m. to 8 p.m. Tickets can be purchased at https://vangoghsaltlake.com/.
×
Photos
Related Stories