Estimated read time: 8-9 minutes
PROVO — The first person Talmage Gunther called when his life changed was his wife.
Gunther and his wife, Brooke, were sweethearts at Lone Peak High, and were married shortly after each returned from a mission for The Church of Jesus Christ of Latter-day Saints. The couple has a 1-year-old son now, Drew, while both attend Brigham Young University and Utah Valley University, respectively.
But Talmage Gunther is also a walk-on for the BYU football team, a former quarterback at Lone Peak who moved to wide receiver to accept a spot on the team he and his family grew up celebrating.
"My wife and I have both had to work, and between the two of us, we were able to stay out of debt, which is a huge blessing," Gunther said.
Every summer, he worked full time to afford tuition the next semester. During the school year, he often worked, too — first at Rockworth Company, a real estate investment firm in Holladay, and lately at Central Trade and Transfer in Pleasant Grove.
For the finance major in BYU's esteemed Marriott School of Business, those jobs have been a welcome benefit, a jumpstart on a career Gunther hopes to establish once his football days are long gone.
But they've also represented a job, in addition to daily football practices, weight training, strength and conditioning work, and the 14-plus credit hours he takes at BYU each semester.
In essence, it's a lot. And while Gunther sees the rewards and reaps the benefits of his spot on the football team, his wife doesn't always see the results.
So the first person he called when American Fork-based protein bar company Built Bars announced it was sponsoring the BYU football team, offering endorsements for the use of the players' name, image and likeness in the form of financial compensation equal to each semester's worth of tuition, was his wife.
And then he stopped. Brooke Gunther stopped. And for a moment, the wide receiver could feel tears welling up in her eyes.
"Honestly, for me, I'm happy to do whatever I need to do at work or on the field. I love being here," Gunther said after practice Friday in the student-athlete building. "But for her, it's a little harder. So my first thought wasn't for me, it was for her; my wife is going to be so happy. She doesn't have to stress as much about the financial side."
Gunther hasn't made it; he may not crack the two-deep this fall out of a wide receiver room that is as deep as it's ever been in the Cougars' independent history, with Pac-12 transfers Puka and Samson Nacua joining Neil Pau'u, Baylor Romney and the rest of the returning talent in the room. He likely won't get the same media attention or campus love as the starting quarterback or the competition to find one.
But at least for now, there is one less stress — the financial one — that Gunther has to add to his plate.
More importantly, it's one less thing to add to his wife's responsibilities, who is a new mother.
"I told her she doesn't have to go back to work this fall," Gunther said, "but she can stay home and be with Drew, and we can focus on what we love: our family, and what we have here at BYU."
The walk-on subculture at BYU already faces plenty of hardships, head coach Kalani Sitake said. Any help they can receive is appreciated — and seeing the immediate embrace of the new sponsorship from his players, both scholarship and walk-ons, was all the reward he needed.
"Walk-ons have a really hard life," Sitake said. "I hope this attracts more people here and gives us an opportunity to develop more players. This program is built on walk-ons, guys who love this school and pay the most and sacrifice the most to play on this team."
Sitake wanted to be clear, as well: BYU's partnership with Built Bars wasn't about gaining a recruiting advantage or circumventing the NCAA's scholarship limit. No university funds will be used to fund the walk-on endeavor.
In fact, each walk-on signed an individual contract with Built Bars, with individual compensation — even if it comes in the amount of a years' worth of tuition. Tuition at BYU is $3,060 for full-time students enrolled at 12 or more credit hours who are members of The Church of Jesus Christ of Latter-day Saints, or $6,120 for nonmembers of the church.
Both price points are a bargain compared to many colleges and universities across the country. But it's still a significant expense, especially for recently married or new-parent couples like a large portion of the school's student body.
Each player is free to accept or reject the offer on their own accord, too, Built Bars co-founder and CEO Nick Greer said, though he candidly wondered aloud why anyone wouldn't accept it.
"We were just trying to do what we think is right, and what fits the program," Sitake added, thanking Greer as he sat a few feet away on the practice field. "I'm lucky I get to coach a team that loves each other."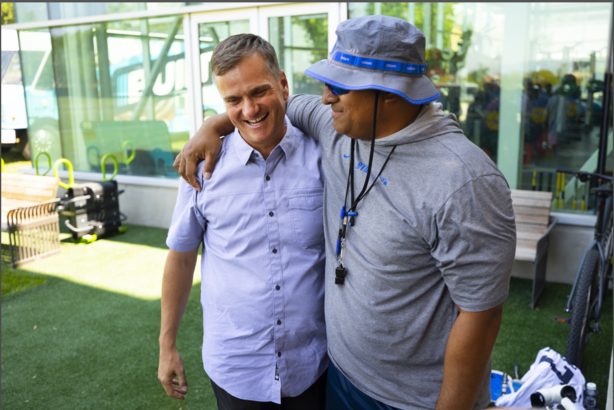 The new endorsements were made possible by a groundbreaking agreement between every player on the BYU football team and Built Bars, the longstanding sponsor of the university's football team that may have changed the game in the "wild, wild west" of NIL endorsements.
The agreement has already achieved worldwide reach, with a video that has been viewed more than 2 million times in just over 24 hours and a trending topic on Twitter that would be worth the equivalent of a $20,000 ad on the social media platform.
It's the most-viewed social media video in BYU athletics history, a team spokesperson told KSL.com.
But Thursday's announcement wasn't about the viral moment of the social media buzz it created, Greer said. He's not even sure how many players have formally signed with the company whose branding will appear on the players' practice helmets and whose product will supply training tables in both locker rooms in the practice facility and LaVell Edwards Stadium on game day.
"I know at least one has signed; that's good. We're on a roll. Maybe we've got 122 left," he quipped. "I think our return is the return on the players' investment and their time. That's what we're focused on. How are they going to learn, to grow, to become. That's our focus right now. We're creating an experience to look at this as an opportunity to grow and to get gainful opportunity.
"It's a return on players' investment, and in turn we'll get a return on our investment."
The real return is the ability to impact the players' lives — and especially the walk-on players, a group known for grinding and developing that has built a unique tradition in the BYU football program.
Trending on Twitter and earning national and (in some cases) international attention are just bonuses.
"If you talked to Kalani, he probably expected this; it's been his dream and what he was fighting for," Greer said. "But did I think it would catch on that fast? No, that wasn't the intent.
"When things are organic and real, it just naturally goes. What an honor and what a blessing it's been so far."
Even most of the details matter little to Greer, he said there will be some requirements for endorsements, online and in person, for the players to fulfill their end of the contract. But he doesn't even want to get bogged down in the details — he said multiple times "that's what the attorneys are for" — and prefers to focus on the "spirit of the law" that means helping college students earn meaningful real-world employment and experience.
"We want to show our commitment to the walk-ons and what they represent," Greer said. "You can't just say one year, one-and-done; that's not what this institution is about or what Built is about. We made sure it was a multiyear deal.
"The spirit of it is to do this for a long, long time."
And for Sitake — a former walk-on fullback himself — that's what mattered most.
Walk-ons hold a special place in the sixth-year head coach's heart. When NIL legislation threatened to dramatically change the landscape of college sports, he gathered his team together and said he'd help each one of them capitalize on the new opportunities.
Then he singled out the walk-ons and said he'd put a special emphasis on their well-being.
By Thursday, that promise was starting to come together.
But it's just the beginning.
"I don't know if I can forecast what other programs are going to do," Sitake said. "But if you were to ask me if I think that walk-ons deserve to be taken care of, I'm going to say, sure; of course I only control the ones on our program. But there are a bunch of walk-ons in college football and every spirit that the program wouldn't be able to survive without them.
"If we're going to do name, image and likeness things for the stars and the scholarship guys, I think it would be good to also remember the people who do a bulk of the work for getting us prepped for the games and ready for success."
×
Photos
Related Stories