SALT LAKE CITY — The loss Saturday stung — there's no beating around the bush on that for the Utes.
Utah has never lost to their in-state rival for those currently on the roster. Other than the in-state players, few on the roster likely didn't know it was possible to lose to their rival based on the decade of dominance over the Cougars.
That's what makes Saturday sting a bit more than a typical loss in a given season.
"We're not used to losing, period. I mean, I've been here since 2017, and we're not used to losing," veteran center Nick Ford said. "It's not a thing that Utah does. It happens from time to time and you give people the credit that they deserve."
"I still enjoyed the atmosphere, I still enjoyed parts of the game, but I don't think I've had a loss sting that much in college," wide receiver Britain Covey said.
Even more, it was how Utah lost.
It wasn't one of the traditional rivalry games where one of the team's makes a last-second play to escape with a win; it was a game where Utah was simply beat. Utah made too many costly mistakes and it caught up to them against a team that was more than willing to take advantage to break a nine-game losing skid.
And while Covey admits there's a time to be down — to be "somber" — after an early-season loss, Utah can't afford to let the emotions of one game get the best of them.
"I think that having it be so early in the season will be good in the long run, but right now it feels bigger than it is, if that makes sense," Covey said. "I think that looking back it will be one of those blessings in disguise type of games where it helps us fix a lot of things."
Utah doesn't lose nonconference games under Kyle Whittingham. In the Pac-12 era, Whittingham is 27-2 in nonconference games, with the only loss before Saturday's being to Utah State in 2012."
"Right now, it feels like the world is ending, or that's kind of how it is when you lose early in the season," Covey said. "You lose in the middle of the season, it's not quite as devastating; you lose early on, I know that ruins a lot of expectations.
"Right now, it sucks. Like I said, looking back on this, we'll see how big of an impact it had in a positive way, in my opinion," Covey added. "I think that it's going to be really important for the leaders to step up right now. It's so easy to lead when everything's going well — it's so easy. Real leaders are made when things are rough."
Ford believes Utah needs to channel its frustration with the loss and "go take that anger and feeling out on another opponent." The team can't "feel sorry" for itself for an early-season stumble. All of the team's season goals are still in check — nothing has put a dent into Utah's opportunity to win a Pac-12 championship — and there's another opponent on the schedule this week.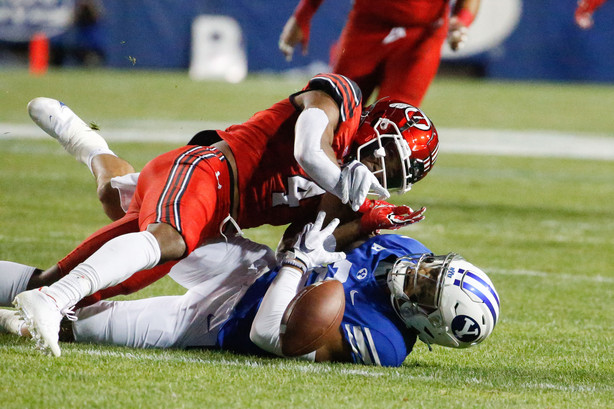 That opponent won't be any less difficult, either. San Diego State is one of the top programs in the Mountain West Conference and dominated Arizona in Week 2. And while Arizona may not be one of the best programs in the Pac-12 currently, the Aztecs are a physical team with proven talent capable of giving Utah its second loss of the season.
"San Diego State's a good team, and if you feel sorry for yourself, they're going to take advantage of that and it's going to wind up being the same way," Ford said. "So we can't go into San Diego State being upset about the previous week or whatever it is.
"It sucks what happened on Saturday. Our ultimate goal is the Pac-12 championship, and we've got to take that one week at a time, so our goal is go 1-0 this week. We fell short last weekend, we can't let that affect every single week after."
In the immediate preparation leading up to Saturday's game (5 p.m. MT, CBS Sports Network), Utah spent a day trying to clean up its offensive miscues. Utah was sped up in the huddle and struggled to get play calls before being ready — on top of blown assignments, according to Whittingham. The crowd noise affected Utah, Ford said, and they've worked on hand signals to better relay plays.
Having its core offensive line group back together will also provide some consistency and experience to the roster.
"It's tough when you've got a defense shifting around and you're a center trying to put your guys on plane, and you're trying to yell it as loud as you can," Ford said. "You've got some people who can't adjust as fast. So, I mean, what we wound up doing was calling one thing and living with it versus changing it because changing it on the fly is something that a lot of experience is needed for, so we kind of went back to the basics.
"I feel like having everyone back in going at full capacity is now going to allow us to get into a motion to where we understand that certain things are going to have to be done on the fly, because even though the defense lines up in a certain way, in a certain front, when the ball is snapped, like a shift from an odd to even, even to an odd, they could drop half the defense and bring the other half the defense. And at that point, you can't be vocal, you can't say what's what, and you've got to just do things on the fly and trust who's next to you."
And whether it's fixing the miscues or just getting the full team in sync, Utah is ready to move on.
"I want to see guys come out this week in practice and realize that you beat San Diego State in preparation, you don't beat them on Saturday," Covey said. "We need to move on. Today sucked, but we need to move on. We need to be happy. We still believe what we can do, but sometimes it's really easy to get wrapped up in how disappointing it was."
×