SALT LAKE CITY — Five weeks into the 2021 Utah high school football season and a few things are beginning to gain clarity — while other areas remain as clear as mud.
Region 4 — at least, the top four teams in that league of Corner Canyon, Skyridge, American Fork and Lone Peak — continues to run roughshod over nearly all challengers. That group, which ranks as the top-four in the KSL.com High School Football Top 20+1, is a combined 16-1.
The only collective loss? Lone Peak's 35-7 loss to Las Vegas power Bishop Gorman from last weekend's road trip.
Of course, not to be out done, the group also has out-of-state victories like Lone Peak's 31-24 win over California's Bishop Alemany and American Fork's 56-21 win at California's JSerra Catholic two weeks ago.
No in-state program has toppled the Top 4. But that will change this week; someone has to lose as they start playing each other. The same might be said of Region 3, which begins play with undefeated Mountain Ridge and West Jordan and a three-loss Bingham squad whose losses all come to ranked opponents.
Here's the rest of the top-20 teams after Week 5 of the Utah high school football season.
1. Corner Canyon (5-0)
The Chargers keep rolling, all the way to 5-0 and a 45th-straight win with a 52-7 road victory over Lehi. But SEC, err Region 4 play comes swiftly and roughly with a trip to No. 3 American Fork on Friday.
2. Skyridge (5-0)
The Falcons faced their biggest challenge of the year to date, surviving Timpview 21-14 in overtime after a lengthy lightning delay. But does the extra session say more about McCae Hillstead and Skyridge or the Thunderbirds as a 5A contender?
"It was a good hard-fought win against a great team," Skyridge head coach John Lehman told KSL.com. "Our guys just stayed in it and made the plays when it counted."
More lessons will be learned by opening up Region 4 play at Westlake.
3. American Fork (4-0)
The Cavemen are 4-0 with wins over top contenders in Region 1 and Region 3, while Maddux Madsen engineers an offense that averages 50.5 points per game.
Corner Canyon may be a different story, though.
4. Lone Peak (2-1)
The Knights still haven't lost to an in-state opponent since Corner Canyon in last year's state title game — the only team to beat Lone Peak in 2020, and the Chargers did it twice.
Pleasant Grove welcomes them to region play Friday night.
5. Timpview (3-2)
Yes, the Thunderbirds have two losses — to the No. 2 and No. 4 ranked teams in this week's poll. A road trip to Alta this week won't be easy, but it's better than a trip to the dentist.
6. Orem (3-2)
The Tigers take a rare two-game losing skid at the start of Region 8 play — but one of them is a 36-0 shutout at Skyridge, and the other a 53-42 loss to Las Vegas battering ram Desert Pines.
A trip home to host Jordan in the region opener should do Orem some good.
#BeAWarrior
YES!!!! https://t.co/fAkhOHYTDE

— Weber High Athletics (@weberathletics) September 11, 2021
7. Weber (3-2, 2-0 Region 1)
Syracuse's first loss of the year sends the Titans tumbling, but somebody has to replace them in the top 10. It might as well be the team that beat them on Jaycee Jones' buzzer-beating 50-yard field goal, the Warriors' third consecutive victory.
Led by BYU commit Cannon DeVries, Weber has talent and looks to be putting it all together — a terrifying thought for Region 1 opponents as the Warriors travel to Clearfield this week before hosting Layton.
"I feel like we're just starting to stride right now," Weber quarterback Jake Lindsay told KSL.com.
8. Mountain Ridge (5-0)
The Sentinels just keep winning, this time with defense in holding Westlake scoreless for all but the third quarter of a 14-7 win. Cade Uluave's 8-yard TD run with 1:31 left was the difference before Mountain Ridge opens Region 3 play at Copper Hills.
Circle next week's matchup with Bingham on your calendar, though.
9. Ridgeline (5-0, 1-0 Region 11)
The Riverhawks are the team to beat in Class 4A after handing Green Canyon its first loss of the season 42-6 Thursday.
Another big statement week awaits Friday at defending champion Sky View.
Big game tonight against a tough region opponent! Come on out and support, Syracuse vs Weber, 7 pm! Go Titans! #cusetitansfootballpic.twitter.com/8eWgpkkQfX

— SyracuseTitans_FB (@CuseTitans_FB) September 10, 2021
10. Syracuse (4-1, 0-1 Region 1)
Down but not out, the Titans have a chance to rebound against an up-and-down Davis squad coming off back-to-back losses against Layton and Alta.
11. Bingham (2-3)
Speaking of up and down, the Miners haven't lost to a bad team yet — just No. 1 Corner Canyon, No. 5 Timpview, and most recently 41-13 to No. 3 American Fork on the road.
Bingham will be looking for some consistency as it opens region play Friday at Herriman.
12. Layton (4-1, 2-0 Region 1)
The Lancers have made a huge jump in recent weeks, but four consecutive wins and vying for a region championship will do that to a lot of teams. Can they keep the momentum going Friday against Farmington?
13. Olympus (4-1, 2-0 Region 6)
Don't look now, but the Titans are rolling with four straight wins since opening the season with a loss to Mountain Ridge, including a 35-28 road win over Brighton.
"This is a big one," Olympus coach Aaron Whitehead told KSL.com. "To get a win against Brighton, to come in here, it's not an easy task. So I am just happy to get away with it."
A road trip to winless East, which just lost 43-22 at Juan Diego, isn't as daunting as it used to be.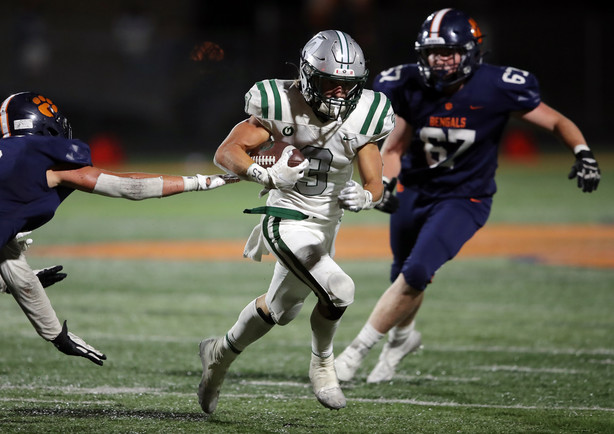 14. Springville (4-1, 0-1 Region 9)
The Red Devils were stunned by rival Spanish Fork last week, when soccer player-turned-quarterback ran for two touchdowns, kicked three field goals, converted three extra points and punted the Dons out of an early 14-7 upset for a 36-28 win.
How Springville rebounds will say a lot as it travels to Provo, which has won five in a row to start the year after holding off Maple Mountain last Friday.
15. West Jordan (4-0)
The Jaguars were idle last week, giving them an extra week to prepare to open region play against Riverton (3-2).
16. West (3-1, 2-0 Region 2)
The Panthers overcame sickness and tragedy over the last few weeks to win back-to-back games, including a 19-8 thriller against Roy to move to 2-0 in Region 2.
West hits the road this week to face Hunter as they try to keep the good vibes rolling.
17. Fremont (3-2, 1-1 Region 1)
Any lost momentum the Silverwolves may have suffered from a 3-point loss to Layton can be turned around with four consecutive home games over the next month.
18. Pine View (4-1, 1-1 Region 10)
The Panthers stumbled to rival Dixie last week but can move back up the rankings quickly with a road-heavy slate over the next three weeks, beginning Friday at Cedar.
TOUCHDOWN DIXIE!!! Dixie 13 Pineview 21. #regxfb#flyboyz#flyerfamily#dixiehighfootballpic.twitter.com/UZp8wrdIxi

— Dixie High Football-SGU (@Dixie_Boosters) September 11, 2021
19. Brighton (3-2, 1-1 Region 6)
How good are the Bengals? One moment they're sporting the top uncommitted prospect in the state in linebacker Lander Barton, the next being steamrolled by Syracuse and dropping a region contest to Olympus.
We don't envy Skyline, East, Park City and Clearfield, who have to face Brighton in successive weeks.
20. Timpanogos (5-0, 2-0 Region 7)
Region 7 is an amalgation of newcomers to 5A, including the unbeaten Timberwolves and Tooele — who may be on a collision course with an end-of-season showdown scheduled for Oct. 7.
For now, we're giving the rankings edge to Timpanogos, based on the offensive firepower of Matu Holdaway, backup quarterback Chase Riggs and sophomore breakout Luke Livingston, who has 846 receiving yards and 12 touchdowns on the season but survived Payson on Reed Harris' 42-yard field goal at the buzzer to stay undefeated.
Plus-1. Dixie (2-2, 1-0 Region 10)
Tip of the hat this week to the Flyers, who opened region play down south by handing Pine View its first loss of the season with 18 unanswered points, including Jakheo Mitchell's 41-yard pick-six for the go-ahead score with 8:51 remaining.
×
Related Stories