AROUND THE BEEHIVE — It's been a rough few weeks for the West High football team.
The Panthers had a game canceled in Week 3 against 6A power American Fork due to COVID-19 cases, a week after taking their first loss of the season 32-20 to Herriman.
That's only part of the emotional few weeks West has had to endure. But Friday's game will provide at least a moment of solace.
Isaiah SueSue had two touchdowns as the Panthers ran out to a 19-0 lead en route to a 19-8 win to hand newcomer Roy its first loss of Region 2 play Friday night.
More impressive, though, is how the Panthers rallied after a tough couple of weeks for the program located on John Stockton Drive / 300 West.
"We had three parents die in the last two weeks and multiple guys out with COVID. I still have 10-plus kids on quarantine right now. We haven't practiced a lot," West coach Olossa Solovi told the Deseret News. "It's been a rough summer. We started out the summer with a shooting and a death with some players.
"I just give this community a lot of respect and these young men a lot of respect for continuing to fight through. We're just grateful to be out here and we're excited to get out with a win against a good Roy team. "
SueSue scored on short runs to give the Panthers (3-1, 2-0 Region 2) a 12-0 lead at the break. Lava Vailahi made it 19-0 on a 5-yard score midway through the third quarter.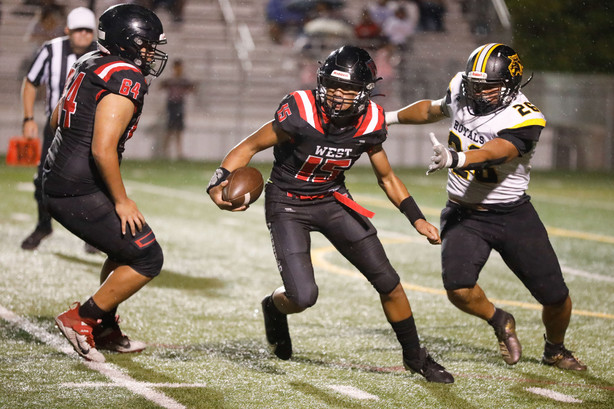 Recent BYU commit Parker Kingston prevented the shutout for Roy, connecting with Izic Muniz for a 7-yard touchdown with 4:53 remaining. But the Panthers held on for the emotional win.
West travels to Hunter next Friday, Sept. 17, while the Royals (3-2) host Kearns — the other undefeated team in Region 2 at 1-0 — at 7 p.m. MT.
Here are four other breakout stars from Week 5 of the 2021 Utah high school football season.
Stevenson does it all as Spanish Fork shocks Springville
Austin Stevenson ran for two touchdowns, kicked three field goals and converted three extra points as the Dons (3-1) rallied from an early 14-7 deficit to hand Springville its first loss of the season.
Stevenson had back-to-back touchdown runs of 3- and 10-yards as the Dons opened the second half on a 16-0 spurt before holding off the Red Devils (4-1).
"I still believe Springville could win the whole thing this season. They are as good as anybody in 5A," Spanish Fork coach Dustin Smith told the Deseret News. "Because of that, it took all we had tonight to win. Offense, defense and special teams all had moments and the boys played as physical as I've ever seen them for four quarters."
Senior captain #28 Tayson Reid last night.

7 tackles, 3 tackles for loss, 2 sacks, a forced fumble and a 50 yard fumble recovery for a TD.

Oh, and 10 carry for 70 yards on offense and several highlight film worthy lead blocks. AWESOME! @ReidTayson

— SFHS Football (@SFHSFootball) September 11, 2021
Harris' last-second field goal lifts Timberwolves to 5-0 start
Backup quarterback Chase Riggs threw three touchdown passes in the fourth quarter, including a second to sophomore Luke Livingston to tie the game with 1:34 remaining.
But first-year kicker Reed Harris was the hero after his 42-yard field goal with four seconds on the clock that lifted the Timberwolves to their first 5-0 start since 2018.
The win marks just the third time in the past seven years that Timpanogos has won at least five games.
Welsch keeps Bulldogs unbeaten with win over Maple Mountain
Jace Welsch scored four touchdowns, including a 6-yard run with 2:06 remaining that proved to be the difference, as the Bulldogs held off Maple Mountain to improve to 5-0.
Welsch also ran for touchdowns of 1 and 39 yards, and completed an 18-yard strike to Tomasi Hifo as Provo used a 14-0 third quarter to take the edge it needed.
Mitchell paces furious rally to help Dixie hand Pine View first loss
Jakheo Mitchell scored two fourth-quarter touchdowns as the Flyers ended the game on a 17-0 spurt to knock the Panthers from the ranks of the unbeaten.
After Pine View (4-1) took a 21-13 halftime lead, Dixie (2-2) held the Panthers to one total touchdown the rest of the way in the win.
Mitchell opened the fourth quarter with an 8-yard touchdown run, then scored on a 41-yard interception return for the go-ahead touchdown with 8:51 left for the go-ahead score.
"The team came together. This was by far the best game we've played all year," Dixie coach Blaine Monkres told St. George News. "The kids just came out and battled, everyone of them. I'm proud of all of our guys."
×
Related Stories