SALT LAKE CITY — In the end, the "experience factor" won out.
Senior Charlie Brewer was named Utah football's starting quarterback last week after a stiff competition with sophomore Cam Rising; and though the two were "neck and neck," according to head coach Kyle Whittingham, the coaching staff decided to go with the guy that has thrown for 9,700 yards and 65 touchdowns in his four-year career.
"Football is back — favorite time of the year — so getting the opportunity to lead this team is, obviously, a big responsibility and I'm up for it, for sure," Brewer said Monday night.
"Obviously there's gonna be some excitement but there's still a task to do, right, and I still have got to play well," Brewer added. "So, you know, just being focused and really just taking it day by day and keep improving. Just because I won the job doesn't mean that I can just get complacent; I've got to keep getting better each day."
Brewer has the experience but also held an edge statistically in the fall camp period, which made it an easy choice for the staff to go with experience.
"He did have a slight edge statistically," Whittingham said Monday in his first appearance since naming Brewer as the starter. "He's just a guy that has a lot of leadership. And it was a close call; it could have gone — it was so close, it could have gone either way. But it was Charlie's experience, having played in over 40 Division I games and the success he had at Baylor throwing the football.
"I believe our team would have been just fine with either decision," he added, noting that Rising, who was named a team captain by his teammates this year, was a viable choice. "I mean, they would have rallied around whichever guy ultimately won the job; they're both very well respected and hard workers, prepare the way you're supposed to, and so it was really close, but ultimately Charlie and probably the experience factor was probably the biggest reason behind it."
Whittingham said Rising, who was the team's starter last fall after winning the job over senior Jake Bentley, handled the news as a "professional." And though he was obviously "disappointed" to not be named the starter, he's had "no drop-off whatsoever in practice habits, preparation, attitude; it was all absolutely outstanding."
"When his number's called, he'll be ready, we have no doubt about that," Whittingham said.
So what does Utah get out of a proven quarterback like Brewer?
Beyond his ability to have the respect of the team and to know the offensive playbook well enough to compete against Rising in only eight months since he transferred from Baylor in December, Whittingham said the main thing that they're pleased with is his decision making as a quarterback. "He's a great decision-maker."
"Calm under pressure, goes through his read progression very quickly, is decisive, get's the ball out of his hand quickly, accurate thrower, has a good pocket presence — he can sense the rush and move around in the pocket the way you want a quarterback to," Whittingham said of Brewer. "His escapability is good; he's not a statue back there — both him and Cam are very mobile quarterbacks."
Utah will get the first look at Brewer Thursday in the team's season opener against Weber State at 5:30 p.m. — and likely Rising given that Utah should have no problem competing against the FCS team, even if Weber State has been one of the best FCS teams in the country over the last few seasons.
Junior wide receiver Britain Covey said Brewer being named the starter was expected and that he "saw it coming."
"I think that was kind of one of those you have to knock out the champ, no one's gonna win by split decision type deals where Charlie had such a good spring that it really was going to take something miraculous from Cam to come in and do that after surgery," Covey said. "So I think we all expected that, but Cam came in and really threw a wrench in things. So it took longer, but I think that was what most people kind of expected."
Utah fans could also see more backups if the game goes to plan.
But who is the third-string backup in a deep quarterback room? Whittingham said this week it will be Bryson Barnes.
And the depth chart is out and Charlie Brewer is listed as starting QB pic.twitter.com/A7qiNGjV3Z

— Josh Furlong (@JFurKSL) August 26, 2021
No, not Texas transfer Ja'Quinden Jackson or heralded four-star freshman Peter Costelli, but a walk-on freshman from Milford High who holds the Utah state record in career touchdown passes (137) for the 1A school.
"This week it'll be Bryson Barnes," Whittingham said Monday. "Bryson Barnes will be QB3."
So, why not Jackson or Costelli?
Jackson has been out with an undisclosed injury that will likely keep him out of the game Thursday, though Whittingham won't completely rule out the idea of him playing. "It's still three days out, so there's a chance."
And as for Costelli, Whittingham said the plan is to redshirt the freshman QB, especially given the depth in the quarterback room this season.
"Peter has done a great job since he got on campus last spring," Whittingham said. "If we have the opportunity to redshirt him this year, that's something that we'll be looking at because we've got — the quarterback room is pretty solid. That could change due to circumstances, but if everything goes status quo, then it's a possibility that Peter would be a redshirt candidate this year."
But even with a redshirt season expected, Costelli could play in up to four games this season and maintain his redshirt eligibility. Whether Whittingham is hoping to save him for four other games or if he wants to keep him in the background remains unknown at this time. Costelli was featured as one of the quarterbacks in spring and showed well, but time will tell on his situation moving forward.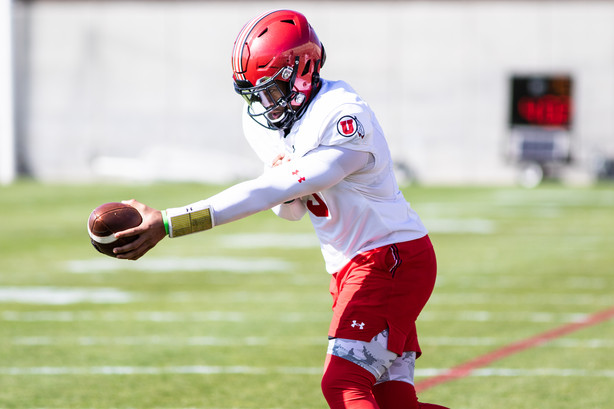 And though Utah has its depth chart figured out for the quarterbacks, the offensive line is the most "unstable" going into Thursday, at least in relation to its health and the players available, according to Whittingham.
"It's still in flux. We've got three of them that, as of today, we're not sure if they'll be ready yet," Whittingham said. "And so, no different situation today than what we had towards the end of last week. It's the most unstable, as least health-wise, position on the team right now and we'd like it to be situated and all set, but that's not the case.
"Fortunately, we've got a lot of guys that are game ready and that whoever is available should be able to function just fine."
Whittingham has previously said the team has come a long way in its ability to pass protect and feels his team on the line is as deep as ever, but not having their ideal starting five becomes a bit of a problem. Still, he said he's confident that the team "should be fine."
"Well, you're always better off with your best five guys, and so that's not going to be the case this week," he said. "But if you're out there, you've got to get the job done, and we feel — we've been talking about the depth of the O-line all fall camp and ever since last spring, and so fortunately that depth is going to help us in this game here because we're going to need to draw upon that.
"We feel like we'll be in good shape and, like I said some point in the last couple of weeks, we've got 10-11 guys that we think are really good players and ready to play in the Pac-12. Now, not all 10-11 of those guys are available this week, and so that's the challenge, but we've got enough and we should be fine."
Utah kicks off its season Thursday at 5:30 p.m. MDT at Rice-Eccles Stadium. The game, which will be the first time fans will be allowed in the stands since 2019, will be broadcast on the Pac-12 Network.
×