Estimated read time: 7-8 minutes
This archived news story is available only for your personal, non-commercial use. Information in the story may be outdated or superseded by additional information. Reading or replaying the story in its archived form does not constitute a republication of the story.
SALT LAKE CITY — Believe it or not, fall is just around the corner.
In fact, get your sweaters out, get your Halloween costumes and get ready for pumpkin spice everything, because meteorological fall begins Wednesday.
Utah will enter meteorological fall following an interesting end to the meteorological summer, which figures to go down as one of the warmest and wettest in portions of the state. For instance, Salt Lake City followed its hottest June and July months on record with an August that produced about four times more precipitation than the city's August normal. August alone covered its meteorological summer precipitation average.
The season is also expected to end with a bang. Meteorologists with the National Weather Service say a monsoonal moisture surge and remnants of Hurricane Nora are expected to bring "heavy rainfall" to southwestern Utah Tuesday before it moves north and east across most of Utah Wednesday.
August rain has lessened Utah's drought conditions a bit, but the drought will persist heading into fall. The entire state remains in at least a severe drought, but the percentage of the state in "extreme" or "exceptional" droughts has declined. The U.S. Drought Monitor lists 88% of Utah in at least an extreme drought and nearly 44% in exceptional drought, which is an improvement from nearly 98% and 50.5% in those respective categories in its mid-August report.
The above-average level of precipitation that's helped the drought isn't expected to last too much longer, however. That's according to the National Weather Service's Climate Prediction Center's three-month outlook model for the meteorological fall months of September, October and November.
The outlook shows Utah has a 50% chance of a warmer-than-average fall and nearly all of Utah is within a 40% likelihood for drier-than-average conditions. Those are the center's strongest probabilities for a warmer, drier fall anywhere within the U.S.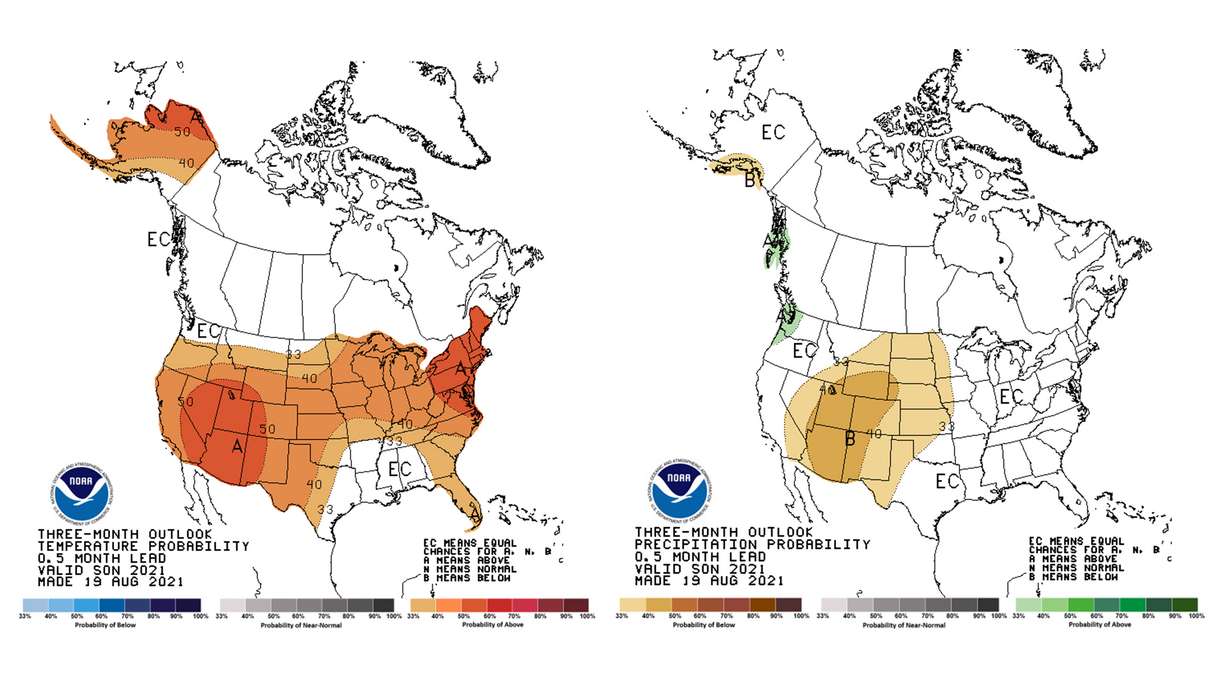 These probabilities, of course, aren't exact weather forecasts but the likelihood of future weather based on current atmospheric trends with historic averages mixed in.
So, what are the averages? Utah averaged 3.35 inches in the months of September, October and November during the 20th century, according to National Centers for Environmental Information data, That makes fall Utah's third-wettest meteorological season behind spring (3.73 inches) and winter (3.55 inches). The Salt Lake City fall normal is a bit higher at 3.64 inches, based on 1981 through 2020 data.
Meanwhile, temperatures do begin to decline as the Northern Hemisphere tilts away from the sun. Based on National Centers for Environmental Information data from 1901 to 2000, Utah's average temperature drops from near 70 degrees in August to 60.6 degrees in September — although September has ended up above that average every year since 2007. It then drops to 48.9 degrees in October and 38.7 degrees in November.
Salt Lake City's normal from the past 30 years is a bit different, according to weather service data. Average temperatures drop to 66.1 degrees in September, 53 degrees in October and 40 degrees in November.
So you'll still need to keep your jacket or sweater ready, but you may not need to use it as much this fall.
The Climate Prediction Center forecast shows nearly all of the U.S. is expected to be warmer than average, with the Northeast and northern Alaska joining Utah and the southern part of the Intermountain West as having the highest probability for it happening. The Intermountain West and Midwest states, as well as southern Alaska, have the strongest probabilities for drier weather.
Is this when Utah's trees will peak?
Fall also means changing colors as the trees' photosynthesis process dies down ahead of winter with longer nights and lower temperatures. Utah certainly has beautiful fall foliage, which makes leaf peeping a fun fall activity outdoors. Those colors have already started to show in some places across the state, but when will Utah peak?
The website SmokyMountains.com has provided fall foliage peak estimates since 2013 — not just for the scenic Smoky Mountains but the rest of the United States. It released its 2021 fall foliage prediction map last week.
The website's forecast called for minimal and patchy colors especially in eastern Utah this week before more widespread turn during the first full week of September.
Eastern Utah is forecast to reach peak foliage by mid-September, while northern Utah, the Wasatch Front and parts of southern Utah are expected to reach the peak by early October before the rest of southern Utah is expected to reach its peak. The site lists all of Utah as "past peak" by the week of Oct. 18.
David Angotti, the founder of the website and map, explains that the map is based on several factors, such as historical temperatures and precipitation data, historical leaf peak trends, long-range forecasts for the season and current leaf observation trends. Much like the long-range forecast, it's not expected to be 100% accurate but offers a general window as to when the best times will be to check out the leaves.
"After publishing our predictive fall foliage map for nearly a decade, we are quite confident in our data sources, process, and algorithm," Angotti said in a statement to KSL.com. "Our experience combined with a scheduled mid-season update has us especially confident about this year's predictions. Our goal is that this data-based, interactive tool will increase the number of people that are able to enjoy peak fall in 2021."
Drought's impact on fall colors
This year's colors may not be as vivid as in year's past and you can blame the drought if that's the case, said Mike Kuhns, a professor of wildland resources for Utah State University-Extension. He said this fall's colors could be "muted" in some parts of Utah this year as a result of what's called leaf scorch — a process where the edges of leaves brown and lose color as a result of heat and dry conditions.
Kuhns explained that trees want to make food and grow, which is much easier when it's wetter in spring and early summer. Ultimately, many trees across the state suffered leaf scorch this year since late spring and summer were hotter and drier than average. When a part of the leaf has turned brown earlier than it should, then the tree isn't able to produce food from the tree.
"(A tree has) mechanisms in it to tell it when it's time to start shutting things and taking good stuff out of the leaves — most sugar — and moving it to the root system or other woody parts like the trunk, so that'll be available (for the) next year," he said. "Once it starts to do that, then it's really not reversible, other than the leaves will come back next year."
Given this process, the rain Utah received in late July and August probably won't help trees as much as that rain would have meant at the start of the summer.
That's not to say all of Utah's trees suffered leaf scorch this year. There are plenty of leaves that are perfectly healthy heading into fall that's helping trees make food — especially areas that are generally cooler. These are leaves that are expected to be as colorful as ever this fall.
"Still, up high, the trees have a better chance of having good fall color than down in the city — unless the person who owns the tree in the city watered an extra amount to get them through the late summer," Kuhns said. "I guess I'd say muted is a good term, but it could also be good in parts of the landscape and not good in other parts."
That's another item to take into consideration when planning where to go to view the tree colors this fall.
×
Related stories
Most recent Outdoors & Rec stories