Estimated read time: 3-4 minutes
This archived news story is available only for your personal, non-commercial use. Information in the story may be outdated or superseded by additional information. Reading or replaying the story in its archived form does not constitute a republication of the story.
SALT LAKE CITY — Legendary skateboarder Tony Hawk joined Vans' Action Sports lead Bobby Gascon Friday to unveil a new world-class skate park at the Utah State Fairpark.
In 2019, Vans donated a legacy bowl skate park at the fairpark, and the addition of the new park includes more street-style elements like rails, stairs, boxes and quarter ramps, among other features now making the park a complete facility.
For the design of the new park, feedback was taken from local skaters on what they wanted and how to best meet community needs. Gascon said he believes the golden rule in skateboarding is to listen to other skateboarders; and listening is what Vans, the Utah Sports Commission and California Skateparks did while creating one of the best skateboarding facilities in the world.
"We are grateful to know that Salt Lake City now has a world-class facility," Gascon told KSL.com. "This is what you see in the Olympics, so we are very excited to have that community benefit."
That community benefit is what Hawk said he "couldn't find anywhere else" in his life or in other sports. He found comfort in skateboarding and the skate park became his home away from home. He now hopes he can help others find that same sense of belonging and community by providing parks that everyone can use.
"Skateboarding really helped to define me and give me a sort of sense of self-confidence that I didn't have otherwise," Hawk told KSL.com. "I feel like the best thing that I can do to give back and to affect change is to provide those types of facilities."
The skateboarding community is special; it's a culture that is unique because "everyone's supporting each other," Gaston said. Age, gender and race do not matter; everyone is welcomed and supported.
"The whole idea is that everyone's welcome. It's a low cost of entry — all you need is a skateboard and you're welcomed into the crew," Hawk added. "People don't care what your background is and what your race is or gender; it's just more like how do you skate.
"They support each other because (skateboarding) is more of an individual pursuit — it's more of an artistic pursuit; but at the same time, when everyone's skating together, there's this energy that happens and it gets people to push their limits," he added.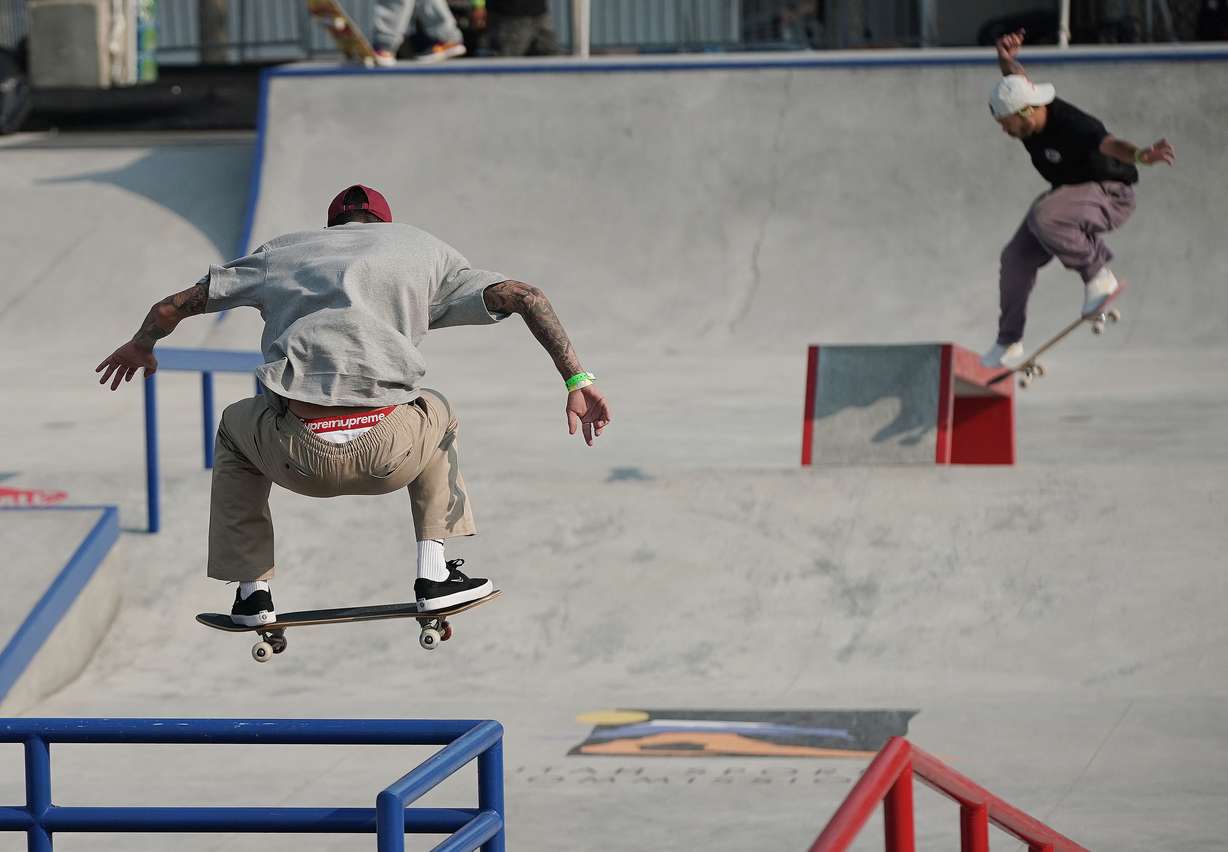 Hawk, who is now 53, continues to find ways to be heavily involved in the skating community. He served as an NBC commentator during the 2020 Tokyo Olympics when skateboarding was included for the first time as an official event. The skaters who participated in the Olympic debut were as young as 12 and as old as 46.
Skateboard has grown over the years, with its Olympics debut being a sort of pinnacle to the sport. It's a showcase to the diverse age range and inclusion of those who participate. And for Hawk, that's what he's most excited about for skateboarding.
"I think mostly that means that skateboarding is going to be more accepted internationally," Hawk said. "And for countries that maybe either dismissed it or didn't recognize it will embrace it and have facilities, and actually have skate teams and support their citizens doing it. So that's the most exciting part to me."
Skateboarding has always been a recognized sport, but it continues to grow and become a community draw. Parks and facilities like the one opened Friday will further help the sport grow and open up more to the skateboarding brand.
"Parks actually become basically the stomping grounds of bringing people together as a location, and then from there just fosters community," Gascon said.
The community will come together this weekend as Hawk hosts his first "Tony Hawk's Vert Alert" contest that features a Legends Demo Friday and Saturday at the Utah State Fairpark. Street League Skateboarding will also be making its first of three summer stops this weekend during its 2021 Championship Tour and will be showing off the new street-style skate park.
×
Photos
Most recent Sports stories