AMERICAN FORK — Maddux Madsen probably knew it was coming.
Shortly after the American Fork quarterback announced his commitment to Boise State in July, he got a message from one of his Cavemen teammates.
It was from Noah Moeaki, his all-state tight end and BYU-bound linebacker, and it included a screenshot of a date in 2025, as he recalled recently — circled for extra emphasis.
That date was Oct. 25, 2025, when the Cougars play at Boise State in a long-ranging regional rivalry series that currently runs through 2034. It would also be Moeaki's first chance to play on the Blue Turf after the American Fork product serves a two-year mission for The Church of Jesus Christ of Latter-day Saints.
Madsen — and the Broncos — will be ready, the star quarterback jokes.
"He said he was looking forward to it, and so am I," Madsen said after the Cavemen's 45-14 win over Weber to improve to 2-0 in Madsen's senior season. "But playing with him right now is huge; he's a big component of our offense, being able to use the tight ends like that. It's a huge deal."
In four years, the two teammates and close friends will line up against each other, which means they want to enjoy every last second of the last eight games of their senior year — plus the 6A playoffs — before focusing too much on college.
But Moeaki wants to make sure he plays defense for that game in 2025, he cajoled while Madsen stood just a few feet away from him.
After a great phone call with @VintagePlough@AABroncoHC I'm blessed to receive an offer from Boise State University! With the being said I am 100% COMMITTED. I wanna thank everyone that has helped me get to this point. @coachfrankmaile#CavemanFB#PALA#OFFA#BL22DBLUEpic.twitter.com/uCmMdSmW9x

— Maddux Madsen (@MadduxMadsen) July 6, 2021
"I want to play defense against Boise State," he said, laughing. "I definitely want to play defense against them."
If Madsen is at the helm of the Broncos' offense, BYU might need all the help they can get from his former teammate and incoming linebacker.
Madsen completed 58% of his passes for 4,044 yards and 48 touchdowns with just 11 interceptions a year ago as a junior when he led the No. 2-ranked Cavemen to an 8-4 record and a spot in the 6A state quarterfinals.
One year later, the No. 27-rated prospect in Utah by 247Sports' composite rankings picked up right where he left off.
Through two games of his senior campaign, Madsen is completing 73% of his passes for 663 yards and 10 touchdowns, and propelling an offense that has outscored Granger and Weber 105-14.
Even more impressive: Madsen only played the first half against Granger and only a little more before being pulled for backup Lincoln Jackson against the Warriors.
But through those two games of his senior year, he's on pace to improve on a season that landed him in the Utah High School Activities Association record book with the fifth-most passing touchdowns in a season (49).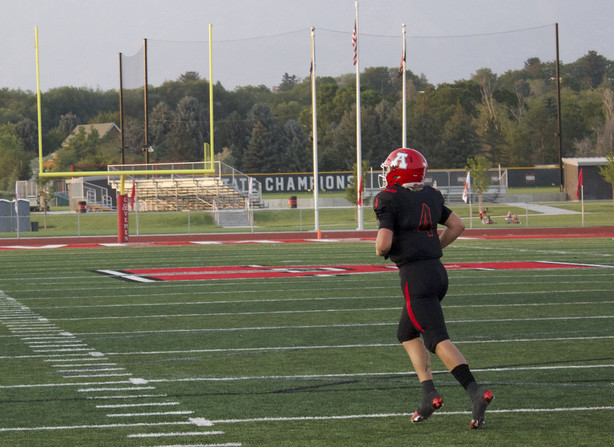 It's still early, but Madsen's 5.0 passing touchdowns per game would top that personal-best mark in the regular season alone. It's possible, too, with a supporting cast around him highlighting an offense that includes Moeaki at tight end, all-state baseball star Fisher Ingersoll at wide receiver, and all-purpose junior Trey Roberts — the younger brother of BYU receiver and former American Fork standout Chase Roberts.
Even an unfortunate injury to Carsen Ryan, the 6-foot-4, 245-pound tight end who has committed to UCLA, hasn't slowed the American Fork offense.
"It's a blast being able to do whatever we want," Madsen said of the offense. "I only play in a half sometimes, which can get boring. I'd love to play two halves, but it's also nice to get the young guys the experience, too."
While the talent around him is unique, it also takes a special quarterback to facilitate that offense.
Madsen is just that, American Fork coach Aaron Behm says.
"He's a student of football," Behm said. "He understands coverages, he understands how to read the box, what the defense is trying to do to him, and he can move us around to put us in good positions on offense.
"Having a kid like that who is into his third year, with all those reps before, it's hard to put a price tag on that kind of experience."
Were it not for the state record-breaking season posted by former Corner Canyon quarterback and current USC backup QB Jaxson Dart, Madsen might have been noticed a lot more during the 2020 season. But he's being recognized more and more now.
No matter to him, as he's out to make the most of his final year with his high school teammates before heading off to the Blue Turf.
In Boise State, Madsen found a family-like connection with head coach Andy Avalos and his coaching staff, which includes former Utah State interim head coach Frank Maile.
The three-star quarterback was recruited by New Mexico, BYU, Colorado State and Dartmouth, among others prior to receiving an offer from the Broncos. But one thing stood out about Madsen in each of his prior conversations.
The first topic was always around the 6-foot, 175-pound signal caller's size. Boise State barely even mentioned it.
"My first phone call with them, that was like their big thing," Madsen told BVM Sports. "'We don't care about size.' Instantly I knew I'd have a close relationship with them."
The No. 102-rated quarterback recruit nationally in 247Sports' composite rating and No. 27 overall prospect in Utah, Madsen's stature hasn't kept him back from achieving his goals: starting quarterback, leading the Cavemen to wins, and securing a Division I scholarship.
"He's been the best quarterback in the state for the past three years," Moeaki said. "He's just so consistent every game, throwing up big numbers, giving me the ball, giving my teammates the ball. He always does what's right for the team."
The only thing left for American Fork includes championship aspirations. The Cavemen play in a brutal Region 4 — one that includes three-time defending state champion Corner Canyon and longtime rival Lone Peak — that has many in Utah high school football calling it "the SEC of Utah preps."
But Madsen has American Fork believing in big dreams — if they focus on one game at a time.
"We always look to the next week and forget this last week," Madsen said. "But we're 2-0 after this week, and I think if we prepare the same way, we can come out with the same result."
×
Photos
Related Stories