Estimated read time: 4-5 minutes
This archived news story is available only for your personal, non-commercial use. Information in the story may be outdated or superseded by additional information. Reading or replaying the story in its archived form does not constitute a republication of the story.
HURRICANE — As one of the most geographically diverse states in the country, Utah is an outdoor sports enthusiasts' paradise.
Unknown to many, extreme rock crawling is a form of off-road driving using specialized vehicles in order to maneuver and overcome obstacles. Drivers compete by passing through coned gates and are judged based on how well they pass through them, all while racing against a 10-minute clock. With the many cliffs, ledges and unique rock formations that southern Utah has to offer, this creates the perfect environment for competition.
While several locations in southern Utah play host to these events, competitors from all over the country come to participate. Most competitors are adults, but 14-year-old Katelynn Boren from Hurricane lines up and competes among them — and she is dominating her competition.
Boren took to rock crawling from her father, Kevin, who discovered the sport over 20 years ago. He quickly fell in love with the sport, but it required both a driver and a spotter to guide the vehicle through coned gates and found it difficult to find a consistent teammate. But as his daughter got older, Kevin Boren decided to put her behind the wheel and he moved to spotter.
Despite being so young, she grasped the sport quickly, which she attributes to her father's teaching.
"I have a really good teacher," Katelynn Boren said. "I've been driving since I was 11, and I am 14 now, so over time he would put me in the driver seat and we would just go and play, run a few trails, and so I learned how to drive that way. When we started competing I already had a year and a half of driving experience, so the next step was just learning how to listen to him closely and quickly."
Now with years of experience, Katelynn Boren said the sport has become more fun to compete in as she navigates the unique landscapes.
"When I first get on the course, it's really stressful because you only have 10 minutes, the clock starts, and you have to worry about going through all the gates without hitting the cones, all the while he (Kevin Boren) is running around the Jeep making sure I am getting through the cones clean," she said. "So it's super stressful, but I feel like as I have gotten the hang of it, it's become a lot more fun. It's something I look forward to and I love being on the course."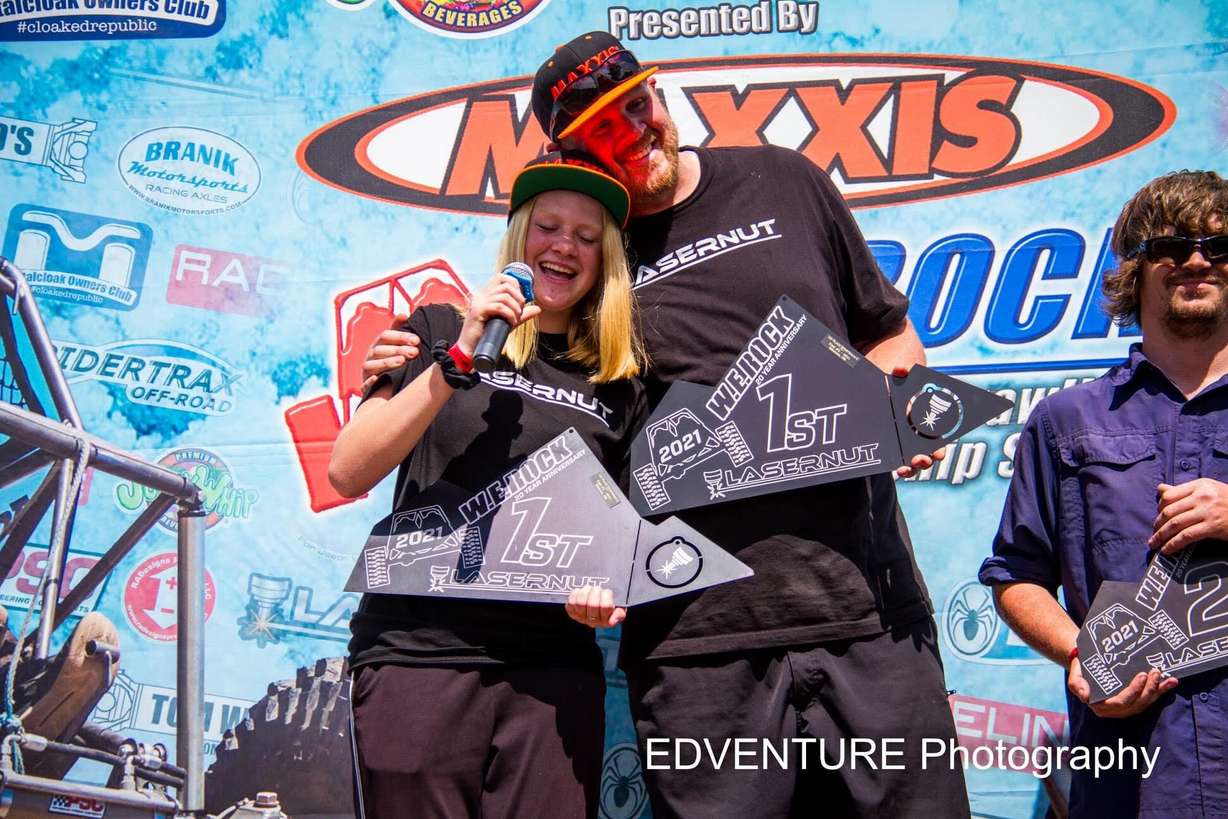 Not only is she having fun, she is finding great success despite being only 14 years old. In her last six competitions, Katelynn finished first in four events and second in the other two. She also recently finished first in both the Western and Eastern series and qualified for nationals in Farmington, New Mexico.
"I'm proud of her," Kevin Boren said. "All her hard work, dedication, and all that she does, I tear up when we are on the podium because it's a big deal to me to see how successful she's been able to be at this. When our season was done I was like, 'Katelynn, this is kind of expensive and if you want to do it next year we need to get some sponsors,' and she put forth the footwork and got us some sponsors."
In order to fund the expensive hobby, Katelynn Boren jumped on the phone and landed notable sponsors such as Maxxis Tires, The Car Barn, Yukon Gear and Axle, as well as several others in order to raise the money necessary to continue to compete.
She's also learning valuable life skills and she gets to spend more time with her father — roughly 90 hours on the road last year on top of their preparation and time spent on the courses.
"It's been so fun to go and do things with just her and I," Kevin Boren said. "We drove all the way to Texas together, took the whole family to Oklahoma, and then drove to Colorado by ourselves. There's just been so many places we have been able to go and spend time together. It's been a special thing to spend that much time with your daughter.
"And to do what she's done, we're competing against grown ups, competing against men my age that are driving, and to see her do so well, I am proud of her and all that she is able to do," he added.
As she prepares for nationals, Katelynn Boren said she's confident they can win, and she's putting in all the work necessary in order to prepare for the big event.
"I am super excited," she said. "I am a little nervous because it's a new area — we've never been to this area. But with how far we have come this year and how far the Jeep has come this year, I feel that we have a really good shot at winning it."
Her father said their biggest competition is themselves. As long as they believe in each other and communicate properly, he believes they have a great shot at bringing home a trophy.
×
Photos
Most recent Sports stories