AROUND THE SHIELD — Both quarterbacks wanted to make something clear.
No, Zach Wilson never owned or wore an Aaron Rodgers jersey, despite how much respect he's held for the Green Bay Packers star quarterback.
Likewise, Rodgers wasn't about to take any fashion — or "swag" — advice from the meteorically rising rookie out of BYU.
"Did you see what he was wearing out there?" Rodgers asked rhetorically amid what felt like a full minute of chuckling after Green Bay's joint practice with Wilson's New York Jets on Wednesday.
But the two got along well enough, and Wednesday's practice was the first of two joint sessions between the two teams that will precede the Jets' visit to Green Bay, where they'll face the Packers in Week 2 of the NFL preseason Saturday (2:25 p.m. MT) at the historic Lambeau Field.
Even if he never wore his jersey, Wilson has long admired Rodgers, the three-time NFL Most Valuable Player whose career began in 2005 when Wilson was still throwing a Nerf football around his backyard.
"He's someone I've modeled my game after, tried to copy what he's doing because he's done it the right way for such a long time," said Wilson, the No. 2 pick in April's NFL draft, according to nyjets.com. "I wouldn't necessarily say I was a Green Bay fan growing up but just a Rodgers fan. I always made sure I was watching him when he was on TV, watching his whole game, seeing what he was doing."
The two aren't likely to meet this weekend in a preseason game — no matter how much presumed starter Wilson plays, more or less than the limited 6-of-9 for 63 yards he put up against the crosstown rival Giants in his NFL preseason debut last week.
That is why Wilson admits he was a bit of a "fan boy" toward the older, more experienced starter in the NFL.
"Aaron's a cool guy," Wilson said. "He has a lot of knowledge. He's a smart dude. It was cool just to ask him about footwork, what's going on on the field, what he's seeing.
"If I could spend more time with him and ask him more questions, I would."
Green Bay brass won't ask Rodgers to suit up in the preseason, which could leave them in a bind this week as top backup Jordan Love recovers from a shoulder injury sustained in the Packers' 26-7 loss to Houston. The former Utah State gunslinger has been given a clean bill of health via an MRI, as first reported by ESPN's Adam Schefter, but it's easy to see why Green Bay would be slow to bring him back sooner than is absolutely necessary.
It is, after all, the preseason.
And preseason, more than anything else is a time of learning.
Even if that learning comes from a much-maligned joint practice. Rodgers promised Green Bay management not to "go all scorched earth" on the subject when he met with the media after Wednesday's training session.
But he was honest with his feelings — and honestly, even he can see some value in the venture.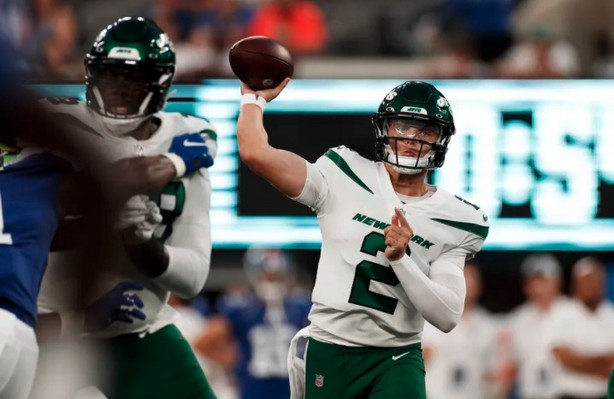 "I've never been a huge fan of joint practices," Rodgers said. "But I think I've said as well, there is some merit to it, as well. It is nice to have this defense going around the league a bit. It's also nice with the coaching connections.
"They have a good defense. One person who has inflicted a lot of concussions on our guys, so that was one of the only things I was worried about."
In Rodgers' position, part of the advantage of learning is also teaching. He's one of the veteran quarterbacks in the league now, a 37-year-old signal caller behind only a handful of QBs like Washington's Ryan Fitzpatrick and seven-time Super Bowl champion Tom Brady of Tampa Bay.
Part of his job is to teach, even if he still feels like he has plenty to offer the Packers — a feeling that hasn't always been reciprocated since Green Bay selected Love with the final pick of the first round a year ago, he's admitted publicly.
On Wednesday, he was in full teacher mode with Wilson. Rodgers praised the young quarterback's work ethic, arm strength and rising talent.
"Zach's a good kid. It was fun to see him," said Rodgers, who is roughly 15 years Wilson's senior. "I got to talk to him at various times throughout the offseason. It was good having these guys in. I've known coach Saleh for a while, played against him a number of times. Him and Matt are close. … It's fun having these guys in."
×
Photos
Related Stories