SALT LAKE CITY — It was just another picture; one of dozens, if not hundreds, Baylor head basketball coach Scott Drew had taken with fans and young players through the years.
At least, that's how it started.
About 10 years ago, while he was in Louisiana on a recruiting trip, Drew was approached by an 11-year-old kid named Jared. The young boy was hesitant about going up to a major college basketball coach, but after some encouragement from his father, he worked up the courage to ask for a picture.
Of course, the jovial Drew had time to snap a photo. He swung his left arm around the boy and smiled brightly for the camera.
Like most other impromptu photo shoots, Drew assumed he'd never see the image or even think about it again. Years later, however, during an in-home visit while recruiting Jared Butler, he got a surprise. Jared's father, Richard, pulled up that very picture of him beaming next to the player he now was courting.
The 11-year-old with chubby cheeks had grown into one of the best guards in the country.
"What are the odds?" Drew told KSL.com, laughing. "You look at it closely and you're like, 'That is him!'"
Butler didn't just end up playing for Drew at Baylor, the two went on to win a national championship together. A random picture turned into an epic tale.
Things have a way of working out for Butler.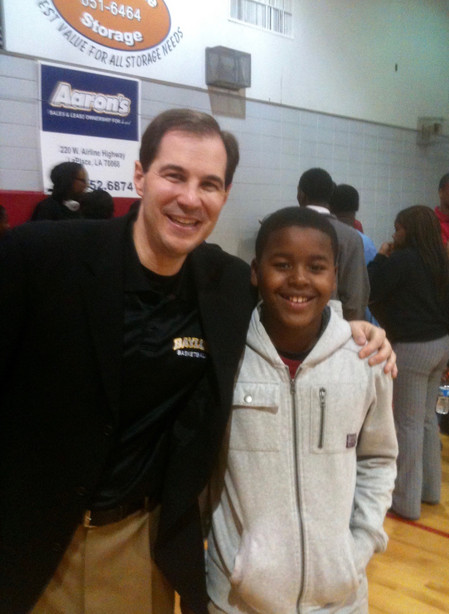 "He's the type of young man every coach would want to marry their daughter, and coaches don't give out that compliment very often because we're all pretty protective over our children," Drew said. "He's as outstanding a young man as it gets. I always tell him that he will be a president or a senator. We'll try to convince him to be a basketball coach but he's gonna be extremely successful in whatever he does."
Congress and the White House may await his future, but for now he's a Utah Jazz guard — a lottery talent that fell to No. 40 amid health concerns. And yes, it was only those concerns that had Butler dropping past the top 20.
Drew ran out of breath before he could finish listing all the things Butler did well on the court: an elite shooter, a facilitator, a student of the game, an isolation scorer, a big-game player.
"The bigger the moment, the bigger the stage, the bigger the game, the better he plays," Drew said. "Him and Kevin Durant were the only two players to score over 30 points multiple times against Kansas. He and Carmelo (Anthony) are the only two players that had 20 and seven in the championship game. So I mean Carmelo and KD are two big people to be compared to."
It wasn't just his old coach spewing hyperbole, Butler's stats backup everything Drew said.
Last season, Butler shot 42% from 3-point range last season, 51% on catch-and-shoot 3s and 48% on 3s beyond 25 feet. He averaged nearly five assists per game and led the Big 12 in steals. To be fair, there are weaknesses. Butler doesn't have elite athleticism and struggles to finish around the rim. But the hope is that the rest of his game will help overcome those.
"He's an energy giver," Drew said. "Every day in practice he walks in and he's smiling, so you're smiling. Before a big game I'd be uptight and nervous, he'd smile at me and loosen me up."
His play helped calm some nerves, too. Against West Virginia in March, Butler used a screen to drive into the paint and finished over a much-taller defender to tie the game with 2 seconds left. Baylor won the game in overtime to claim its first Big 12 championship in 71 years.
"Remember the West Virginia game? Jared called the play and it worked to perfection," Drew said.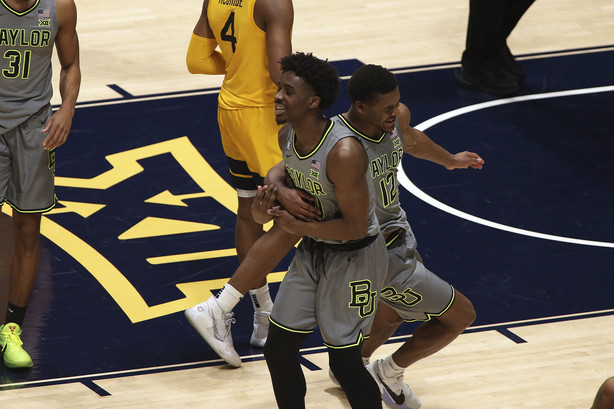 Drew can point to many more games like that: the national championship against Gonzaga, Baylor's first win over Kansas at Allen Fieldhouse in 2020, and Butler's 30-point performance against the Jayhawks last season.
It's those performances that have the Jazz excited to add him to the mix.
"For a 20 year old, he's really mature," Jazz coach Quin Snyder said on NBA TV. "He's been in a winning program, a first team All-American, there's a lot of things that he's done consistently. And you feel like he really knows how to play."
The one hiccup in the tale of the near-decade old photo is that Butler didn't initially sign to play for Drew. With Baylor being short on guard spots, the four-star prospect instead chose Alabama. But everything changed the summer after he graduated.
Jake Lindsey, the former Olympus High standout and the son of former Utah Jazz executive Dennis Lindsey, was forced to give up playing basketball due to being diagnosed with Parsonage-Turner. Baylor suddenly had an open scholarship and Butler asked for a full release from Alabama in order to transfer to the Bears.
Lindsey's unfortunate diagnosis didn't just open up a spot on the team for Butler, it also provided a bridge for he and his future NBA team; the Jazz and Baylor have a strong connection with each other. That obviously started with Dennis Lindsey, who also played for Baylor, and it's continued with forward Royce O'Neale, himself a former Bear.
"Jazz have some great ties with Baylor and I knew some guys in the front office," Butler said a couple days after being drafted.
That meant Utah knew more than most teams about Butler's health conditions. He was diagnosed with a heart condition before he ever played a collegiate game; a condition, though, that never kept him off the court.
"Jared never missed a practice for us, never missed the game for us," Drew said. "And it was one of those true pros, meaning he takes care of his body, eats right, sleeps right, always ready to play, always ready to compete. So we never worried about him."
Drew compared him to Indiana's Malcolm Brogdon and Denver's Michael Porter Jr., two players who were also flagged leading up the draft. While it was frustrating for Drew to see Butler slide in the draft, he believes Butler landed in the best possible situation.
"I know the team that he's going to is an unbelievable organization and they value the same thing that we value," he said. "The Jazz had the best record in the NBA and we've had the best record in the Power Five the last two years. High character, great work ethic, great teammates.
"I know a lot of times in the draft we get caught up in the number you go, and really it's the situation you go to and couldn't ask for a better situation for him."
Butler himself called it a "gold mine" to be able to be on the same team as Donovan Mitchell and Mike Conley, knowing the knowledge they can pass down. But it's not just a one-way street. One of the reasons why the Jazz were so ecstatic he got to 40 is they believe he can help immediately.
And so does his old college coach.
"He's ready to win now," Drew said. "You can put him in, plug and play right now. It's great for both of them."
Things have a way of working out.
×
Related Stories