Estimated read time: 4-5 minutes
SALT LAKE CITY — Draft night didn't go as planned for Jared Butler.
The most outstanding player of the Final Four was considered by most to be a top 20 prospect in his class. So on Thursday he gathered with his family with plans to celebrate a first-round selection. However, pick No. 20 came around and the Baylor guard was still on the board.
The first round ended and he still hadn't heard his name called, and it became harder and harder to watch with each passing second-round pick.
A no-doubt first rounder was in a free fall. A night that Butler had dreamed of was quickly turning into a nightmare.
"Draft night was a roller coaster of emotions," Richard Butler, Jared's father, told KSL.com. "I think for the most part, I would not recommend it. As simple as it is for your name to be called, It feels like an eternity."
That's especially true when you don't know when it will end.
It wasn't Butler's talent that caused him to slip — he was one of draft's best all-around shooters and ball-handlers. It wasn't his personality or professionalism, either — Jazz general manager Justin Zanik practically seemed ready to adopt the young man on draft night. Butler fell into the second round due to health concerns that grew so loud he had to get clearance by a three-doctor panel to even play.
With that as the backdrop, who knew which team would finally take a chance on the Big 12 Athlete of the Year.
"It's something out of my control," Butler said. "I can't change who I am physically, it's kind of hard. But at the end of the day, this is where I'm supposed to be."
His long night benefited the Jazz. They grabbed a player they saw as a mid-first-round prospect with a mid-second-round pick. Butler knew they Jazz liked him, but the team made it clear that it didn't believe he'd be there when they were slotted to draft — and that was with a first-round pick. There was a reason a loud, hearty celebration came from Utah's war room when he was still there at No. 40.
Butler said an emotional Jazz coach Quin Snyder was the first one to call him after the selection.
"He understood my story," Butler said. "He relayed to me that he was just extremely happy that I got to 40. I could just tell that he drafted me as a person and wanted me for who I am as a person and not just you know, basketball skills. So that was really comforting for me."
So who is Butler as a person? That might be what Zanik, Snyder and the Jazz are the most excited about. Zanik said he was the type of prospect a team is looking for an excuse to draft because how joyous he is to be around.
"I like to smile, laugh, pretty genuine and personable person — can talk to anybody," Butler said.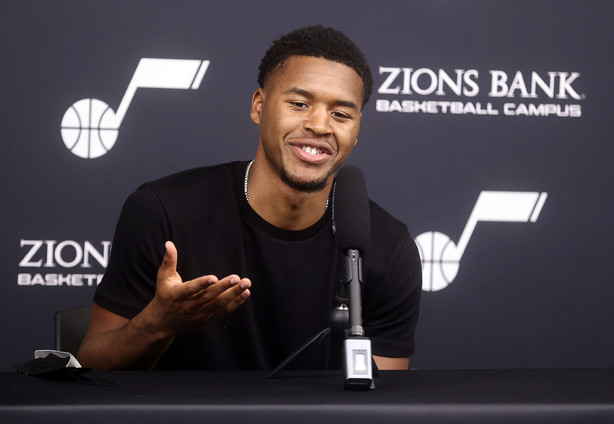 Butler is also a man of faith. He used his free time at Baylor to teach Sunday school lessons to second and third graders. So on draft night, he practiced what he taught: He had a belief that all was going exactly as it should, no matter how painful it was in the moment.
"Sometimes when you have faith you don't know all the answers; you don't know all the ins and outs and how things are going to work," Butler said. "I just try my hardest to have faith that the Lord is going to direct me where I need to go."
Butler believes that's in Utah with the Jazz.
He sees his game fitting right in with Snyder's 3-point happy offense, and he thinks leading a team to a national championship taught him how to win at the highest level. He also said he was eager to be taught by Donovan Mitchell and, if he gets re-signed, Mike Conley.
He's humble enough to admit he needs to improve but confident enough to think he can contribute immediately. When asked what he hoped to accomplish on the court during his first season, Butler said he wanted to make people forget he was a rookie.
"I don't want to be a liability. I don't want you to know that I'm a rookie," he said. "I want you to think that I've been playing in the league for six or seven years."
He thinks he can do that with the Jazz, which will make the long night he had on Thursday all worth it.
"It went from shedding tears to joy," Richard Butler said. "You could see the relief, the weight of all this off his shoulders. He was like 'I just needed the opportunity.' He believes that he's a top level player that can immediately contribute and make an impact. So I think that's all he wanted was an opportunity."
He has one in Utah.
×
Related Stories