VERNAL — Measuring at 12 feet in length and an impressive 8 tons in weight, paleontologists say they've recently unearthed a 152 million-year-old log from a site in eastern Utah.
The giant log now has a home at the Utah Field House of Natural History State Park Museum in Vernal.
The discovery of the log dates back about eight years, according to the Utah Division of State Parks, which wrote about the find on Wednesday. Officials say a woman whose last name is "Manwell" discovered the log within the Morrison Formation, which is a rock unit in the West from the Late Jurassic period, as noted by the National Park Service. It's mostly known for dinosaurs but it is home to many fossils aging between 148 million and 155 million years ago.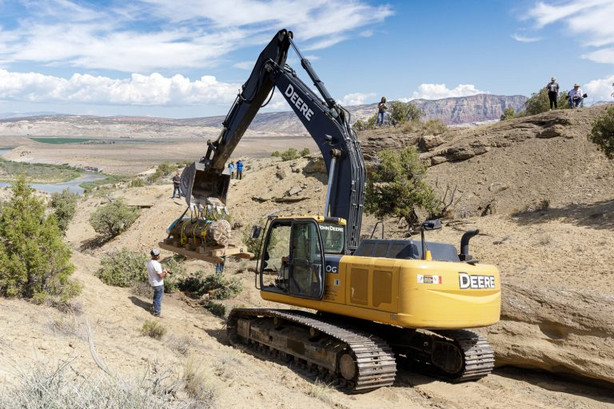 The discovery happened as Mary Beth Bennis, the education curator for the Utah Field House of Natural History Museum, and volunteer Dale Gray were in the middle of researching fossilized logs. The "Manwell Log" quickly captured their attention, as well as other experts, locally and globally.
"Since she had no GPS coordinates, I took as accurate a description as I could of the tree's location to better our odds," Bennis recalled, in a news release. "Somewhat remarkably, we found the log and began to gather data on it."
The first samples removed from the log went to a paleobotanist at the University of Bonn, in Germany, who found that that the cell structure of the log still existed millions of years later. The researcher found that the log belonged to the family Araucariaceae and was a massive ancestor of the modern-day Norfolk Pine.
With the help of grants and volunteers, Bennis and colleagues from Germany and China worked to piece together how to unearth the massive log and move it to the Utah Field House of Natural History State Park Museum for further research. Salt Lake engineer Phil Policelli, who helped haul a 9-ton Utahraptor fossil block found in Grand County, and Advanced Towing and Automotive of Vernal were among those who volunteered expertise and equipment to move the fossilized log to its new home.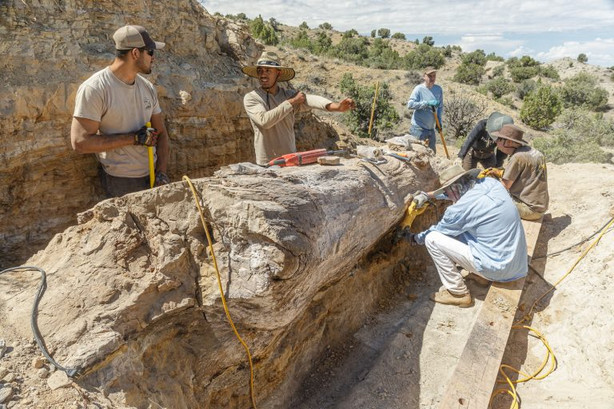 In all, it took almost two weeks for the log to travel from its resting site to the museum, where it's now housed within the building's Jurassic Hall. Utah State Parks officials say the Manwell Log can be cleaned, researched and enjoyed by visitors at its new resting spot.
They added that two dozen other fossilized logs have been found since the discovery of the Manwell Log.
×