Estimated read time: 5-6 minutes
SALT LAKE CITY — From a rally of parents outside the offices of the Utah State Board of Education on Friday to the Salt Lake County Board of Health's letter to county leaders, there are new calls urging Utah officials to require masks for elementary school-age children.
"We're left out in the wind, trying to figure out how to make do as best as possible with these kids — keep them safe, keep schools open," said Christopher Phillips, a father of two elementary students and a 3-year-old. He said the coalition of parents wants "commonsense masking" for children who do not yet have the opportunity to receive the COVID-19 vaccine because it is not yet approved for their age group.
"We just want to see commonsense solutions that will protect our kids and and keep us moving forward," Phillips said, adding that they don't want a repeat of last year when parents "have to go in and out of work all the time because kids' schools keep opening and closing, going remote, going in person."
But there may be little help for them.
Under current Utah law, public schools will resume without the protections put in place last fall despite the state's rising COVID-19 case counts from the faster-spreading delta variant. Local health authorities can issue emergency public health orders, but county councils or commissions can overturn them.
No coronavirus vaccine has been approved for use in children under age 12, and some parents fear unvaccinated children will become ill or children with chronic health conditions will be unable to fully participate in their educational experience.
"They deserve our care and protection. They are no less deserving of an education than children with no known underlying health problems. If we force these children to stay home to protect themselves from COVID-19, we risk losing them instead to the pandemics of loneliness, isolation, achievement gaps, and poor learning outcomes," according to a letter to the State School Board signed by more than 500 people.
Last fall, most Utah students returned to in-person learning, although many school districts operated on hybrid schedules with one or two days each week designated as remote learning days.
All students and school employees wore masks and socially distanced when possible. Schools stepped up hygiene efforts for those in the buildings and the facilities themselves. Spread of infection was low in elementary schools and higher in middle and high schools, populations that tend to be more mobile and social. Subsequently, quarantines of students and educators and temporary school closures were more common in upper grades.
Still, infection rates were generally lower in Utah schools than in communities.
This is not to say, however, the school-age population didn't feel the impacts of COVID-19.
Since the start of the pandemic, 82,273 children from newborn to age 18 have been diagnosed with COVID-19. Among them, 752 were hospitalized with 46 requiring intensive care unit stays. Eighty-two Utah children developed multisystem inflammatory syndrome, according to State Epidemiologist Leisha Nolen's report to the State School Board earlier this week.
Nolen said vaccination and masking are key to protecting children from COVID-19.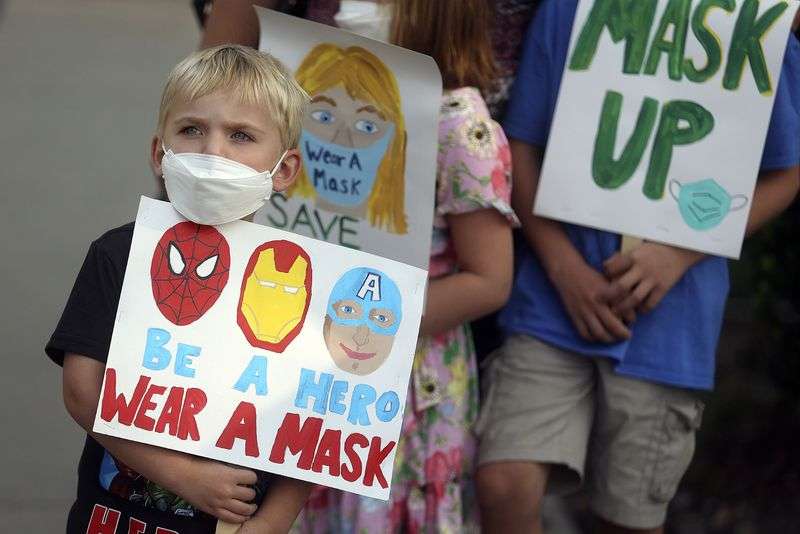 Trying to move the needle for mask-wearing
The Salt Lake County Board of Health, in a draft letter to Salt Lake County Mayor Jenny Wilson and the County Council, cautioned: "Without prevention measures, the number of children with COVID-19 will undoubtedly grow much higher once school starts."
The letter urges county leaders to support a mask mandate, since the council has the final say if local health authorities issue an emergency public health order.
In late July, Salt Lake County Health Department Executive Director Dr. Angela Dunn said any attempt to mandate face coverings is "futile" after state lawmakers took control of virus restrictions. She said that young schoolchildren should wear masks when they return to school, but she would not issue a health order since leaders of the GOP-dominated Legislature don't want a return to mask mandates, despite the current surge in cases.
Senate President Stuart Adams, R-Layton, told the Deseret News July 22 that "I like the idea of informing the public and then letting the parents choose."
He did note that legislative leaders are gathering detailed data on the impact of COVID-19 on school-age children and talking with public health officials and educators on the best way to keep children in the classroom safe this fall.
The parents' letter to the State School Board urged its support of "masking now and vaccination when it is available."
While the board can lend support — it has taken no position at this point — it has no statutory authority to issue public health orders.
The letter said without an available vaccine or a mask mandate, "we are forcing children and their parents to choose between their physical health and an education with their peers. Parents — and especially children — should not have to make that choice."
Taking their message to the street
The letter also leaned on the board's mission statement, which says it leads by creating equitable conditions for student success by advocating for necessary resources, developing policy and providing effective oversight and support.
"As stated in the mission of the organization, all children deserve equitable conditions for successful educational outcomes. Forcing parents to choose between keeping their children at home to protect against COVID-19 compromises the very mission of Utah's educational system," the letter states.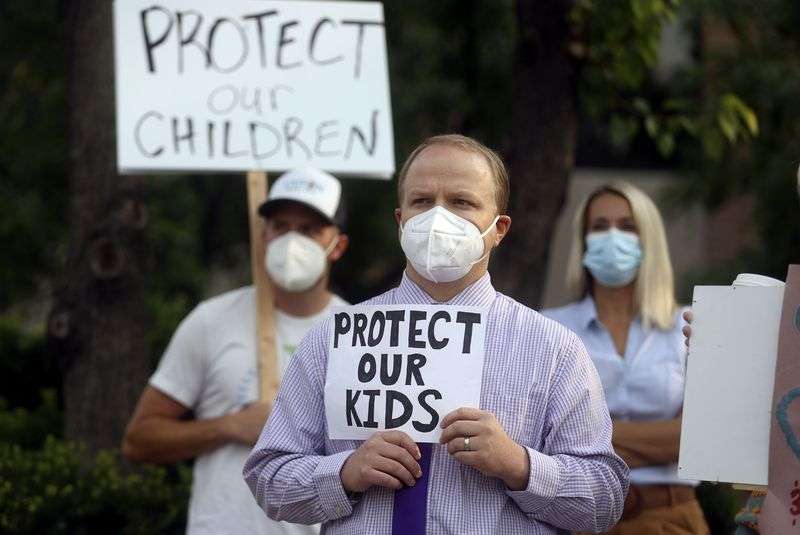 Masked parents and children gathered outside the board offices Friday morning carrying signs urging school officials to keep them safe and to support a mask mandate.
One small girl held a sign that depicted a girl and boy, both in masks, that said "Protect your friends."
The parent coalition's letter said children understand the risks that surround them with COVID-19 and are exhibiting anxiety about the coming school year and contracting COVID-19.
"Masks offer real protection for our children, particularly when worn universally. They are a simple and cost-effective solution to reduce the spread of this disease until we can offer them better protection through vaccination," the letter states.
It continues: "Utah is a values-based state where we love and serve one another. Let's reflect those values by protecting our children this school year. Our community can band together to protect our children and our vulnerable populations. ... Please provide your support for mask requirements in our schools this fall."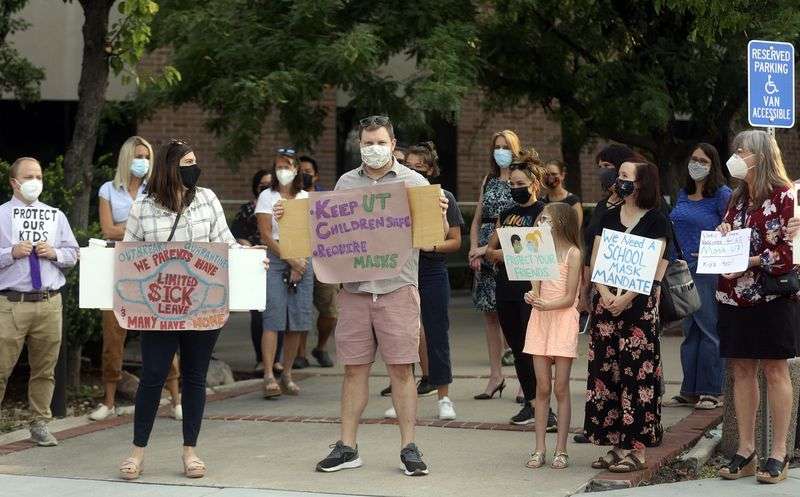 ×
Related Stories