Estimated read time: 4-5 minutes
This archived news story is available only for your personal, non-commercial use. Information in the story may be outdated or superseded by additional information. Reading or replaying the story in its archived form does not constitute a republication of the story.
SALT LAKE CITY — With cities throughout Utah undergoing primary elections for mayors and city council members, ranked-choice voting advocates said Friday low voter interest points to a need for more cities to adopt that method and forgo primaries.
Historically, voter turnout for municipal primaries has held at about 30% or below, but more voters tend to be drawn to vote in years with mayoral races as compared to only city council positions, according to Josh Daniels, Utah County clerk and auditor.
Although he expected a good turnout this year after the pandemic and its resulting move to mail-in ballots, "we're at about an 11% turnout for those who have returned their ballots to our office," Daniels noted during a virtual news conference with the organization Utah Ranked Choice Voting.
The election takes place Tuesday, Aug. 10, and ballots need to be postmarked on or before Aug. 9.
Officials expect to receive no more than 25% of ballots, Daniels said.
"I'm actually surprised to date that it's as low as it is today given all the work that 2020 did in terms of updating voter lists. Many, many, many voters in 2020 either registered anew or updated their registration so that they could vote in the presidential race," he noted.
Twenty-three cities have chosen to forgo the primary and use ranked-choice voting in the general election in November, which will allow residents to rank their candidates from most to least favorite. South Salt Lake, Magna, Bluffdale, Draper, Lehi, Payson, Riverton, Springville, Vineyard, Goshen, Newton, Woodland Hills, Genola, Sandy, Nibley, Millcreek, Moab, River Heights, Cottonwood Heights, Elk Ridge, Salt Lake City, Midvale and Heber City have all opted for that method.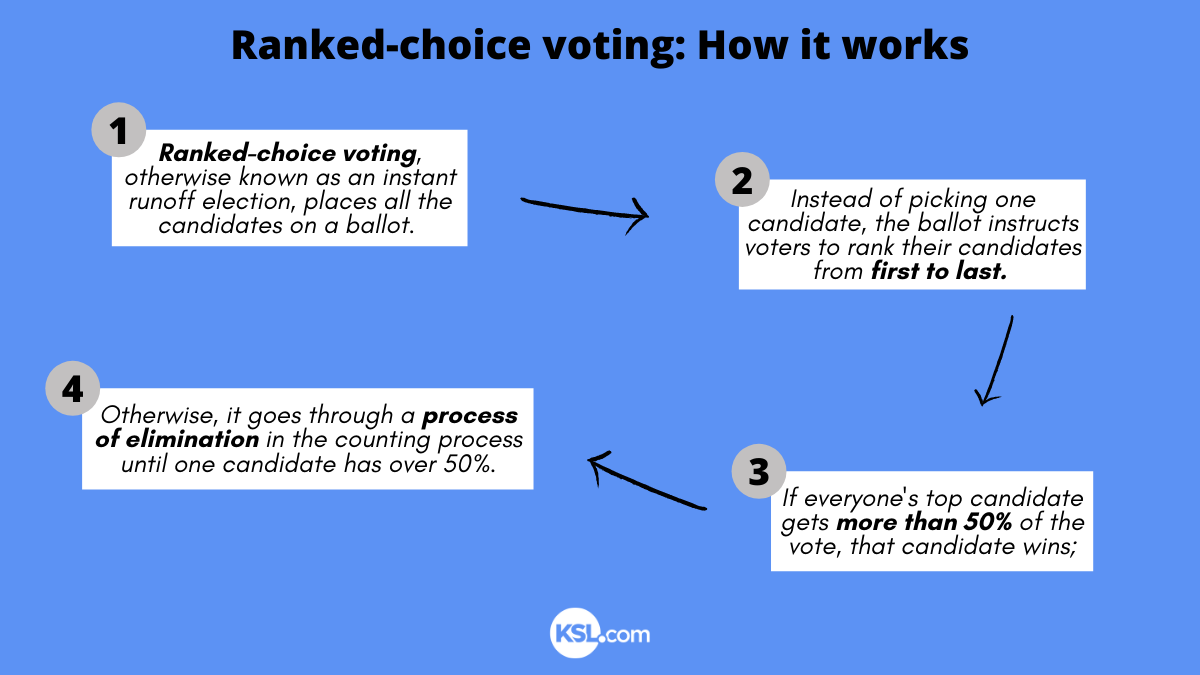 In ranked-choice voting, if a candidate wins a majority of first-place votes, he or she wins the race. If a candidate does not get the majority, the last-place candidate is eliminated and their second-choice votes are counted toward those still in the race.
Candidates who want to run in cities using ranked-choice voting need to file their candidacy papers between Aug. 10 and Aug. 17. The filing deadline for municipal primaries was the first week of June.
Critics of ranked-choice voting contend it could create more confusion among voters amid existing distrust in the voting system. But leaders Friday said it is worth trying due to cost savings and potentially getting more people to weigh into municipal elections.
Rep. Doug Welton, R-Payson, noted that when he first ran for his city council, it was on the traditional primary system, and a very small portion of the city ultimately decided which candidates made it to the general election.
"There were some good candidates that were whittled out, because of the primary system it was hard for them to commit (to continuing to run) not knowing what the resources were," he said.
"It's really surprising that even in a more competitive race for mayors, you lose really good candidates," Vineyard Mayor Julie Fullmer said.
When asked whether ranked-choice voting might prove more advantageous for incumbents, Daniels said there's a "counter theory" that nothing prevents candidates from campaigning as soon as people start thinking about the race, despite there being no primary.
"If you want to be the next mayor, and you're having a ranked-choice election in the fall, you can still be campaigning today even though there's not a primary ballot being sent out today in those cities," Daniels said.
But he acknowledged incumbents "always have an advantage" in an election.
Leaders have long struggled to interest residents in smaller, municipal elections, and residents often say they believe their vote doesn't matter, they're too busy, or that they don't enjoy politics, according to Welton.
Some don't understand the role of the city government and how it serves residents, and more education needs to take place, Fullmer said, adding that Vineyard officials are working to educate the public about how the city serves residents and why their votes matter.
"Sometimes, in municipal elections, it comes down to like two or three votes," Fullmer said.
"I do feel like with ranked-choice voting, one of the problems that I hear from a lot of people is that they feel like they're choosing between the lesser of two evils," Welton noted.
"And one of the things I think ranked choice allows people to do that might get them more engaged … I think you have the ability to vote your conscience versus voting strategically," he said.
×
Related stories
Most recent Utah stories