SOUTH JORDAN — Thousands of students in the Jordan District will start the school year remotely, and it has nothing to do with masks or the spread of COVID-19.
Bingham High School is undergoing a major renovation and, like many other projects, construction is behind.
An email went out Tuesday to families of the 2,600 students that attend Bingham, telling them they will start in person on Aug. 30 after starting online Aug. 16.
That gives crews just under a month to finish work on the upstairs at the school, which houses the bulk of the classrooms. It's also 73,000 square feet that still requires a hard hat to enter.
"This has never, ever happened in the history of the Jordan School District," said Sandy Riesgraf, director of communications with the district. "We wish we had extra space."
Other than a few dumpsters full of construction trash, all seems normal on the grounds outside Bingham High School. But inside, it's a completely different story.
"There have been some challenges along the way," said Riesgraf.
The school, which was built in the '70s, was overdue for a facelift.
Work was supposed to be completed over the summer, but Riesgraf said, "one of the challenges was supply-chain disruption."
But that's not all.
"We've had shortages of materials," she said. "We've also run into problems with pandemic labor shortage."
---
This has never, ever happened in the history of the Jordan School District.
–Sandy Riesgraf, director of communications, Jordan School District
---
Even though the school is still under construction, you get a glimpse of how much better it will be, with 33 skylights and lots of glass walls — giving it a much more open feel. But it won't be completed until mid-August.
"Nobody really wants to do online, but it's something we've done before," said Carson Day.
Day, who's the student body president at Bingham High, said this won't be like last year.
"Just because we have to do classes online, all the other activities will still be going on," he said.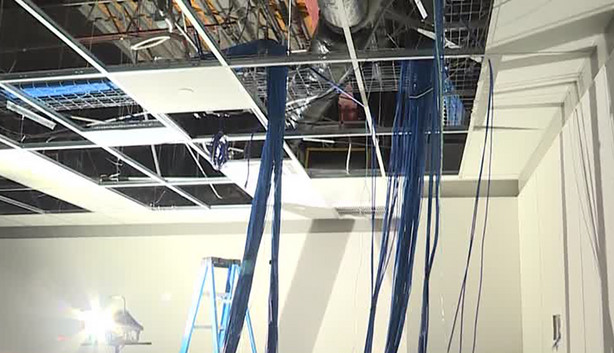 Which everyone here hopes will make the first two weeks of the 2021-22 school year feel completely different than 2020.
"All the fun stuff is going on. It'll still be a party," said Day.
The renovations going on now are part of a five-year, nearly $38 million project.
When finished, the hope is the look of the school matches its reputation of being a legacy high school in Utah.
×
Photos