Estimated read time: 5-6 minutes
This archived news story is available only for your personal, non-commercial use. Information in the story may be outdated or superseded by additional information. Reading or replaying the story in its archived form does not constitute a republication of the story.
FARMINGTON — Patrick Fishburn remembers the days of struggling to begin his professional golf dreams.
The former BYU standout can joke now about the days when grabbing a burger from a McDonald's drive-thru was considered a nice night out, even if it wasn't the best for his nutritional physique as a professional athlete.
Those days are mostly gone, thanks to a sponsorship from Rose Park native Tony Finau and the Tony Finau Foundation. For that, Fishburn is grateful for help covering what he estimates to be around $3,000 each week to play in an assortment of events.
But the Fremont High graduate has other concerns now, too. Chief among them: maintaining his status on the Korn Ferry Tour.
Fishburn currently ranks 81st on the secondary tour's money list with two events remaining. The top 75 in the regular season who fail to earn a PGA Tour card automatically retain their status for the following year, though those numbers were thrown off last year when the PGA Tour announced that there would be no Korn Ferry graduates as a result of cancellations caused by the COVID-19 pandemic.
So Fishburn still has some work to do to maintain his status for next year. And there's no better place to do it than at the Utah Championship near his hometown at Oakridge Country Club.
"I've been on the bubble the entire two years I've been out there, not always putting everything together at the same time," Fishburn said during a pre-tournament press conference for the event, which just turned 30 years old. "But I've felt comfortable these last two events. I think I have a little advantage playing at altitude and on this type of surface.
"I love playing in front of friends and family; it gives me the energy I need. I seem to swing a little harder and hit a little farther — both good and bad. But I'm excited to play."
Fishburn will tee off on the No. 10 tee at 7 a.m. Thursday, playing alongside Grant Hirschman and Harrison Endycott. That means he'll flip to the afternoon flight for Friday's second round, teeing off at 12:15 p.m. MT.
Due to NBC's contract to broadcast the Olympic golf tournament in Japan, the Golf Channel will not broadcast any round live over-the-air. The network will offer a replay of the first round Friday at 7 a.m., and second- and third-round replays at 9 a.m. the following morning, and a final-round tape delay at 9 p.m. Sunday.
Livestreaming will be available on GolfChannel.com and the NBC Sports app from 3-6 p.m. MT daily, with Thursday's opening round also available on PGA Tour Live on Amazon. Spectators will also be allowed at Oakridge Country Club, though some restrictions may be in place.
It won't be the first time playing the Utah Championship for Fishburn, who has made the cut 21 times in 36 Korn Ferry Tour events, including two top-10 finishes and seven in the top-25.
He's a hair over $123,000 this year, racked up 569 points for 81st overall — but knows he can't feel too comfortable with his status unless he breaks into the top 65, or around that mark.
Last year, Fishburn shot 13-under-par 271 in four days at Oakridge to tie for 36th. A similar result this year would no doubt move him up a few spots on the money list, plus earn a few shekels out of the $600,000 purse that includes $108,000 for the winner.
And it will be nice to spend a few days at home, no less — even if last year was hit-and-miss with his hometown discount.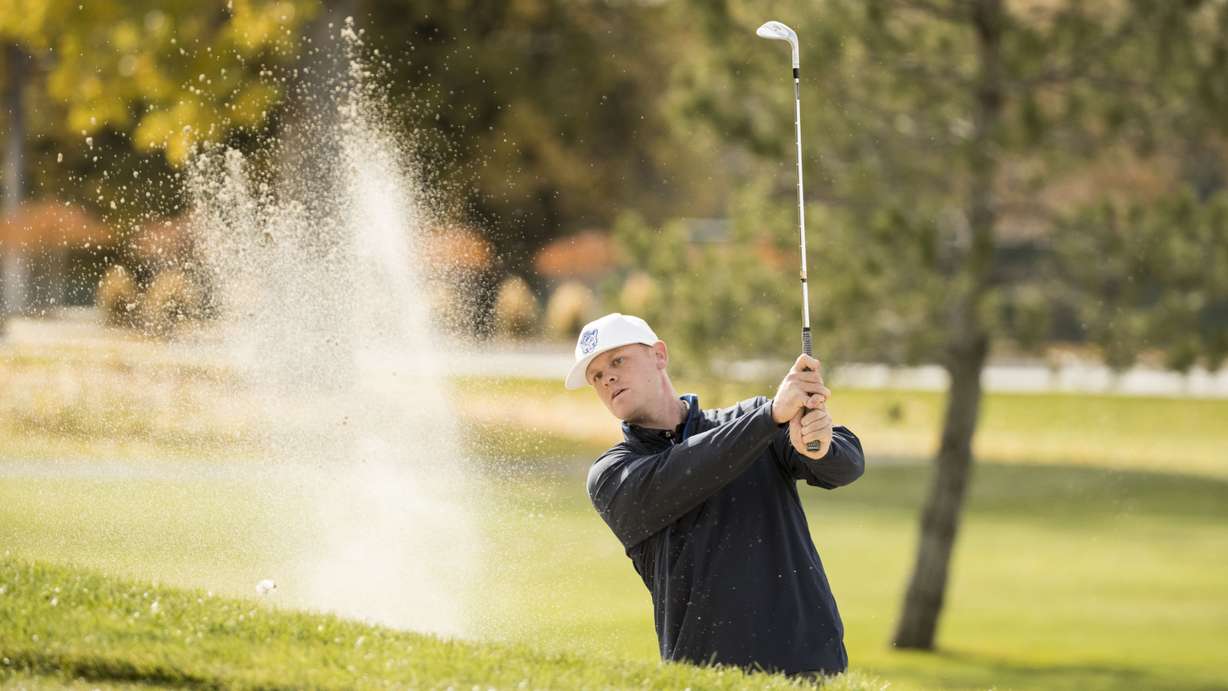 "I'm excited for two weeks in my own bed; that's a rare feat for a professional golfer in the summer," said Fishburn, who owns a home in South Ogden, about 20 minutes from the course. "Last year, we went to Walmart up the road from our place an hour and a half before our tee time, and my wife locked the keys in the car. I got here a little later than I expected, but I shot 65 (that day), so maybe I'll have to do that more often."
Fishburn won't be the only local golfer to tee it up this weekend at Oakridge. Former BYU golfer Rhett Rasmussen was one of eight Monday qualifiers after shooting 8-under 64 at TalonsCove golf club in Saratoga Springs. The Corner Canyon High graduate joins the following seven golfers to make the cut, one that just missed Davis/Weber County teaching pro Joe Summerhays:
Rowin Caron
TK Kim
Jared Sawada
Nathan Stamey
Michael Sakane
Andy Spencer
Chandler Eaton
Of course, the biggest local name will be Daniel Summerhays, who has come out of retirement as a teacher and golf coach at his alma mater Davis High to give tour golf another shot. Summerhays will tee off at 1:05 p.m. MT on the 10th tee, and he'll be sure to have plenty of friends, family and fans walking the grounds with him as he makes his return to pro golf after surgery to repair a stress fracture in his left foot that he suffered around the time of last year's miracle run at the Utah Championship that ended tied for second via playoff.
"I would say it's about 90% now," Summerhays said. "I can do whatever I want to do; I even started playing a couple games of pickle ball the last couple of weeks, so it's starting to feel a lot better."
Fishburn knows what it's like to have a friendly gallery, even during last year's tour stop, which was closed to spectators due to the pandemic. Only a handful of volunteers, coaches and media were invited inside the Korn Ferry Tour's "bubble" at Oakridge.
With one exception.
"I think last year my dad disguised himself as a swing coach, even though I never did anything he said; I usually did the exact opposite," Fishburn joked. "But he's for sure gonna be out here this year. I think there are quite a few people planning on coming out here. There are a lot of people I know around here, from the course, from BYU, from high school.
"All friends who used to make fun of me for playing golf, and now they think it's exciting."
×
Related stories
Most recent Golf stories