AT THE GAMES — Murray's Nathaniel Coleman thought his dreams of representing the USA in sport climbing in the sport's first-ever Olympic program were dashed.
Coleman, a Salt Lake City native who still lives and trains near Big Cottonwood Canyon in the emerging sport, posted a less-than-desired score in his best discipline, bouldering. Ranking No. 7 in bouldering in the world, Coleman finished 13th after four attempts, where only the top eight advanced to the finals.
"After bouldering, I had lost all hope of that dream coming true," Coleman said. "But I don't know, somehow, that let me just climb freely on the lead route, and it felt great. A crazy format leads to crazy scores and I just kept moving up and I can't believe it really happened."
Fortunately for Coleman, he still had two other disciplines: speed and lead. The 24-year-old University of Utah graduate set a personal-best time of 6.51 seconds to finish 10th in speed, and then added a fifth-place score of 39 in lead to help him climb to No. 8 in the field and advance to Thursday's combined finals.
Fellow American Colin Duffy, who lives and trains in Broomfield, Colorado, finished third and will be a medal contender in the finals, with a personal-best time of 6.23 in speed, two tops for fifth place in bouldering, and just off the top route in lead with 42+ for second place.
"It feels amazing. I'm still in shock," Duffy said. "Yeah, Nathaniel and I made finals and I couldn't be prouder of our team."
Watching his teammate summit in third place overall and vie for a medal was as much fun as his own rewards, Coleman said.
"Colin is a freaking animal and crushed the whole day," said Coleman, who has been climbing internationally since he was a teenager. "It was insane. I was super happy for him the whole day through. I was happy that we at least had one of us in the finals. And now we have two."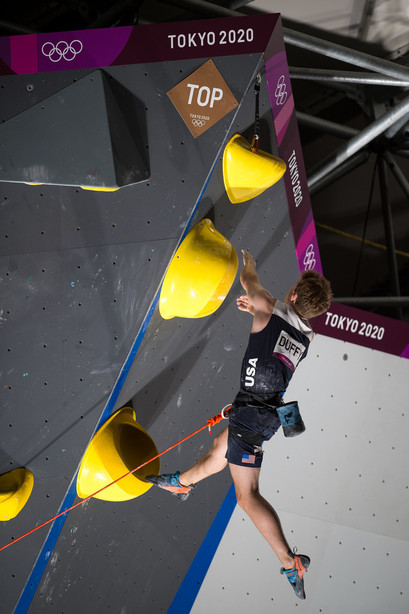 Based in Salt Lake City, USA Climbing made its debut in the Olympic program alongside the rest of the world in the overnight hours Tuesday morning back in the states. The group recently held its U.S. national championships in Salt Lake City, where it selected its four-climber team for Tokyo in Coleman, Duffy and women's climbers Kyra Condie and Brooke Raboutou.
Condie, who lives and trains in Salt Lake City, and Raboutou, a freshman at the University of San Diego from Boulder, Colorado, will represent Team USA on Wednesday in women's qualifying.
"I hope USA Climbing gets more support and resources so that we can continue to better our performance in international competition," Coleman said, "whether that means World Cups or the Olympic Games."
Say it back: SPORT CLIMBING IS ELECTRIC ⚡️ #TokyoOlympicspic.twitter.com/aabSDDOvrG

— #TokyoOlympics (@NBCOlympics) August 3, 2021
Men's basketball: USA 95, Spain 81
Kevin Durant poured in 29 points in the quest to win his third Olympic gold alive as Team USA overmatched a sensation performance by Ricky Rubio and outlast Spain in the quarterfinals.
The former Utah Jazz point guard Rubio finished with 38 points to lead all scorers. Former Weber State star Damian Lillard had 11 for the United States, which will face Australia on Thursday.
"We've just got to finish it. Got to finish it," Durant said, per the Associated Press. "We're supposed to be here. For us, it's about getting the gold."
Men's basketball: France 84, Italy 75
Utah Jazz center Rudy Gobert poured in 22 points to go along with nine rebounds, including a game-sealing dunk in the final minute, as France built up a lead as high as 21 in the second half before holding off Italy.
Evan Fournier added 21 points, four assists and three rebounds for France, which will face Luka Doncic and Slovenia in the semifinals. Doncic had 20 points, eight rebounds, 11 assists and two steals in Slovenia's 94-70 rout of Germany.
Men's basketball: Australia 97, Argentina 59
Patty Mills scored 18 points, including three 3-pointers to go along with four assists as Australia waltzed into the semifinals with a win over Argentina.
Utah Jazz wing Joe Ingles added 11 points, seven assists and four rebounds for the Boomers, who got 12 points apiece from Jock Landale and Matisse Thybulle in the win.
Upcoming schedule:
All times listed below are in MDT.
Baseball: USA vs. Dominican Republic - Eddy Alvarez, SLCC alum (9 p.m.)
Women's basketball: Australia vs. United States - Leilani Mitchell, Utah alum (10:40 p.m.)
Sport climbing: Women's combined, speed - Kyra Condie, Salt Lake City resident (1 a.m.)
Sport climbing: Women's combined, bouldering - Kyra Condie, Salt Lake City resident (2 a.m.)
Sport climbing: Women's combined, lead - Kyra Condie, Salt Lake City resident (5:10 a.m.)
×
Related Stories