SALT LAKE CITY — In many ways, the Sacramento Kings had little deliberation when it came to drafting their first NBA draft pick Thursday night.
Picking at No. 9, the Kings selected Baylor guard Davion Mitchell, a defense-first combo guard with a national championship and Naismith defensive player of the year award under his wing. Mitchell was considered a bit "off script" by some media outlets, but Sacramento brass knew exactly what they were getting in bringing in the kind of guard they lacked during the 2020-21 season (and even before, most would argue).
Then came the hard part, Kings general manager Monte McNair said during a press conference Saturday afternoon in Sacramento. The Kings had 30 picks to wait for their second round pick at No. 39 overall.
The hard part wasn't who to pick — but just hoping that the guy they wanted would still be on the board.
For a team with such a heavy need for defense, they got exactly what they wanted in Utah State center Neemias Queta.
"There's a lot going on, but the wait is alway painstaking," McNair said of the team's draft-night deliberations. "Neemias was somebody we've been looking at for a while, and we're a little happy he flew under the radar. I don't know how you fly under the radar at 7 feet; we were rally excited when he was there at No. 39, and we were ready to call it in."
Queta is a 7-foot shot-blocking center from Utah State, the kind of old-school center most teams in the NBA would've never passed on 20-plus years ago. Times have changed in the era of "position-less basketball" in the modern game — but defense still reigns, especially for a team like Sacramento, which ranked 21st out of 30 teams in total defense during the 2020-21 season.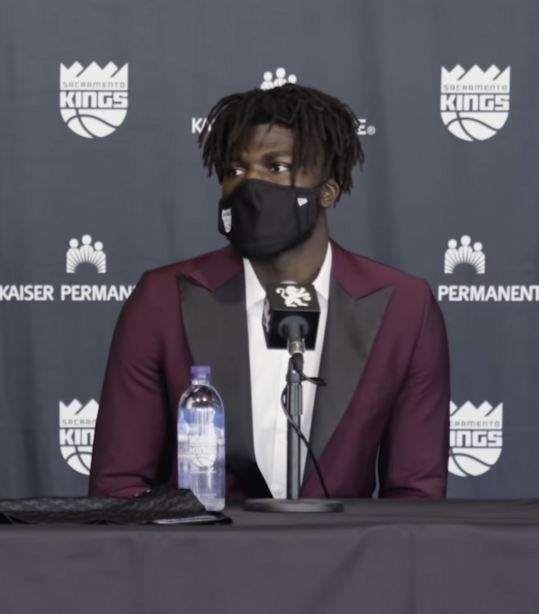 After the Kings drafted Queta, they flew him and first-round pick Mitchell to Sacramento, showed them around town briefly, and took them on a tour of the Golden 1 Center, where they'll open the summer season Aug. 3-4 in the California Classic against the Warriors, Lakers and Miami Heat. Queta spent a fair amount of time on the court while wearing street clothes and the crimson tuxedo he wore without a tie as the Kings presented him to the media.
If collegiate form holds, Queta — the Aggies' all-time leader in blocked shots with 219 including 97 stuffs as a junior in 2020-21 en route to Mountain West defensive player of the year honors — will be spending plenty of time patrolling that paint. And he can't wait to get to work in a town that reminds him a bit of Logan and a lot of the blue-collar work ethic he developed under former Aggie coach Craig Smith, one of the few coaches who traveled to Estonia to scout Queta while playing for his native Portugal in a European U-18 tournament.
"For me, it's just been a wild 48 hours, trying to soak it down," said Queta, who will wear No. 88 with the Kings — an homage to the No. 8 jersey when he started playing basketball at age 10 in Portugal. "A lot of stuff has been going on. I've been around the city; it's a beautiful city, great weather, and I love the arena, as well. I'm really excited to be a part of this organization.
"Let's change the culture."
In college, Queta helped restore the "Spectrum magic" that Aggie fans admit had been missing before he got there. That's no shout to former coach Craig Smith or standout shooting guard Sam Merrill.
But Queta's role in engineering a Utah State turnaround over the past three seasons can't be overlooked. And he wants to do the same thing in Sacramento.
In addition to joining 2020 Milwaukee selection Merrill as the first time Utah State has had a player drafted in back-to-back seasons since 1982, Queta is also the first native-born Portuguese basketball player in the NBA. Perhaps more importantly, that's an honor he doesn't take lightly as he represents his homeland in the world's top basketball professional league.
"I believe it's something that I try to carry on me, like a chip on my shoulder," Queta said. "I want to be able to help kids and represent Portugal the best that I can. With that comes a great responsibility. I'm excited to be the one to break through that."
The Kings' second-round selection was met with rave reviews by most draft observers. CBS Sports' Gary Parrish and Kyle Boone gave the selection an A+ rating, and The Athletic's Sam Vecenie and John Hollinger cheered it as a selection that they've been "driving the Queta bandwagon all year.
"Sacramento gets a 7-footer in Queta who was dominant at the college level as an interior player," Parrish and Boone wrote. "He's an efficient scorer around the rim and effectively uses his massive wingspan to swat shots at an elite rate."
He still has something to prove, too. On Saturday, one Sacramento reporter repeatedly referred to Queta coming out of "Utah," and to the 7-footer's collegiate career as playing in the "Big West" conference.
Clearly, there's still work to do. And it starts on defense.
"I believe that I can translate that to the NBA, since it's my biggest asset," Queta said. "It's the thing I know how to do better, and it's something I've just got to translate to the NBA. I can't control what people think of me, so I just want to go at the court and prove them wrong every time I get in there."
×
Photos
Related Stories