AT THE GAMES — Rhyan White's quest for an individual Olympic medal came up just short again.
White, a Herriman native and former Cottonwood High swimmer, finished fourth in the 200-meter backstroke, touching the wall just 0.22 seconds behind the bronze medal winner, Emily Seebohm of Australia.
Australia's Kaylee McKeown won gold and Canada's Kylie Masse won silver.
White, Seehohm and American Phoebe Bacon nearly went stroke for stroke in the final meters of the race with Seehohm just touching ahead of the two Americans to get on the podium.
White also finished fourth in the 100 back — missing out on an individual medal in pretty cruel fashion.
But White likely won't be leaving Tokyo empty handed. The first Utahn to make a U.S. Olympic swim team swam in the prelims of the 400 medley relay, helping the Americans qualify for the finals that will be swam on Saturday night (or Sunday morning, Tokyo time).
While White isn't expected to swim in the finals (Regan Smith, who finished third in the 100 back, should get the spot), she'll still receive a medal if the Americans end up on the podium.
Men's basketball: France 79, Iran 62
Utah Jazz center Rudy Gobert had 6 points, four rebounds and two steals in 17 minutes to help the French improve to 3-0 in pool play.
Thomas Hertel led France with 16 points and three rebounds, and Timothey Lwawu Cabarrot added 12 points, five rebounds, three assists and two steals.
Women's rugby sevens: United States 33, China 14
Kris Thomas and Ilona Maher each scored two tries to help the United States rebound from a loss to Great Britain in the quarterfinals and into the fifth-place match.
Former BYU All-American Jordan Matyas again suited up in the No. 8 jersey for Team USA, which will face world champion Australia for fifth place at 2 a.m. MT.
Men's basketball: Italy 90, Nigeria 81
Utah Jazz wing Miye Oni struggled in his final Olympic performance for Nigeria. Oni scored 3 point on 1-of-8 shooting and was 1 of 6 from behind the 3-point line.
Nigeria finished group stage 0-3 and were eliminated from the tournament.
Men's basketball: Australia 89, Germany 76
Jazz forward Joe Ingles had 6 points, five rebounds and three assists to help Australia reach the Olympic quarterfinals with a perfect 3-0 group-stage record.
Ingles also added three steals for the Boomers in the win.
Men's basketball: USA 119, Czech Republic 84
Former Weber State guard Damian Lillard didn't have the same outburst he's had the first two games, but that didn't matter much for the Americans against the Czech Republic. Lillard had 8 points and three assists in the United States' blowout victory that clinched them a spot in the next round.
USA finished Group A play 2-1 to advance to the quarterfinals.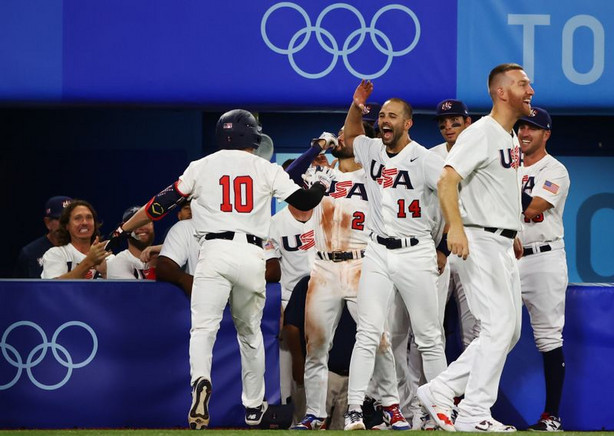 Baseball: USA 4, South Korea 2
Six players had a hit for four runs as the Americans used small ball to earn a spot in the quarterfinals.
Former Salt Lake Community College middle infielder Eddy Alvarez went 1-for-3 with a run scored for the United States, and also made two put outs with five assists in another stellar defensive performance at second base.
Nick Martinez scattered four hits with one earned run and nine strikeouts to earn the win for Team USA, and David Robertson had one strikeout in three batters faced to earn the save.
Upcoming schedule:
All times listed below are in MDT.
Baseball: USA vs. South Korea - Eddy Alvarez, SLCC alum (4 a.m.)
Women's basketball: Canada vs. Spain - Kim (Smith) Gaucher, Utah alum (7 p.m.)
×
Related Stories