SALT LAKE CITY — In hindsight, the signs were there. Something was off.
The way she looked off to the side into the empty arena, cast her gaze upwards, took a deep breath, with nary a glimpse of enjoyment or fun-loving emotion in sight.
Simone Biles was emotional.
And then, the vault.
The best vaulter in the world got halfway through her rotation of a Yurchenko 2 1/2 and almost physically stopped in the air.
After completing the Yurchenko 1 1/2 — a basic move with a 5.0 degree of difficulty, far beneath the acumen of a gymnast of Biles' caliber — the 24-year-old star of Team USA stumbled forward and barely walked away from her dismount. She received a 13.766, a painfully low score that also signaled something was wrong; it was 0.7 points below the lowest Russian competitor and .54 below the lowest American teammate, incoming Utah freshman Grace McCallum.
Only one other gymnast attempted an easier vault Tuesday. And this one would be the last of the day for Biles, who withdrew from the gymnastics team final a few moments later.
"I did not choose to do a one-and-a-half," Biles said, according to Yahoo Sports. "I was trying to do a two-and-a-half, but that was not clicking."
The conversation around Biles has reopened the door around athletes and mental health, a conversation that has been needed for a long time, according to Intermountain Healthcare sport psychologist Dr. Tony Kemmochi. It's a dialogue that is sparked more over the past year, from world tennis star Naomi Osaka's well-documented struggles with anxiety and mental health to NBA stars' opening up about their struggles during the pandemic.
It's a needed conversation, though, because it shows that it's OK to not be OK.
"What I would hope for is that we help the general public understand these things so they don't respond with criticism or judgement like they have in the past," Kemmochi said Tuesday during a videoconference with local media. "It just adds to that criticism.
"The more we become aware of athletes' mental health and needs, (the more) we can provide more care and resources for them. They can actually reach out without feeling ashamed, or like they've done something wrong. That way we can prevent unnecessary outcomes like this in the future."
Biles' story certainly reached far and wide and sparked a number of reactions. But it's one of many in a growing wave of pro-mental health voices in modern sports.
Most of the reaction has been positive, as well.
"I love and admire Simone Biles and our Olympians," Utah Sen. Mitt Romney said in a statement. "Beyond their determination and sacrifice, they evidence the greatness of the human spirit, in victory and in defeat. I take pride in them, not so much for the medals they win as for the grace, humanity & character of their hearts."
Kemmochi said that athletes — no matter the level or venue, but especially at the highest level — dominate in an arena of control. The more control they feel they have — in performance, in outcome, in win-loss records — the more confident they feel in their abilities.
Control isn't always a bad thing. It certainly hasn't been for Biles, who controlled her environment en route to being the best gymnast in the world, a four-time gold medalist and 19-time world champion who was expected to lead the United States to another team title in the pandemic-postponed Summer Games in Tokyo.
But nothing about these games have been in control, from the constant testing to the postponements, to playing amid a revamped surge in COVID-19 cases caused by a number of variants of the virus.
"Today, we know that the Olympic environment is out of control," Kemmochi said. "It's nothing like they are used to. I'm not too surprised that some athletes are having strong reactions to it, because I see a lot of athletes who struggle with the same thing."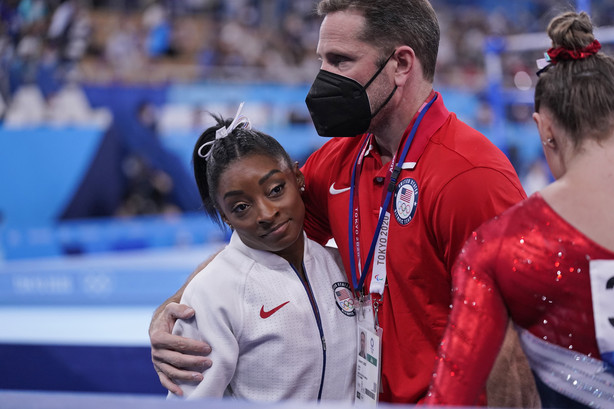 Add to it the microscope under which today's athletes exist — from social media to the need for constant new "content" in the 24-hour news cycle — and it's easy to see how things can spiral beyond their control.
"I don't know if maybe it's just our generation or if it's always been like this, but just the tendency to quickly turn on people or criticize people for poor performance," said Utah wide receiver Britain Covey at Pac-12 media days, himself a vocal proponent of mental health. "I mean, coach (Kyle) Whittingham is a legend of the U. And yet, there will be games when I'll hear boos from the fans. I've often wondered about that.
"When I hear about Michael Jordan there used to be just this he-never-did-anything-wrong type of thing, but then now I go to a Jazz game and it's like we're starting to boo our own players after a bad quarter. So I wonder if that's just part of what social media has done to us. I try and avoid social media in the good and the bad times and just be around people who care about me as a person and know where my worth lies — not in my performance and things like that. That helps me the most."
Whatever it was, Biles stepped aside. She was in no position to help her team win, by her own admission, and didn't want to be a hindrance in the Americans' chase for gold.
Biles stayed with the team through the team finals, through Russia's first team gold in women's gymnastics since competing as the "Unified Team" in 1992, shortly after the fall of the Soviet Union. She stayed because she cared about her teammates, about McCallum, about former Utah gymnast MyKayla Skinner who did not compete in team qualifying Tuesday, about everyone else who she had helped get to the edge of gold-medal glory.
Eventually, it got to be too much.
"It's been a long year, and I think we are too stressed out. We should be out here having fun," Biles told ESPN. "Sometimes that's not the case."
Professional athletes have become more than themselves in modern-day sports. They've become "brands" through social media, heroes for children all over the world. They've become "icons" for so many, Dr. Kemmochi said.
"Many people expect athletes to be 'strong' and 'put together.' And sometimes athletes take that and internalize it," Kemmochi told KSL-TV. "They feel like they can't just be a human."
At the end of the day, though, that's what they also: humans. Friends. Neighbors. And fans should remember that.
"At the end of the day we are people, and you guys — or not you guys — but just people in general, see us as athletes and at times can disregard the actual person side of it, which is us 90% of the time," Utah linebacker Devin Lloyd told KSL.com, himself a projected star of the upcoming football season. "I think mental health is a huge thing and it should be a top priority, and it should be spoken about more and encouraged more to have people speak out whenever they're going through a rough time. There should be more positivity associated with people searching for help as opposed to negativity."
Biles will get the help she needs, and she'll recover — possibly even in time for Thursday's individual all-around finals. She plans to take a "mental rest day" Wednesday and then re-evaluate.
But the issues she brought to the forefront will last longer than the day-long break, or the week of competition in the Olympics, or well beyond the upcoming season.
"I really appreciate athletes who have been courageous to do this, and the fact that the general public has shown more interest in athletes' mental health," Kemmochi said. "It's one area that we overlooked for many years, and as a result, many athletes struggled in silence."
One of the early questions posed to Biles after the United States clinched the silver medal and media around the world had one question — Why? — was about her physical health: was she injured?
In many ways, she was — just not in the physical sense that most people think of injuries.
Maybe this new conversation will reopen the dialogue around mental health and rehabilitation for matters of the mind.
It's a matter of national, and even global health.
"When it comes to physical health, we understand when someone has an injury or an illness," Kemmochi said. "In reality, if our body can get injured, so can our mind. If we leave injury, it just gets worse and worse. Unfortunately, I've seen a lot more of that in my career.
"The longer you wait, the harder it becomes for your mind to change things. If we work on these things sooner, we can spare athletes for years to come."
Contributing: Josh Furlong, KSL.com; Alex Cabrero, KSL-TV
×
Photos
Related Stories