Estimated read time: 9-10 minutes
LOGAN — Earlier this week, I shared my first half of the season's predictions for Utah State.
The front half of the schedule does Utah State no favors. They play Washington State, Air Force, Boise State and BYU all within a month of each other. Despite the difficult slate, I predicted the Aggies to finish the gauntlet with a 3-3 record and bowl game aspirations intact.
By mid October, Utah State may be beat up, worn out and eager to play the "easier" portion of the schedule, which includes games against five conference teams that went a combined 17-17 last season.
But it wouldn't be wise to overlook anybody.
The majority of the schools mentioned hereafter return most of their starters and have a chance to improve. Expect highly contested games against Colorado State, Hawaii and Wyoming — teams that will also be vying to make a bowl game.
The only game I'm not convinced is winnable for Utah State is against San Jose State, and the only game I consider un-losable is against New Mexico State. Thus, their performance in the final six games could make Utah State's seasons win total range from four to eight games.
How the Aggies perform in October and November will be a big testament to the depth on the roster and the character of this team, and it will determine the overall success of the season.
vs. Colorado State, Oct. 22
Opponent's previous game: New Mexico
Whether it's declared a forfeit, played in a torrential downpour or decided on a penalty after a last-second Hail Mary, the matchup between Colorado and Utah's respective land-grant universities often delves into absurdity. Don't expect anything different this year.
Second year head coach Steve Addazio hopes to get the Rams rolling after playing just four games and going 1-3 last year.
There are several questions regarding the Rams offense. They have to break in a new offensive coordinator, Jon Bubmary, due to Joey Lynch taking off for Vanderbilt. They also lost starting quarterback Patrick O'Brien to Washington and wide receiver Nate Craig-Myers to UCF.
Despite the losses, the passing attack should be Colorado State's strength on offense. Todd Centeio is expected to be the starting quarterback for 2021, and he has weapons to choose from in NFL tight end Trey McBride and 2020 All-MWC receiver Dante Wright.
The Rams defense is what will keep them in the hunt for a bowl game this season. It starts up front, with a defensive line that returns everyone. Led by preseason All-MWC defensive lineman Scott Patchan, Colorado State's pass rush should be even better this fall.
Homecoming night will prove to be a huge test for the Utah State offense, as the Rams should have the advantage in the trenches. But the Aggies' fast pace play could pay dividends as it's built to wear out bulky defenses such as the Rams'. Add that to the fact the Colorado State secondary gave up 250.3 passing yards last season and there should be opportunities for Logan Bonner and the Aggies to make some big plays in the second half.
Colorado State is capable of countering the Aggie offense with big plays of their own, but the unproven Centeio could struggle reading Aggie defensive coordinator Ephraim Banda's complicated schemes.
Result: Utah State win (4-3)
vs. Hawaii, Oct. 30
Opponent's previous game: New Mexico State
The Rainbow Warriors come to Logan for the second of two conference games where ESPN's FPI has Utah State favored.
Hawaii was picked to finish fifth in the West Division, but with nearly all of its production back — along with some key transfers — Todd Graham's squad that went 5-4 last season will turn heads this fall. It starts with gunslinger Chevan Cordeiro, who led the Rainbow Warriors in rushing yards last season. He also passed for a respectable 231.4 passing yards per game with a 62.3 % completion rate.
He'll have help from All-MWC preseason receiver and punt returner Calvin Turner, a versatile athlete who had 546 receiving and 331 rushing yards in 2020.
Defensively, Hawaii may have the quickest secondary in the conference, boasting pre-season All-MWC defensive back Cortez Davis, safety Cameron Lockridge — he led Hawaii in tackles last year — and Georgia transfer Hugh Nelson.
Add a front seven that includes pre-season All-MWC linebacker Cortez Davis and two Power Five transfers in Zacchaeus McKinney (Oklahoma) and Pita Tonga (Utah), and the Rainbow Warriors could be elite defensively.
The Aggies have a chance at winning if it can implement a ground game, and if its defense finds a way to limit the Hawaii rushing attack. Expect to see Cash Gilliam or Justin Rice tasked with spying Cordeiro all game long. If they're unable to stop him from running, the defense will struggle getting off the field.
In the end, the Rainbow Warriors' speed on both sides of the ball gives them the edge.
Result: Hawaii win (4-4)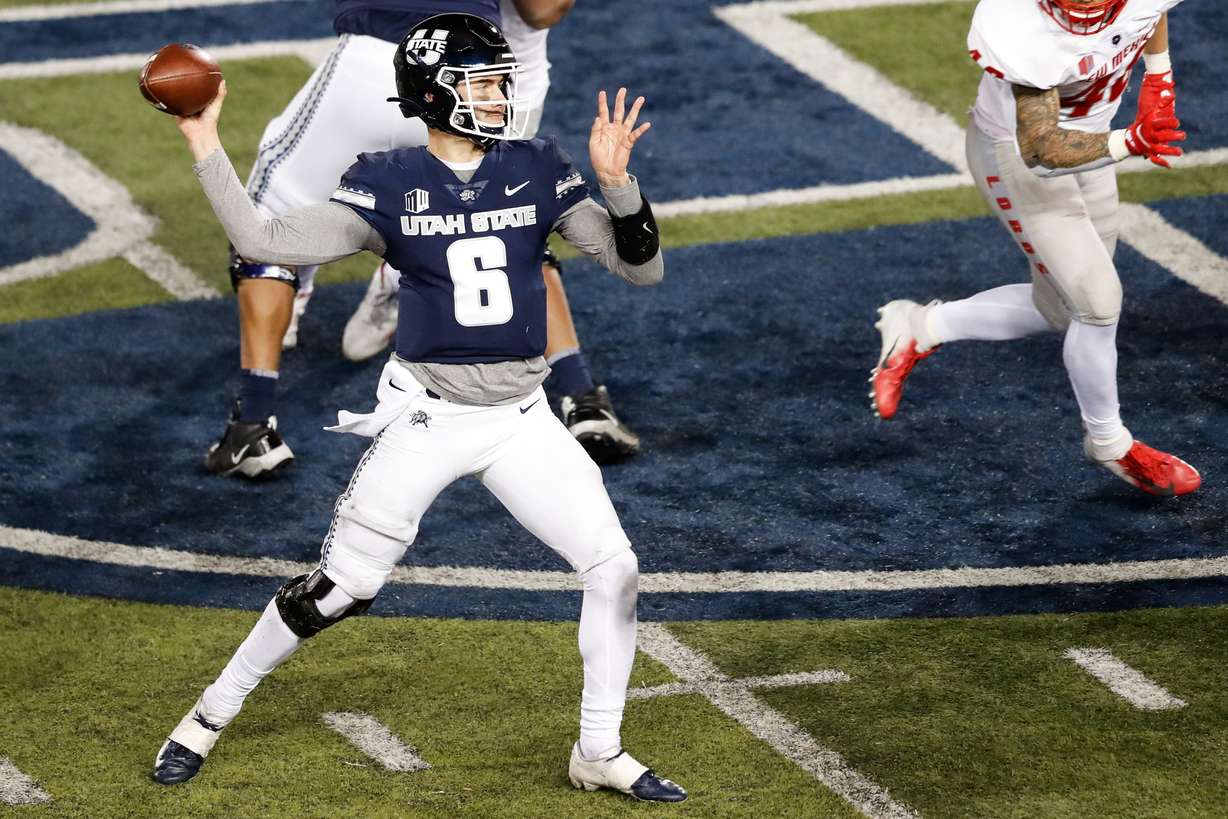 at New Mexico State, Nov. 6
Opponent's previous game: Hawaii
Utah State gets a respite from conference play when they go to Las Cruces to take on the fellow Aggies.
Independent New Mexico State didn't play in 2020 due to COVID-19, instead playing a two-game spring 2021 schedule that included an embarrassing loss to FCS' Tarleton State. Per the usual, the expectations are low heading into the fall.
New Mexico State's offense returns just one starter from the 2019 season, offensive lineman Sage Doxtater. Behind him is quarterback Johan Johnson, who passed for 358 yards and three interceptions in the spring, and running back Juwan Price, who will be heavily relied upon to move the chains.
New Mexico State has some serious concerns on defense. Returning no starters from 2019, the Aggies gave up 625 yards in two games this spring to Tarleton State and Dixie State. This side's playmaker seems to be linebacker Trevor Brojard, who led the team in tackles in the spring.
Expect Bonner and the Utah State offense to rake up the passing yards while its defense forces a couple of turnovers. The Aggies from Utah will have their way in this one.
Result: Utah State win (5-4)
at San Jose State, Nov. 13
Opponent's previous game: Nevada
Back to conference play, Utah State travels to the Bay Area for perhaps its toughest away game on the schedule.
The Spartans, which won their first Mountain West championship in 2020, are looking to run it back in 2021. It all starts with 2020 All-MWC quarterback Nick Starkel, who opted to come back for his sixth college football season.
Starkel knows how to get it done, finishing No. 23 in the nation last year with a 152.6 passing efficiency while passing for an average of 271.8 yards. His entire offensive line returns to protect him, including preseason All-MWC selection Jack Snyder.
The biggest concern for San Jose State is the loss of their top two receivers, Tre Walker and Bailey Gaither. Returners Isaiah Hamilton and Jermain Braddock will have to fill those roles.
Defensively, 2020 MWC defensive player of the year, lineman Cade Hall, returns for the Spartans, along with the majority of the front seven, which gave opposing quarterbacks fits last season. The Spartans gave up just 19.9 points per game last season.
Needless to say but this isn't the same San Jose State team the Aggies hung 62 on in 2018.
In order to compete against the Spartans, Utah State needs to mimic what Ball State did in last year's Arizona Bowl and throw a variety of blitz packages at Starkel in an attempt to fluster him and force turnovers. If the Aggie defense can do this, it could grant the offense some short fields to work with and make the game competitive. If not, it could get lopsided.
Result: San Jose State (5-5)
vs. Wyoming, Nov 20
Opponent's previous game: Boise State
That battle for "Bridger's Rifle" will be a pivotal game for Utah State late in the season. Keeping the coveted rifle, which has been in Logan since 2018, could punch the Aggies' ticket to a bowl game.
In order to claim the rifle and a bowl, they'll have to figure out how to stop Xazavian Vallady.
The All-MWC running back averaged 110 rushing yards per game in 2020 — good for No. 16 nationally. As a team, the Cowboys rushed for 219.5 yards per game, which ranked 14th nationally. Add backup running back Trey Smith and an experienced offensive line, which includes All-MWC center Keegan Cryder, and the rushing attack should be the best in the conference this fall.
The Cowboys are slated to finish second in the Mountain Division, and their rushing attack isn't the only reason why.
Last year's defense finished 16th nationally in total defense and returns 10 starters, including All-MWC linebacker Chad Muma.
The Aggies' best opportunity in this one is to load the box defensively and force quarterback Sean Chambers to make plays with his arm. On offense, Utah State should target its dynamic wide receivers such as Deven Thompkins and Brandon Bowling and let them go to work against the Wyoming secondary that should be, relatively, the Cowboys' weak spot.
Here is the deal, though, you can always expect inclement weather in Logan in November. Cold, snowy conditions can stifle the pass game and turn things into a slow-paced grinder, which is exactly how the Cowboys prefer to play.
Result: Wyoming Win (5-6)
at New Mexico, Nov. 26
Opponent's previous game: Boise State
The final game of the regular season takes Utah State back to New Mexico — this time to take on the states' flagship program.
The Lobos, the only team the Aggies beat in 2020, have a new coach in Danny Gonzales. ESPN's FPI has them winning five games, including a victory over the Aggies.
Under its new coaching staff, expect to see a much more dynamic spread offense from New Mexico this season. Kentucky transfer Terry Wilson will compete against incumbent Tevaka Tuioti in fall camp for the starting quarterback job.
The starter will have some talent to throw to with Emmanuel Logan-Greene, Andrew Erickson and Jordan Kress all returning. With an experienced offensive line that includes Morgan, Utah, native Kyle Stapely, the Lobos should be proficient, if not outstanding, in the passing game.
Defensively, New Mexico was bottom of the conference last year; but with nearly the entire squad returning, there's nowhere to go but up. How they'll look by the final game of the season is completely unpredictable, but chances are, they won't be in a position to make a bowl game.
For Utah State, on the other hand, this game could decide their postseason fate. And if they make it to Albuquerque with five wins, expect them to leave with six. The Aggies' offense should be too much for the Lobos to handle, while its defense has a talent edge over the New Mexico offense.
Prediction: Utah State win (6-6)
I predict the Utah State football team to exceed expectations and go 6-6 in the 2021 season. What do you think? Share your thoughts in the comment section below.
×
Related Stories