Estimated read time: 8-9 minutes
LOGAN — Utah State football enters the 2021 season with aspirations to improve upon a dismal 1-5 performance in 2020; and thus far, it has taken steps in the right direction.
Following the firing of Gary Andersen in November, Aggie Athletic Director John Hartwell ignored pleas from several to hire a new head coach with Utah ties and instead went south, nabbing Arkansas State's Blake Anderson.
Following seven months of Anderson and his staff trying to insert life back into the program, Utah State recently appeared at the Mountain West media days, signifying football is just around the corner. That means it's time to take a glance at the Aggies' upcoming games.
From the outside, the expectations for Utah State are rather low. Bill Connley of ESPN has the Aggies No. 121 nationally in his SP+ rankings; College Football News has them ranked No. 113 nationally; and ESPN gives Utah State a FPI of -12.7, No. 117 nationally, and has them favored in just four games. Internally, expectations are higher.
With 14 four-year transfers joining the program and 18 starters returning from last year, there is depth and experience that the 2020 team lacked. The first half of the schedule is daunting, but here are projections for the first six games:
at Washington State, Sept. 4
Opponent's previous game: N/A
Utah State doesn't get a tune-up game to start the new era of its football program. Instead, it heads to Pac-12 country to take a crack at the Cougars. Washington State returns eight offensive starters from a team that averaged 384 yards of total offense last season.
A competition between returning quarterback Jayden de Laura and Tennessee transfer Jarrett Guarantano will determine who gets the starting job. Whoever wins the starting job will be benefited by the return of standout running back Max Borghi, who was out with an injury most of last season.
Take into account returning wide receiver Calvin Jackson Jr. and Oklahoma State transfer CJ Moore and Washington State has themselves a high-octane offense that could cause serious fits for an Aggie defense breaking into a new system.
Utah State's best bet is to use Anderson's "fast, physical and fun" offense to exploit the Cougars' defense that gave up 307 passing yards per game last season — No. 123 nationally.
If healthy, Arkansas State transfer quarterback Logan Bonner should be the starting quarterback for the Aggies. With veteran targets Deven Thompkins, Brandon Bowling and Justin McGriff at his disposal, Utah State should be able to score some points on the Cougars.
The Aggies could be competitive in this one, but implementing new systems on both sides of the ball won't work in their favor. The Cougars' explosive offense will be too much to handle and the Aggie offense will make too many mistakes.
Result: Washington State win (0-1)
vs. North Dakota, Sept. 10
Opponent's previous game: Idaho State
Coming off a tough game in Washington, Utah State will be anticipating a chance to play in front of full-capacity Maverik Stadium and iron out kinks on both sides of scrimmage before beginning conference play. But the Aggies still need to come ready for a battle because North Dakota is no Stony Brook or Tennessee Tech.
In the spring 2020 season, North Dakota went 5-2 and reached the quarterfinals of the FCS playoffs. They also return much of the production that got them there, including running back Otis Weah, who was declared an All-American by six different publications in the spring.
The Aggies have superior talent and should win this game, but don't expect the Fighting Hawks to roll over.
Result: Utah State win (1-1)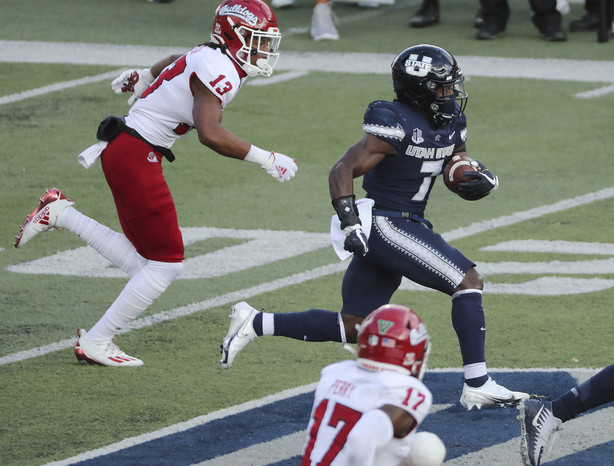 at Air Force, Sept. 18
Opponent's previous game: Navy
Few programs were affected by COVID-19 last season quite like Air Force. The military academy granted all cadets a turn back option — meaning they could take the semester off without consequence — and when the Mountain West originally announced the fall football season would be canceled, 40 players took advantage of it.
Despite the depleted roster, the Falcons still managed to go 3-3 on the season, including a 35-7 win over the Aggies. Predicted to finish third in the Mountain Division of the conference for 2021, Air Force should have a full team ready to compete. Returning is quarterback Haaziq Daniels and leading rusher Brad Roberts from last season — and they'll lead the offense.
The defense only has four starters returning from 2020, but several starters from the 2019 team will be back, including leading tackler Demonte Meeks. The major question mark surrounding the Falcons is their offensive line, which returns no starters from either 2020 or 2019. And due to the physical nature of Air Force's wishbone offense, inexperience up front could be detrimental.
It could also play right into the Aggies' favor.
With the addition of transfers such as Byron Vaughns, Jahaziel Lee and Justin Rice, and the return of AJ Vongphachanh, Nick Heninger and Cash Gilliam, the Utah State defensive front is the team's greatest strength this season.
By game three, Utah State should be more comfortable playing under defensive coordinator Ephraim Banda's style of "shoulder level tackling" and "enforcing their will." If they execute, this Aggie personnel has what it takes to shut down the triple-option.
With Boise State and BYU looming on the schedule, a win in Colorado Spring would go a long way. FPI gives the Aggies just a 22.6% chance of getting the upset; they just might pull it off, too.
Result: Utah State win (2-1)
vs. Boise State, Sept. 25
Opponent's previous game: Oklahoma State
The Aggies have an opportunity to showcase themselves on CBS when they host Boise State on the final Saturday in September. But it comes with a cost: Kickoff is at 10 a.m, a start time guaranteed to affect the turnout of the student body.
For the actual game, however, the starting time isn't going to matter much. Despite bringing in a new coach, Andy Avalos, Boise State is picked to win the Mountain Division of the conference, once again, and should look the part when they come to Logan.
The Broncos offense has three playmakers that will be difficult for Utah State to contain: third year gunslinger Hank Bachmeier, future NFL receiver Khalil Shakir, and former MWC freshman of the year running back George Holani. As the Aggie defense learned last year, if you make a mistake, any of these three can burn you.
Defensively, the Broncos lose some veterans in the secondary but retain fifth year linebacker Riley Whimpey and have plenty of depth up on their defensive line.
In the past three games against the Broncos, Utah State failed to establish the run, rushing for just 62 yards in 2018, 121 yards in 2019, and 111 yards in 2020. Keeping an athletic Boise State defense honest by moving the football on the ground is necessary to open up the passing lanes. But in reality, Utah State could do everything right in this one — execute on defense, establish a running game on offense — and they are still going to lose this game.
The hope is they don't get embarrassed on national television.
Result: Boise State win (2-2)
vs. BYU Oct. 1
Opponent's previous game: South Florida
The Battle for the Old Wagon Wheel returns to its traditional time slot — the night before the general conference weekend begins, and it happens to be BYU's first true road game of the season.
The Cougars lost a lot of talent from last season, but are expected to reload.
Three different Cougars — Jaren Hall, Jacob Conover or Gunner Romney — could be the starting quarterback. With future NFL running back Tyler Allegier returning and a pair of wide receiver brothers transferring into the program — Samson and Puka Nacua — BYU will have plenty of weapons.
While this in-state rivalry has been competitive as of late — Utah State has won three of the last seven — the individual games have not been. The last seven matchups have been settled by two scores or more. A major reason is turnovers — the winner of six of those games won the turnover battle.
Could a revamped Aggie defense win the turnover battle this year? Potentially, but it may not make a difference. Top to bottom, the Cougars are better than the Aggies this season and will have a greater margin for error throughout the game. BYU will likely win this one.
Result: BYU win (2-3)
Bye Week
Following a physical game against Air Force and two emotionally charged games against teams with superior talent, the Aggies could be banged up. This will be a much-needed weekend of rest before entering the "easier" portion of the schedule.
at UNLV, Oct. 16
Opponent's previous game: UTSA
What awaits Utah State on the other side of the bye week is a trip to Las Vegas to play the team picked to finish last in the West Division of the conference.
UNLV was the only team in the Mountain West with a worse record than Utah State last season, going 0-6. Second year head coach Marcus Arroyo hopes to turn things around, but by mid-October, things could be looking bleak for the Rebels. They will already have played Iowa State, Arizona State and Fresno State before playing Utah State.
The Aggies' main priority, defensively, will be to stop the Mountain West's leading rusher from 2020 — Charles Williams. If they can slow him down, they slow down the entire Rebel offense. The Utah State offense seems to go off against UNLV, scoring 59 and 52 points in the past two matchups. By facing a weak defense once again, expect the Aggies to air it out.
Utah State has the Rebels' number as of late, taking the past six games. It should be extended to seven in October.
Result: Utah State win (3-3)
×