HOLLYWOOD — Britain Covey is no stranger to Utah's wide receiver room.
If you ask him, he jokes about being at the University of Utah for as long as Kyle Whittingham, who has been at the university since 1994 and is now in his 17th season as the head coach. It's a fun act, but Covey has been in the program long enough to see many players come and go.
Covey joined the program in 2015 and instantly made a name for himself as a slot receiver — most notably in a 62-20 blowout win on the road in Eugene, Oregon, where he scored two touchdowns — and became a fan favorite. He jokes that when he started his collegiate career he played against Jared Goff, who is now on his second NFL team in five seasons.
Playing the part as the most experienced receiver in the room has given him the benefit of learning from a cadre of players with a diverse skill set and different styles of play. And still, Covey is only a junior — he took a redshirt season in 2019 and earned a "bonus" year by the NCAA due to the pandemic that disrupted the 2020 season.
With all that history and time spent at the university, Covey is considering his future options: play two more seasons at Utah or hang it up after the 2021 season. When presented with those options Tuesday, Covey said it's "likely" that the 2021 season will be his last.
"It's been wonderful," Covey told reporters. "I became a Utah fan when I committed, and now I love the program, so it's really cool to have that experience and bring that experience to the team. I've been a part of some great teams — some 10-win seasons and I've been a part of some teams that haven't performed as well. It's fun to kind of bring that insight to these guys that are coming in now."
Whenever the time comes, it will be an end of an era.
There's one consistent, though, when Covey lines up for the Utes in whatever season he's played: He leads the team in receiving yards and has found a way to let his talent shine. During his freshman season, Covey led the team with 519 receiving yards; in 2018, he led the team, again, with 637 receiving yards; and in 2020, he claimed the top spot, edging out tight end Brant Kuithe, with 264 yards in five games.
And that's to say nothing of his prowess in the return game where he's put opposing teams on notice.
No matter the personnel in the room, Covey has found a way to be productive and lead a group of receivers. But in 2021, Covey believes the depth at wide receiver has never been better, which could help in Utah's transition post Covey (should that day ever come).
"We've got a lot of guys who aren't as experienced, but I've never seen this amount of depth," Covey said, speaking about a wide receiver room that had some players lost and gained from the transfer portal.
"We run 11 personnel, so you've got running back and tight end — most the time we're in 11 personnel, you get three receivers — so if you can get six guys in your room, hopefully eight guys for when you go fours; if you can get six to eight guys that there's no drop off between one and two, I think you'll have a great group, and that's what we have this year. We've got six to eight guys who are really competing for a starting job, and when the starters need a rest there's no drop off."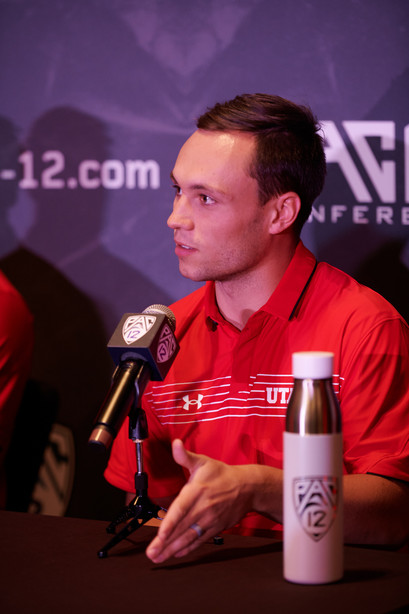 That's good news for an offense that has tried as of late to involve the receivers more in the offensive playbook. From Covey to Solomon Enis to deep-threat talent Jaylen Dixon, there's more consistent players lined up to help the Utes keep a balanced offense, which can go a long way in offensive coordinator Andy Ludwig's system where he tries to get ball to his best players.
One of the names few fans have likely heard of but that Covey (among others) is high on is Devaughn Vele, a 6-foot-4 redshirt freshman that has put in the work to earn a scholarship since joining the program as a walk-on in 2019.
"I never like to hype someone up because I think it creates unrealistic expectations, but Devaughn Vele is a great player — crazy athletic. We were in the gym the other day and he was throwing down through-the-legs windmill dunks and things like that — just right after I would do it," Covey said with a laugh. "He's very athletic, but he's coupled that with work ethic."
Covey isn't alone in his praise of Vele. In spring, Enis called Vele the team's "secret weapon," and head coach Kyle Whittingham has repeatedly praised the up-and-coming talent of his freshman.
But for Vele, it's about being ready for the spotlight, according to Covey.
"I've talked about this with the Devaughn all the time, I've kind of taken a mentor role to him," Covey said. "Going into a game is really hard when you haven't performed at a certain level in a game and you go into a Pac-12 atmosphere, it really is a challenge, and I think that there's a mental toughness side that people don't focus on enough — when you're just focusing on physical and footwork and all these drills and things.
"I feel like I have that partly because I've had to have that my whole life being small, being kind of under recruited and things, and so I'm trying to help Vele develop that, because when he goes out there, he needs to have no doubt that he's an all-Pac-12 receiver, you know an all-conference receiver. We'll see what happens, but he knows that, that's the good thing — he recognizes that part."
Vele will be one of several receivers spotlighted this fall when Utah opens up camp on Aug. 4. Others include senior transfer Theo Howard (Oklahoma), sophomore transfer Munir McClain (USC) and freshman Makai Cope, Connor O'Tooele and Money Parks, among others.
×
Related Stories