AT THE GAMES — The United States men's volleyball team opened the pandemic-delayed 2020 Tokyo Olympics with a blowout for the ages.
Micah Christensen dished out 43 assists in pacing an attack that hit .550, and former BYU star Taylor Sander blasted 12 kills and accounted for a match-high 15 points in a 25-18, 25-18, 25-22 sweep of France in Saturday's opening round.
Sander also had a team-high two blocks and an ace for the United States.
"It feels good to start like that," Sander said in a release from USA Volleyball. "We knew three weeks ago we weren't that good. We put in a lot of hard work and kept believing in our systems and that was the key. I think we were the more comfortable team tonight and it showed in the way that we played together, had good energy, and then just did what we've been doing the last three weeks in practice. Work every point and follow our scouting report, and I think tonight that was a demonstration of us doing what we do."
Team USA moves on to face the Russian Olympic Committee on Sunday at 8:50 p.m. MT.
Softball: USA 2, Mexico 0
At Yokohama Baseball Stadium, Haylie McCleney and Ali Aguilar each went 2-for-3 to hep the Americans improve to 3-0 with a win over their North American rivals.
Salt Lake City resident Amanda Chidester went 0-for-4 with a strikeout for the United States. Chidester, a former Michigan star, was facing off against her fiancee, former University of Utah shortstop Anissa Urtez.
Urtez made had two putouts for Mexico to go along with four assists, including a diving catch in the fourth inning after the Americans had gone up 2-0.
Diving catch by Anissa Urtez!#TokyoOlympics x @Utah_Softballpic.twitter.com/TvZrSBVTkj

— #TokyoOlympics (@NBCOlympics) July 24, 2021
Softball: USA 2, Australia 1
United States softball swarmed their hero Amanda Chidester after her extra-inning single beat Australia 2-1 during the penultimate day of round-robin play.
The Americans could secure a date with Japan in the gold-medal match if the Olympics hosts hold off third-place Canada later on Sunday.
Tarni Stepto, Australia's youngest player at 21, held U.S. batters to five hits over seven and 1/3 innings. Throwing nearly as fast as flamethrower and U.S. counterpart Monica Abbott, Stepto earned outs in key spots to keep the United States off the scoreboard until Chidester's winning hit.
— Reuters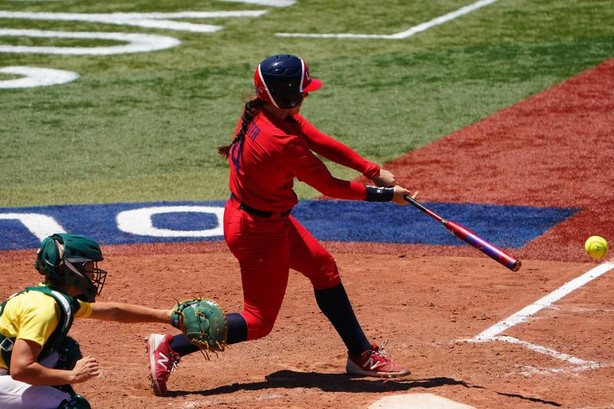 Individual qualifications
BYU junior Josue Dominguez, competing for the Dominican Republic, finished seventh in his heat (39th overall) in the men's 100-meter breaststroke with a time of 1:01.86.
Dominguez will prepare for the 200-meter backstroke qualification July 27 at 5 a.m. MT.
Utah grad Alexis Lagan finished 38th in the women's 10-meter shooting qualification round, posting a final score of 560-15x. Lagan, who competed alongside 53 competitors, was once of only two Americans to qualify for the event.
Next up for her is the women's 25-meter air pistol qualification July 28 at 6 p.m. MT.
Sunday's schedule
All times listed below are in MDT.
Artistic Gymnastics: Women's Qualifying Round - Grace McCallum and MyKayla Skinner (12:10 a.m.)
Basketball: Men's Preliminary Round: Australia (Joe Ingles) v. Nigeria (Miye Oni) - (2:20 a.m.); France (Rudy Gobert) v. USA (Damian Lillard) - (6 a.m.)
Beach Volleyball: Men's Preliminary: USA v. Italy - Jake Gibb (7 a.m.)
Swimming: Women's 100m Backstroke - Rhyan White (4:09 a.m.)
Men's soccer: Honduras vs. New Zealand - Douglas Martinez (2 a.m.)
Softball: Mexico vs. Italy - Anissa Urtez (5 a.m. MT)
Men's Volleyball: USA vs. Russia Olympic Committee - Taylor Sander (8 p.m. MT)
×
Related Stories