Estimated read time: 4-5 minutes
This archived news story is available only for your personal, non-commercial use. Information in the story may be outdated or superseded by additional information. Reading or replaying the story in its archived form does not constitute a republication of the story.
SALT LAKE CITY — Utah may have gotten its nickname for the importance it places on industry, but did you know the Beehive State has more than 1,000 species of bees — more than the entire landmass east of the Mississippi River?
And many of them can now be spotted at the University of Utah, which recently became the state's first school to be named a "Bee Campus USA" by insect conservation nonprofit Xerces Society due to the university's work creating bee-friendly environments and fighting to save dwindling bee populations.
The effort is happening even as a study this year by researchers at Indiana University found that many species are dying off worldwide — about 25% fewer species were found between 2006 and 2015 than before 1990.
Forty percent of the country's honey bee populations are also in decline, said Amy Sibul, instructor in the U. School of Biological Sciences and adviser for the student Beekeeper's Association.
"When people think of the word bee, they think of honey bee, but they don't understand that there are so many other species of bees in Utah," Sibul said.
Many of the hundreds of local bee species serve as pollinators for ecosystems and agricultural systems across the state, Sibul explained.
Several years ago, the U.'s Beekeeper's Association formed and began work to promote bee conservation — in the community and on campus. It quickly grew, and has started some students off on careers in beekeeping and preservation. The club eventually raised money to create the first campus Pollinator Conservation Garden, converting a large swath of lawn in front of the College of Architecture and Design from a pollinator "desert" to a bee oasis.
The garden includes plants mostly native to the western United States, rock wall features and soil patches for nesting bees, observation nest boxes for bees that nest in cavities, and two organic vegetable gardens. Students use the garden to monitor the diversity and abundance of bees that have made their home there.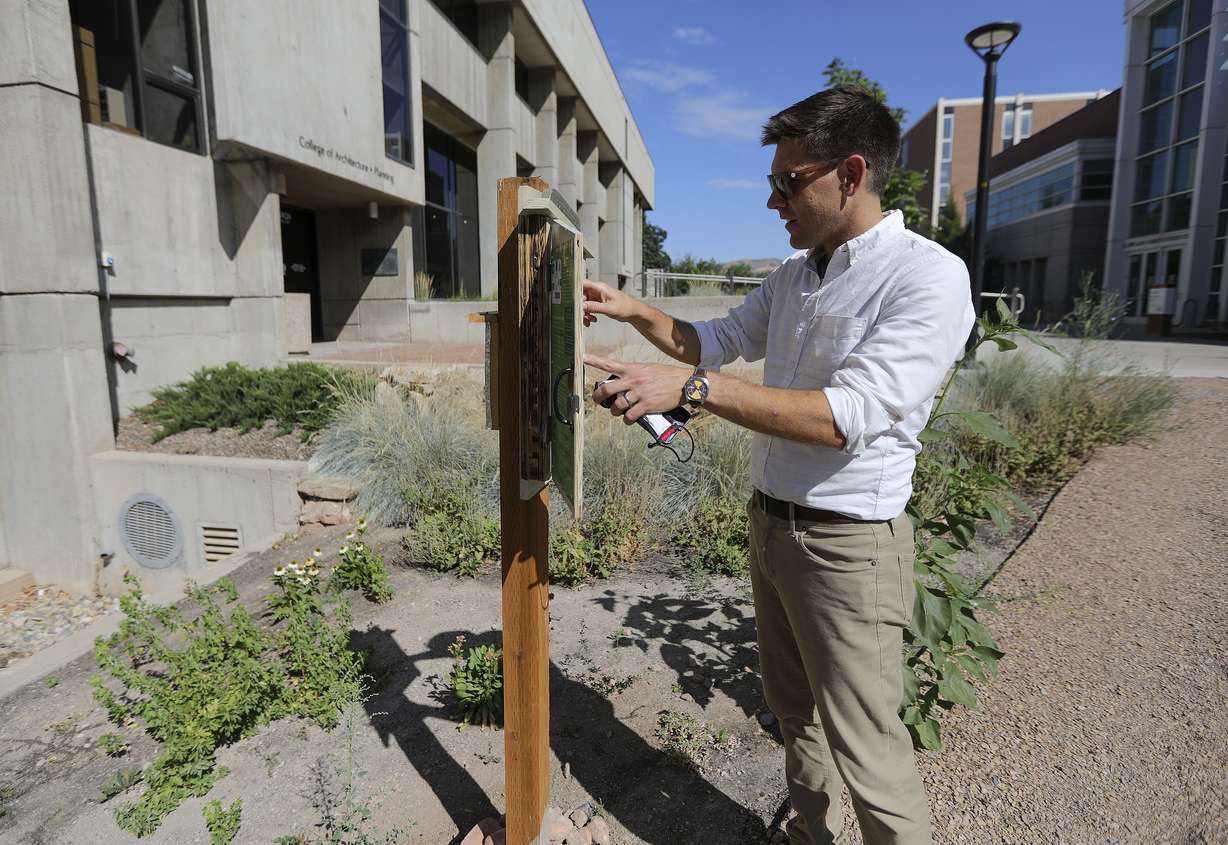 Sibul said the bee diversity has drastically increased since the garden was planted.
"What we can tell immediately, when you replace turf — whether it's Kentucky Bluegrass or fescue with flowering plants — you're essentially replacing a food desert for pollinators with a system that now provides abundant pollen and nectar," Sibul said, as well as providing spaces and nesting boxes where bees can reproduce.
"As you install them, you immediately see bees utilizing them," Sibul said.
While creating such a garden sounds like a lofty goal, she said anyone can incorporate elements of it into their own yards. The Pollinator Conservation Garden at the University of Utah is open for the public to visit and find ideas.
"The wonderful thing about pollinator conservation gardens is that not only are they appealing to the pollinators, they tend to be beautiful to the human eye because its flowers, and many of the flowering plants that appeal to our solitary native bees, are also xeric friendly, compatible with xeriscapes, so they're easily incorporated into a xeri-friendly water-wise garden as well as pollinator-friendly garden," Sibul explained.
Xeriscapes are landscapes that require little to no irrigation and maintenance — a welcome idea to many while the West experiences a drought, she noted.
"We don't need lawns anywhere as much as we tend to have in our West," Sibul said.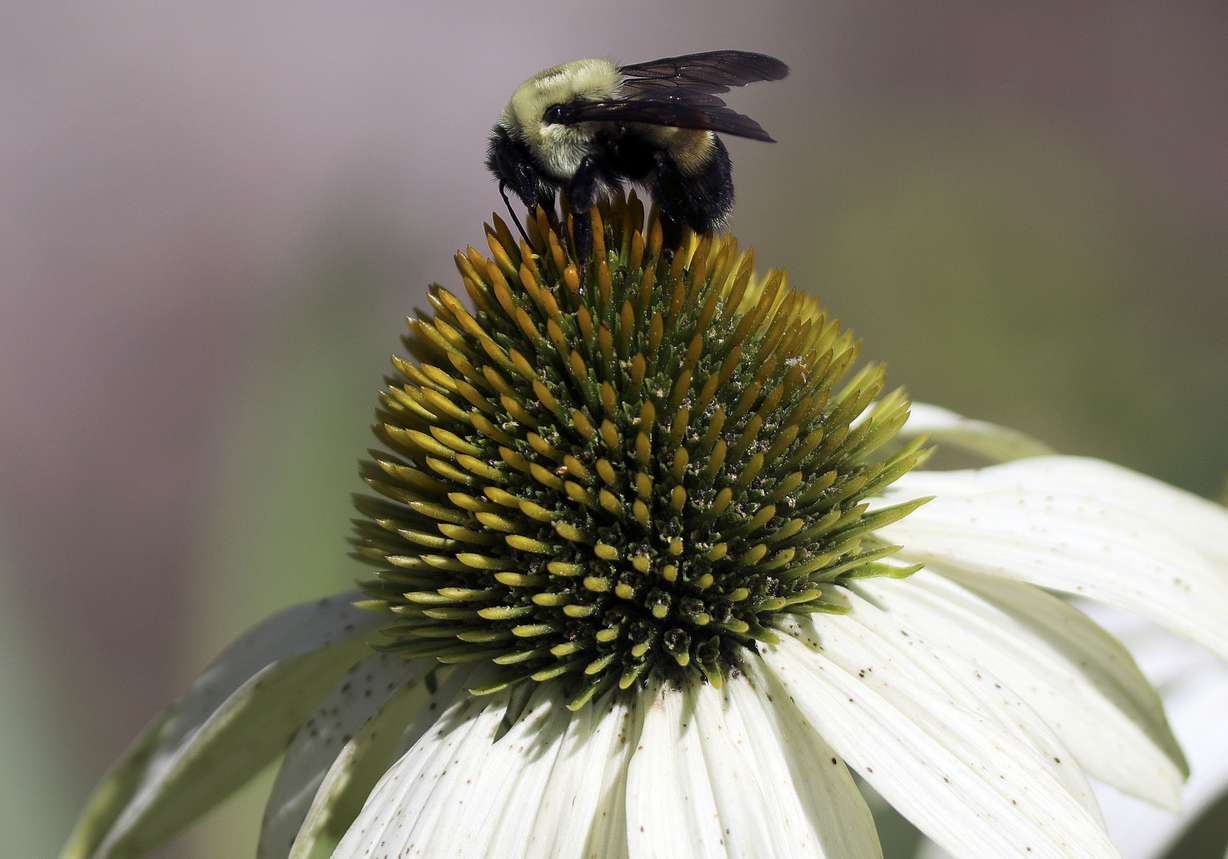 Perennial plants that bloom in Utah from March to October are ideal for pollinator habitats, she said.
We all need to make efforts to help bees survive "because the declines are real, and at some point, it'll result in the collapse of our agricultural systems, or at least make it much more expensive to pollinate," according to Sibul.
"The good news is that it doesn't take much, we just all have to contribute to the collaborative effort."
She offered the following three ideas we can all use to preserve bee populations:
Provide the two elements that bees need — food and nesting space. Plant flowers and leave bare spots of soil for nesting. You can also build or buy a nesting box for solitary nesting bees.
Avoid using insecticides in your yard. "We need to be careful with our insecticides, we need to understand that insecticides kill insects broadly," including pollinators, Sibul said.
Bees need water, too. During hot summer days, you can leave out shallow trays of water with pebbles that bees, other insects and hummingbirds can access. To avoid drawing mosquitoes, use a small tray with just enough water for a bee to land on.
Sibul also teaches Lifelong Learning classes at the U. about bees. For more information, visit continue.utah.edu/lifelong/class/.
×
Photos
Related stories
Most recent Outdoors stories