SALT LAKE CITY — On a Saturday in June, Ron Lockwood spent his weekend at a familiar place: a swim meet. But the longtime Utah swim coach had a unique request: He asked the director to pause the meet for just a few minutes.
Why? Rhyan White was about to swim in the 200-meter backstroke final at the U.S. Olympic Trials.
"Just try to picture four dozen athletes using phones and watching it together — and the amount of screaming and yelling," said Lockwood, who coached White at Wasatch Fish Market swim club and Cottonwood High.
They watched as their former teammate and friend pulled away down the stretch to win the race, becoming the first swimmer from Utah to win an event at the trials.
"I can't imagine experiencing that moment in any other way," Lockwood said. "It was with athletes that looked up to her for years and years as someone that they idolized and a teammate that they looked up to. And now cheering with her as she makes an Olympic team. So it was special. It was really special."
Along with being the first Utahn to touch the wall first in an Olympic Trial event, White is the first Utah-born swimmer to make a U.S. Olympic Team. She'll compete in the 200-meter backstroke as well as the 100-meter backstroke in Tokyo, continuing a whirlwind spring that has pushed her to the top of the swimmer world.
White is no stranger to success. The 21-year-old Olympian from Herriman has her name all over the Utah record books. She's a 10-time All-American at the University of Alabama and is the current SEC Swimmer of the Year.
Yet, even with all those accolades, she was still relatively unknown in the international swimming community heading into the spring season.
"I had never heard of Rhyan White a couple of years ago — and here she is an Olympian," longtime NBC swimming analyst Rowdy Gaines said after White took second in the 100-meter backstroke at the trials.
A few days later, Gaines exclaimed in wonder again after White won the 200-meter backstroke, beating the current world record holder in the process, screaming: "Someone who has zero international experience. None. None!"
To those watching from afar, it may seem like White has come out of nowhere to become an Olympian. But those close to her know that couldn't be further from the truth.
"I like to prove people wrong, so I would say that's probably a big part of how I've come out of like hiding," White told KSL.com.
Discovering an elite swimmer
White grew up the fifth of six children. When their kids were young, Jeff and Jenny White enrolled them into the local swim club. There weren't any Olympic aspirations; the Whites just wanted them to feel comfortable in the water.
No one, though, could have guessed just how comfortable Rhyan would be — least of all her coaches.
White said the thought of going to the Olympics first came to her mind when she was 10. She had set a record and almost casually thought that, yeah, of course, she'd be swimming in the Olympics. A few years later, her coaches, Lockwood and Allen Jones, felt the sudden weight of that very thing might be a possibility.
At a meet near Sugarhouse, she pushed off the wall and things felt different. She propelled herself underwater further and further away from her competition, moving much more like a dolphin than any human. She was thrilled, immediately jumping out of the water eager to hear what her coaches would say.
"That was the point where I realized that I was really into it, and I wanted to get better," White said.
Her coaches, though, were actually a bit nervous. Obviously, Jones and Lockwood were thrilled to see her improvement but they also had a thought: Please, don't let us screw this up.
"There was a moment where I'm like I'm totally unprepared to get this kid ready for what she can do," Lockwood said.
So he began a crash course in how to train a world-class swimmer. He called up other coaches, including Todd Schmitz who coached Missy Franklin to the Olympics, and asked for any guidance and help. He read and researched as he tried to get as much information as he could in hopes of giving her the best shot to realize her full talent. He couldn't suddenly upgrade the facilities at Cottonwood High or hire specialized trainers and world-level coaches, but he could try to become the coach she deserved.
The work
White isn't accustomed to sleeping in. For three mornings a week, her alarm clock would go off well before 5 a.m in order to make the half-hour drive from her home in Herriman to Cottonwood for 5:15 a.m. practice.
On the "off" mornings, she'd slide out of bed at 5 a.m. to do a rowing workout that tried to imitate swim pulls. Then there were the near-daily afternoon swim sessions that often saw her totaling around four miles. Her time with friends was sacrificed for time in the pool, and her moments with family were often just simple greetings, some dinner and a goodbye before bed.
It all led to great success. She won state titles by five body lengths, set state records and even qualified for the 2016 Olympic Trials as a 16-year-old.
"I'm gonna be the first to say that we could have done things better," Lockwood said. "And we could have done things differently. But I also think with what we had — we had a six-lane pool at Cottonwood and she spent probably 90% of her time training there in that pool. The blocks are from the 1950s and the pool is that old as well. It's not a perfect training environment for an elite athlete, but you make the best of what you've got, and I thought we did."
His goal was to give her a good enough base that when she got to college she could really shine.
From Alabama to Tokyo
All the work meant very little time for friends and family, or really any other hobbies. But she has somehow found a way to keep balanced. She's close to her family — her sister, JC, swam with her for much of her life — and her smile is impossible to contain when she talks about her younger brother's trips to visit her in Alabama.
She also started playing the ukulele about four years ago. Strumming "Over the Rainbow" and "Lava" has helped her take some much-needed mental breaks.
"If I start to stress out about something, I will just mess around with a ukulele," she said.
Learning how to be aware of her mental health has been a learned skill, and one that has been paramount to her ascent to being an Olympian. She had a rocky start in her freshman year at Alabama in 2018-19. White was away from home, hadn't swam as well as she hoped, and wasn't all too happy.
But a coaching change in the summer of 2019 changed everything for her. Not only in the pool but in her life as well.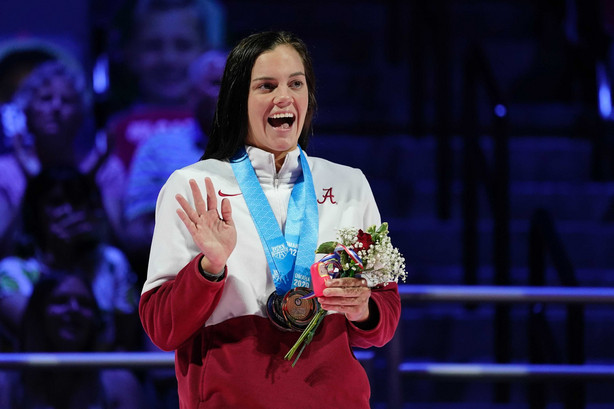 "I think people have a hard time understanding that not every day is going to be like 100%," White said. "You're not going to feel great every day and sometimes you need a year of not feeling great to open your eyes. And I think my freshman year of college was definitely hard, but I would say it was a blessing in disguise."
The freshman year taught her a lot about her mental health and how to get the best out of herself. Her coach at Alabama, Ozzie Quevedo, used that knowledge to help her in her training. If she's struggling with something, he'll adapt the practice. If she's not feeling 100%, he'll save a tough set for another day. She's also made it a habit to listen to podcasts and watch videos about building confidence, so when doubts creep in her mind, she can cast them out.
That method has allowed her to somewhat quietly become one of the world's best backstrokers. In 2020, she set SEC records in the 100- and 200-meter backstroke, but COVID shut down the NCAA championships and halted all international meets, which left her still in relative anonymity. In 2021, she won three individual SEC titles but came up short in a quest for a national title, finishing second twice. With that, most didn't see her as a genuine threat heading into the Olympic Trials.
But then she started swimming meets to prepare and her times just kept getting faster and faster.
"I didn't get a summer (in 2020) to swim in any meets or anything," she said. "So this past spring has been long overdue. But to be honest, I kind of liked that I was kind of the underdog, no one knew my name until May."
They sure know it now.
After White won the 200 backstroke at the trials, she looked at the scoreboard and simply smiled. There was no big celebration or splashing the water, just a warm bright beam of happiness.
"For those of us that know her and spend time with her, it was a smile that said, 'I did what I came here to do. I had all the confidence that I could do it. And this smile tells you everything that you need to know about me,'" Lockwood said.
And many more might know the name Rhyan White once the Olympics come around. She will enter the Olympics with the second-fastest 200 back, and the fifth-best 100 back time. She's without a doubt a medal contender.
"I think the only person that wouldn't be surprised if she won gold would be her," Lockwood said.
×
Related Stories