Estimated read time: 4-5 minutes
SALT LAKE CITY — After nearly 30 minutes of play, Utah had had enough. The coaches benched quarterback Jake Bentley and replaced him with backup Drew Lisk.
The former walk-on quarterback settled in on offense and calmly led Utah on a nine-play, 81-yard drive that was capped off with a 5-yard rushing touchdown by freshman Ty Jordan. Order had been restored for the Utes.
And from there it was all Utah as Lisk and the offense erased a 21-point halftime deficit to overtake the visiting Cougars and escape with a 45-28 victory over Washington State in a Saturday morning game at Rice-Eccles Stadium with approximately 400 fans watching in the stands.
"In the first quarter and second quarter — first half, actually — both sides of the ball, we weren't really where we needed to be," Jordan said after the game. "So it was just time for us to turn up. He told us if you don't want to play hard the last 30 minutes of the game, stay in the locker room. As you can see, everybody came out and was ready to work."
Utah's players listened.
Lisk followed up his first touchdown drive with an eight-play, 68-yard drive that led to a sweep to receiver Bryan Thompson that went 9 yards for his first career rushing touchdown. It was followed up by a toe-tapping inbounds catch by tight end Brant Kuithe and a 33-yard rushing touchdown down the sideline on fourth-and-one by Jordan to tie up the game.
Icing on the cake. Clark Phillips III with the pick six on his birthday! What a second half performance by this team!#GoUtespic.twitter.com/Un7IReDSZZ

— Utah Athletics (@utahathletics) December 19, 2020
All Utah (3-2) needed next was a Vonte Davis forced fumble that was picked up by freshman Clark Phillips III and returned to the Cougars' 13-yard line. Two plays later, Jordan broke a pair of tackles and recorded a 13-yard rushing touchdown for the go-ahead score.
For good measure, Phillips later returned an interception 36 yards in a pick-six score with just over two minutes left to play in the game to put it firmly out of reach.
Lisk finished likely his last career game as a Ute throwing for 152 yards on 15-of-26 passing, but was the catalyst to Utah's resurgence on offense that scored 38 unanswered points in the win. Whittingham said the performance will go down as the "legend of Drew Lisk," the former Jordan High quarterback who walked on at Utah and stayed even after he was buried on the depth chart by a pair of Division I transfers.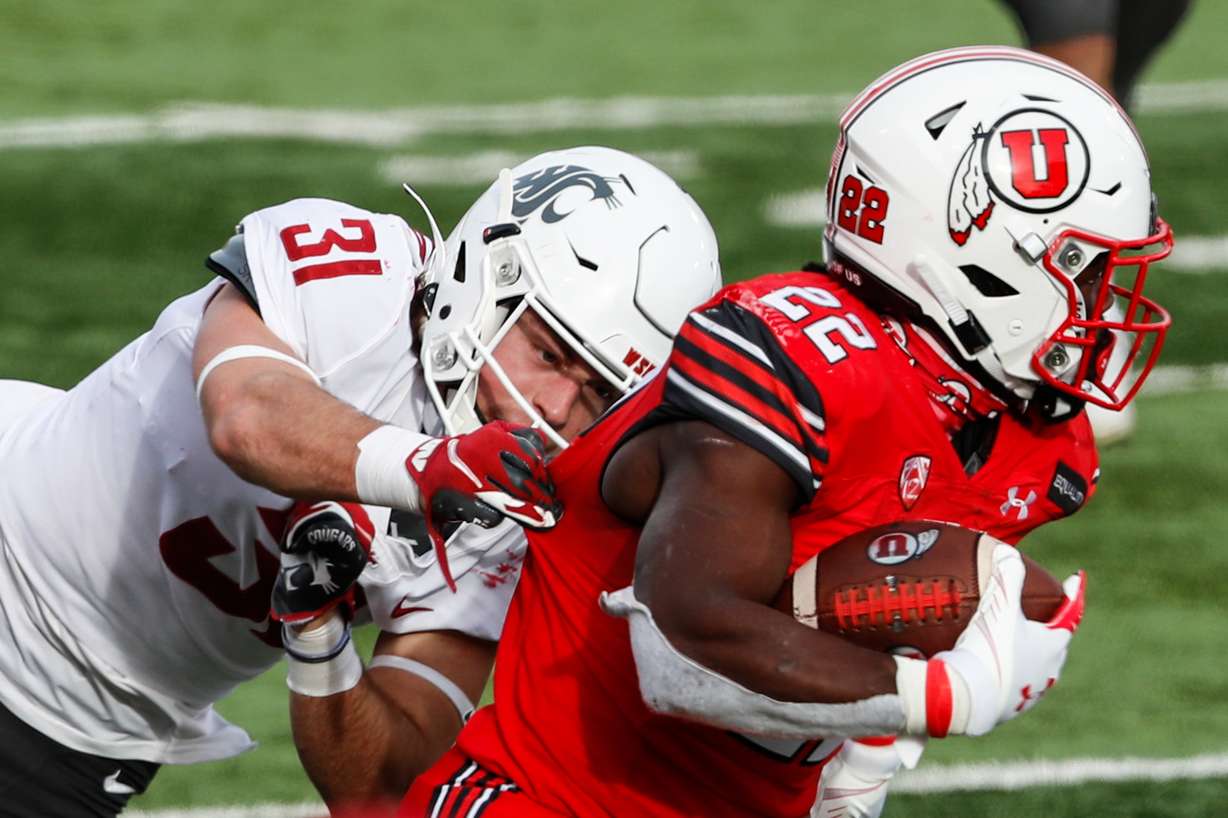 "He's got a great attitude. He's just the epitome of a great teammate. All he wants to do is help the program any way he can," Whittingham said.
"Drew Lisk is a pleasure to have on your team. He's a guy that helps everybody around him as much as he possibly can. He's the second coach on the field. And we saw the legend of Drew Lisk was born in the second half, and he'll be able to tell that story for years — how he came in and rallied the troops."
Lisk said all the hard work, the five years in the program, was something that paid off after he got his opportunity.
"It's been a long five years, but, you know, it felt good today to get out there and play," Lisk said. "I think that was just a product of this culture here and the whole entire team, we show up every day. I tried to buy into that, and I think it paid off. Great, obviously, great come back win today. It was a blast."
GAME BALL: @drewlisker.

SO well-deserved. pic.twitter.com/ZUtkWWS8Dv

— Utah Football (@Utah_Football) December 19, 2020
And though Lisk sparked a resurgence for the offense, it was Jordan's hat trick — the first time a Utah player has scored three touchdowns in a game since Zack Moss did it in 2018 — that turned the tide for the Utes. A freshman and future of the running back position, Jordan finished with 154 rushing yards and three touchdowns on 22 carries, and averaged 7 yards per carry.
Utah's defense, meanwhile, forced two second-half turnovers and held the Cougars to 39 yards of offense until the final moments of the final home game in a stunning turnaround. The Utes forced three turnovers in the second half.
Before being replaced ahead of the halftime break, Bentley threw an inexplicable interception right to Washington State defender Jahad Woods, who nearly got to pay dirt before being tackled at Utah's 3-yard line. One play later, Cougars quarterback Jayden De Laura ran it in for a 3-yard rushing touchdown to take a 28-7 lead into the halftime break.
Bentley finished his one half of play throwing for 153 yards on 7-of-14 passing. His one highlight was a deep pass to a streaking Britain Covey that went 91 yards for Utah's sole touchdown of the first half. The play was the second-longest passing play in Utah history, but it wasn't good enough to keep the quarterback on the field after a day of struggles.
Washington State's De Laura finished throwing for 204 yards and one touchdown on 17-of-24 passing before being replaced by former Lehi High quarterback Cammon Cooper in the fourth quarter.
×
Photos
Related Stories