SPRINGDALE, Washington County — The mayor of a community just outside Zion National Park's limits said Tuesday that recent flash floods in the area didn't dampen any park interest over the Fourth of July weekend.
"It was busy," said Springdale Mayor Stan Smith.
Storms that passed through southern Utah resulted in flash floods at the park and the neighboring community last week. Smith said two hotels received damage. The St. George News reported that Quality Inn at the Zion Canyon Campground and RV Resort was "a total loss" as a result of the flooding.
The flooding also resulted in damage at Zion National Park and even closed state Route 9 for some time. But that didn't stop people from visiting.
"People still came. They were still hiking trails," Smith said. "It was still busy."
Zion National Park officials are still tabulating visitor estimates not just from the Fourth of July weekend but also from June in what has been an extremely busy year at the park. National Park Service visitation data estimated there were over 1.8 million park visits through May, which is the most on record over the first five months.
The 610,301 estimated visits in May not only broke yet another monthly record but neared the all-time record for one month. The park usually experiences its largest visitation during June, July and August.
The park's next weather challenge is another dose of hot temperatures. The National Weather Service included Zion National Park in its excessive heat warning that goes into effect Wednesday and remains in place through Sunday. Temperatures are expected to hit 108 to 112 degrees Fahrenheit in the park every day during that span.
Zion National Park wasn't alone in having a busy holiday weekend. Second Gentleman Doug Emhoff, the husband of Vice President Kamala Harris, visited Bryce Canyon National Park on Friday. There, he met with different land management agencies, Native American tribes and also Southern Utah University students interning at the park, according to the university.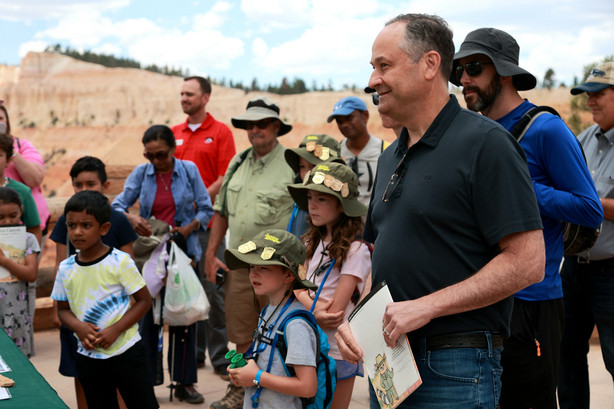 Arches National Park temporarily closed as a result of full visitation on Saturday, Sunday and Monday. The streak continued into Tuesday even though the holiday weekend concluded.
×
Related Stories