This story is sponsored by Robert J. DeBry—more than 200 years of combined experience practicing personal injury law.
The weather is hot, the days are getting longer and the smell of sunscreen in the air is growing stronger. Summer is here, and it's time for all the activities the season brings: swimming, hiking and of course, picnicking.
Good food, good company, good times—it doesn't get better than that. But, wait, it does! You live in Utah, remember? That means you can have your picnic in locations that would make out-of-staters green with envy. Here are 10 of Utah's best picnic spots.
Ogden Botanical Gardens
Ogden
The Ogden Botanical Gardens are home to several themed gardens, like a rose garden with more than 50 varieties of roses and an Asian garden with Japanese maples and a flowering cherry tree. It's a perfect setting for weddings, graduation photoshoots and family picnics.
According to the Ogden Botanical Gardens website, you can walk through, explore and learn for free, but donations are accepted. If you want a guaranteed place to sit down and enjoy your food in the shade, you can reserve a pavilion.
Duck pond at USU Innovation Campus
Logan
If a quiet, picturesque setting is your idea of a perfect picnic spot, look no further than the duck pond at USU Innovation Campus in Logan. With manicured lawns, large trees and the pond in the middle, you'll find this relaxing spot an ideal place to chow down on some sandwiches.
Because there are only a couple of picnic tables, be sure to bring a blanket or some lawn chairs in case you don't snag a table. And remember, as tempting as it may be, don't feed the ducks!
Willow Creek Park
Park City
Of course Park City is known for its cooler temps and skiing, but the summer and fall months are in their own league. Willow Creek Park is just off the main road you take to get into downtown Park City, so it's easily a stop you could make if you're shopping at the outlets or walking around Main Street.
With gorgeous mountain and valley views (in the same park!), you can lay out your checkered blanket and unload the fried chicken in an exceptionally peaceful environment. In addition to views and cooler temps, you can enjoy a game of volleyball in the sand courts or let Fido run around in the off-leash dog area.
To reserve a pavilion, visit the Basin Recreation website.
Knudsen Park
Holladay
One of the newest parks in the Salt Lake area rests at the base of Big Cottonwood Canyon. Because of that location, you can expect a scenic backdrop and slightly cooler temps, making this an ideal spot for a picnic.
Knudsen Park has walking paths, a play space, a pedestrian bridge and a big grassy play area. Perhaps the most appealing part of all is the hammock garden—an area with posts and the appropriate hooks for you to bring and set up your own hammock!
So pack a lunch and your hammock, bring Fido if you'd like, and head over to Knudsen park for some chill hangs (literally).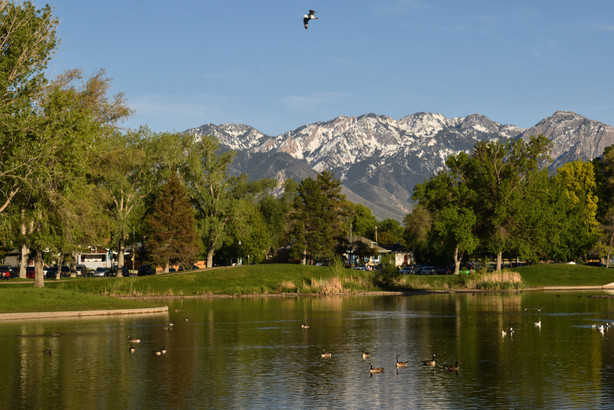 Liberty Park
Salt Lake City
One of the most iconic parks in Salt Lake, Liberty Park is a staple in the city. Pack a lunch and unfold your lawn chairs anywhere along the 110 acres of greenery. If you like lunch with a view, try setting up camp near the pond with its various ducks (though don't feed them!). If that's not your speed, there are pavilions, playgrounds and grills all over the park to enhance your picnic.
And when you're done eating, you can burn off some of that meal with a game of basketball, volleyball or tennis on one of the many courts. If you've only seen the park from the ground, check out the drone footage in the video below to gain a different perspective on the park's expansiveness.
International Peace Gardens
Salt Lake City
Located right off the Jordan River Trail, the Peace Gardens are a mix of nature, art, culture and history — and a great place to have a picnic. In fact, people come from all over the world to picnic at the International Peace Gardens. According to their website, Norwegians, Japanese and often Swedes come to visit with Utahns and picnic on the lawns.
Admission into the gardens is free, and they're open from 7 a.m.-10 p.m. So if your picnic happens to be a late-night snack or early morning breakfast, you're covered! Dogs are also permitted but must be leashed.
Nielsen's Grove Park
Orem
Nielsen's Grove Park is a family's dream, and is enjoyed even more with a basket (or cooler) of food. You'll find picnic pavilions, playgrounds, and even a carousel swing and a duck pond.
It also has lots of shade and is mostly free of crowds. The Google reviews say it all; with an average rating of 4.8 stars, it's hard to imagine why you wouldn't stop here for some family fun and food.
Fun fact: it's also the oldest park in Utah and precedes sliced bread by about half a century. This means families who enjoyed a picnic there when it first opened had to cut their bread themselves. How tiring!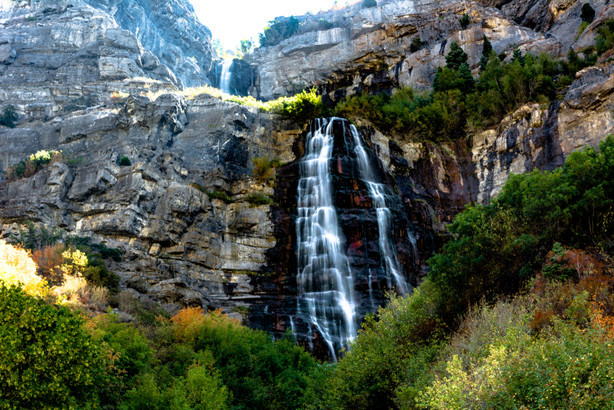 Bridal Veil picnic area
Provo
Bridal Veil Falls is one of the most popular hikes in the state, and for good reason: it's a short, family-friendly hike that leads to a spectacular waterfall payoff. Sure, it's beautiful from the road as you drive by, but it's even better experienced up close! This makes the adjacent picnic area a great place to enjoy a family lunch before or after the hike.
UtahValley.com says, "Bridal Veil Falls Park has picnic tables with barbecue grills, plenty of parking (in a couple of parking lots), as well as grassy picnic spots." You can try to eat by the falls too but your sammy will definitely get soggy.
The lawn outside Zion Lodge
Zion National Park
With the buttes and mesas of Zion as a backdrop, the large lawn outside of the Zion Lodge is an ideal setting to enjoy an unforgettable picnic. This is definitely a spot you'll want to bring a blanket and stay for a while, as the cool canyon air and scenic surroundings make for a relaxing atmosphere.
There are also restaurants inside the lodge, so if you'd rather not make your own sandwich, opt for a close and delicious option on the property and take your food outside.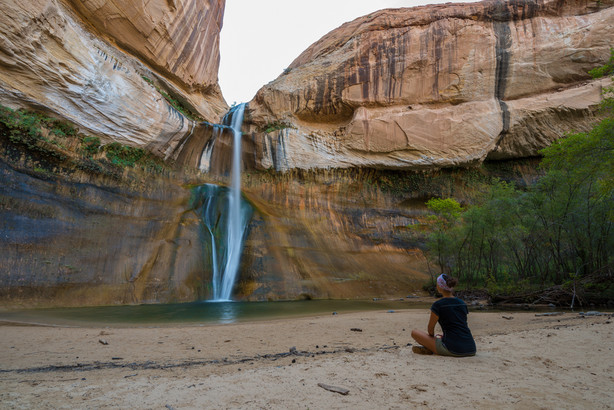 Lower Calf Creek Falls
Escalante
In southern Utah, Calf Creek Falls is another iconic waterfall hike that should be on your bucket list. According to Utah.com, not many people knew about the falls before the Clinton administration made the Grand Staircase-Escalante National Monument. Not only is it a stunning hike, but you can also bring some lunch and eat in the presence of a serene waterfall.
Picnickers can choose to eat at the recreation area by the trailhead or by the waterfall. You can even go swimming in the falls, but remember to wait the mom-approved 45 minutes after eating.
These are just a handful of beautiful picnic places in Utah. Get out of your comfort zone and explore new places throughout the state to find your new favorite spot—and don't forget the food!
×