Estimated read time: 7-8 minutes
This archived news story is available only for your personal, non-commercial use. Information in the story may be outdated or superseded by additional information. Reading or replaying the story in its archived form does not constitute a republication of the story.
SALT LAKE CITY — At a sweltering 107 degrees, Salt Lake City on Tuesday tied the all-time hottest temperature ever recorded in city history as part of a mid-June heat wave that's already shattered scores of records since Sunday.
The upcoming forecast calls for a slight drop in temperatures beginning Wednesday but highs are expected to remain in the mid-90s across the Wasatch Front and in the 90s in northern Utah for the remainder of the week. That's on top of what has already been an abnormally hot June across the state.
In Salt Lake City, the average maximum temperature two weeks into the month is 92.4 degrees, which puts it on track to be the hottest maximum June temperature average on record, according to the National Weather Service. It's was a full 2.6 degrees above 1996's average through June 14, which remains the record holder.
The city's average temperature of 77 degrees through June 14 is 8.3 degrees above average and on track to be the third-hottest average temperature in June on record, behind the average of 77.5 degrees that was set in 2015 and again in 2016, according to weather service data. The agency has kept track of Salt Lake City weather since 1874.
To be clear, this week's heat wave is the result of weather patterns, but it should be a reminder of the warming climate and the geographic challenges it presents Utah, said Matt Bekker, a professor of geography at BYU. He suspects that it has already caught some attention just because of the timing: in the middle of an exceptional drought inching closer to covering nearly two-thirds of the state and as an already active fire season begins to heat up.
The reason that the heat wave is a reminder of climate is that many of the hot temperatures happening recently aren't exactly breaking long-standing records, he added. Sure, Salt Lake City's 102-degree day Sunday broke a record set in 1918, but the average temperature record for June was set just five and six years ago. Then there was the new earliest 100-degree day on record set June 4, which broke a record set last year. Salt Lake City's previous all-time high recorded in June came in 2013 and the last time Salt Lake City reached 107 degrees was in 2002.
Take the warmest years on record in Utah history. While last year was the driest, it wasn't the warmest on record. That remains 1934 during the Dust Bowl Era in U.S. history. But behind that, the remaining Top 10 warmest years on record have all happened since 2000, according to the National Centers for Environmental Information, which holds statewide climate information dating back to 1895.
In fact, it lists 1993 as the last time Utah recorded a yearly average temperature considered below-normal — the average being 1901 through 2000 and not the past 20 years.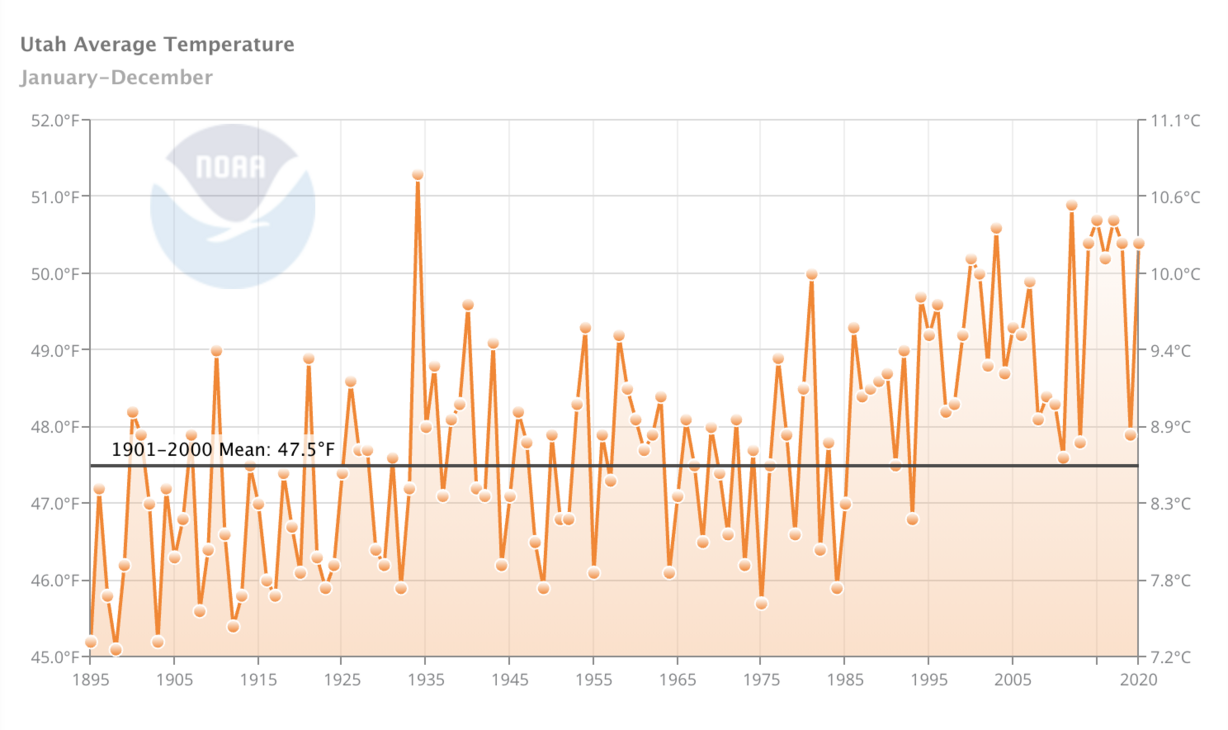 "When you look at things like that, you start to see the longer-term trends," Bekker said. "Most of the temperature records we've set have been in the last 10 to 15 years and that tells you something about the climate. ... I think it's easy to understand, easy to relate representation of what's happening with the longer-term climate."
Bekker contends that heat waves may just be a weather phenomenon, but as they continue to happen it reopens the discussion. He said he's witnessed more acceptance regarding the problem over his past two decades of teaching, which just so happens to overlap with the average temperatures that are rising. He's also witnessing more thinking about solutions to the problem.
"I think it's a positive thing that we're starting to ask that question," he added.
Heat wave and Utah's drought
While long-term solutions are something that Bekker doesn't quite have an answer for, this and other recent heat waves may lead to more attention to Utah's growing drought and fire concerns. BYU recently published a question-and-answer piece with him where he addressed solutions to the current issues at hand.
There, he provided ways to handle lawn watering this summer. Bekker told KSL.com that many people see hot days like what's happening this week and tend to dump more water on their lawns to counter the heat. However, his team at the BYU campus is witnessing about 0.33 inches of water being evaporated daily due to the heat.
What does that mean in terms of watering lawns, exactly?
"The problem is not only that we're losing a lot of water there, but it's also not doing their lawn a lot of good. Most of the water is being lost to evaporation," he said. "It's a sad thing because it's not doing the good thing that they want it to, and we're also losing the water to evaporation."
Kelly Kopp, a water conservation and turfgrass specialist at Utah State University Extension, pointed out that as much as 65% of municipal water use ends up going toward lawns and landscaping every year. In a news release from the university Monday, she called it a "tremendous resource waste, especially in a drought year" not just because most goes toward ornamental lawns, but also because overuse can cause issues to the landscapes receiving the water.
"Overspray can cause substantial damage to hardscapes such as decks, patios, fountains and decorative concrete," she said.
Bekker said he doesn't recommend Utahns completely stop watering their lawns this summer but echoes thoughts presented by other experts in the state. He added that the general rule of thumb is to water as much as you lose to evaporation, and especially don't water in the heat of a day. A spray head sprinker can provide 1/2 inch in 15 to 23 minutes, while a rotor head sprinkler can provide that much in 30 to 75 minutes, according to USU Extension.
This year, though, may be one to break away from the traditional thought process. Bekker said he supports the new recommendation from the Utah Division of Water Resources to water just twice a week. While it will lead to more yellowing in lawns, he said that doesn't mean that a lawn is dead. People should provide some water to their lawns but don't need to dump a whole lot on it either.
Kopp provided a half-dozen tips to help homeowners and businesses out in this realm:
Do not rely on a sprinkler clock or irrigation controller to irrigate lawns on a set schedule. Instead, determine when the lawn actually requires irrigation and manually activate the system as needed.
Small areas of the lawn can brown during hot weather because of variations and inefficiencies in sprinkling systems. Instead of increasing the amount of time the entire sprinkling system irrigates, supplement water to the brown areas with a small hose-end lawn sprinkler or water by hand with a hose.
Mow the lawn to a height of at least 2 inches. This allows roots to penetrate deeper into the soil and increases overall drought hardiness.
Irrigate shady and sunny areas according to need. Shady areas require much less irrigation than sunnier areas.
Cover bare soil in the garden and flower beds with 2-3 inches of mulch. Not only does this save water, it greatly reduces the need for weeding. Inexpensive mulch can be obtained from many local green waste recycling centers. Grass clippings also work well and are free.
Hand-water or use drip irrigation to irrigate flower beds, vegetable gardens and shrub beds. Water should be placed in plant's root zones and penetrate the soil 6 inches deep for flowers and vegetables, and 2 feet into the soil for established trees and shrubs.
The heat wave and fire conditions
It has been an active fire season already. A total of 365 fires have scorched nearly 38,000 acres of land as of Tuesday afternoon, according to the Utah Wildfire Dashboard, which is run by Utah and federal agencies. An overwhelming majority of the fires were human-caused this year.
This week's heat wave just adds to making for prime fire conditions across Utah. The National Weather Service continues to list most of Utah in red flag warning conditions, which is when warm temperatures, low relative humidity and strong enough winds merge together to make it easy for a fire to spark and spread. The weather service even tweeted a graphic Sunday that showed all of its Utah stations reaching relative humidity below 5%.
In the BYU post, Bekker explained dead trees pose wildfire threats but so do living trees when the hot, dry conditions — such as the heat wave this week — emerge. That's why all vegetation can be sensitive.
"The living trees, which still have all of their leaves or needles on them, produce the biggest and hottest fires," he explained. "Under extremely hot and dry conditions like we're currently experiencing, the leaves and needles dry out and the fire spreads easily through the canopy."
×
Most recent Outdoors & Rec stories