Estimated read time: 4-5 minutes
This archived news story is available only for your personal, non-commercial use. Information in the story may be outdated or superseded by additional information. Reading or replaying the story in its archived form does not constitute a republication of the story.
SALT LAKE CITY — LA Clippers star Paul George didn't want to hear any more of the question.
The answer came well after George had retired to the locker room following the Clippers' 132-106 win over the Utah Jazz, a win that helped Los Angeles protect home court and pull within 2-1 of the Western Conference semifinal series.
It came on the Clippers' postgame video call with reporters when he was asked a lengthy question about, of all people, Joe Ingles — you know, the Jazz guard who had a beef with George years ago when he played for Oklahoma City but which had cooled off in recent months.
George seemed perturbed, however.
"I don't care about him," he quipped sharply. "Next question."
Ingles, for his part, has also tried to downplay the perceived "beef" between the two shooters.
"The whole narrative of Joe vs. Paul George is kind of a little bit old, in my mind," Ingles said. "It's the Jazz vs. the Clippers; it was OKC vs. the Jazz."
Regardless, there were plenty of other things to talk about, because whether or not Ingles lives rent-free in George's head doesn't change the simple fact that the Los Angeles Clippers did what they needed to do Saturday night, protecting home-court advantage and showing the top-seeded Jazz that they won't walk away from the second round with a sweep.
Like how George dropped 31 points on 12-of-24 shooting, including six 3-pointers, dished out five assists, and helped hold Jazz star Donovan Mitchell scoreless in the first quarter — in any quarter — for the first time in the postseason. Kawhi Leonard scored 24 of his 34 points in the second half as LA recovered from a brief 10-2 run to open the game and cruised to the near wire-to-wire finish.
In the City of Stars, the Clippers got the best moments from their two biggest to remind the small-market Jazz why the No. 4 seed in the West may have been eagerly awaiting this second-round matchup.
"They did their job," Mitchell said. "They defended home court, just like we did. We've got to go out there and try to steal one."
LA is simply a different team when George and Leonard are clicking on all cylinders, head coach Tyronn Lue said. That's nothing against the Jazz, who could say the same thing about All-Stars Mitchell, Rudy Gobert or Mike Conley, as well.
"It's been like that all season long," Lue said. "I think defensively, just taking the challenge closing out on Donovan, on Ingles. … PG did a great job of that tonight. He's not going to make every shot every night, but defensively, he was locked in.
"When you compete like that at a high level, you can cover a lot of mistakes. And we did that."
Even the Clippers role players admit that in order to be the team they want to be — a championship contender, that is — they need George and Kawhi.
Reggie Jackson canned five triples en route to 17 points and three assists — but LA's efficient point guard and third-best scorer is No. 3 on the team for a reason.
In the first two games of the series in Utah, George was held to just 23.5 points, 10.0 rebounds and 4.0 assists. In Saturday's Game 3, he had 31 points, five assists and four rebounds, his first 30-point game since April 23.
"When he gets going, I definitely find some extra motivation," Jackson said. "I think the whole team feeds off his energy.
"He started off really well. I liked his aggression tonight — and I liked what he was saying. I think he made the game easy for him, watched some shots go in. … Once he gets going, we all kind of feed off him."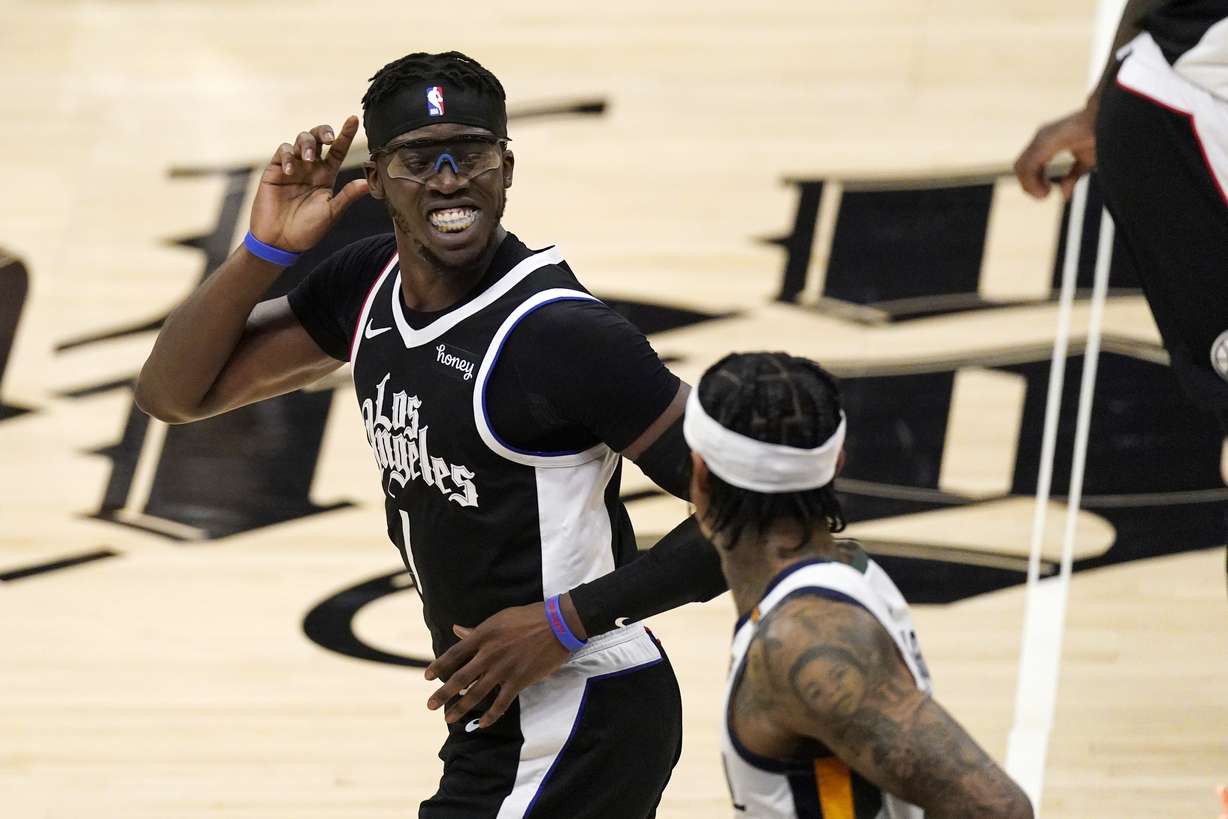 George was dealing early, with 20 of his points coming in the first half. He shot a cool 50% from the field, paced 12 Clippers with a positive plus-minus at plus-14, and fueled a team to go 19 of 36 from the 3-point line. But he also did damage defensively. Not a single Jazz player finished with a positive plus-minus, including minus-24 from Jordan Clarkson and minus-16 from Gobert.
Ingles was limited to 19 points on 6-of-11 shooting, with five 3-pointers and a minus-12 rating — a solid enough night, but George still fared plenty better.
So you can see why he doesn't want to talk about the fast-talking Australian guard. George has other things to talk about, and also to worry about, with LA still down 2-1 to the Jazz.
By the time Leonard caught fire in the third quarter, and the rest was history.
"PG and Kawhi really set the tone — PG early and Kawhi late," Lue said. "That's what we need from our two best players."
PG and Kawhi. Kawhi and PG.
For the first time since vanquishing Dallas — maybe even before — the Clippers' stars showed out on the same night.
The second-round series is still a series. Game 4 tips off Monday night at 8 p.m. MT on TNT.
"We both understand we've got to be aggressive from this point on, and do whatever it takes to win," George said. "That's just the mentality we had: come out, get this team on the right start offensively, and be aggressive. That's what it's going to come down to for us."
×
Related stories
Most recent Utah Jazz stories