SALT LAKE CITY — Tyronn Lue's answers were short, brief and occasionally curt as the Los Angeles Clippers head coach addressed the media via video conference after his team's 117-111 loss to the Utah Jazz in Game 2 of the Western Conference semifinals series.
A couple of yes/no answers, staccato sentences, and even referring to an inquiry about a players' declining minutes as a "coaches' decision," without elaborating.
He was the same way in the locker room after the Clippers fell behind the top-seeded Jazz 0-2 in the series.
"I really don't talk after the game," Lue said, adding that at one point he told the team: "Let's just go back home."
A change of scenery will be nice. The Clippers will no-doubt look forward to a home-court advantage, to getting away from Salt Lake City — one of the few venues in the NBA with full-capacity crowds as one of a handful of states in the country where COVID-19 positive test rates are plummeting — and to find the mojo of a team that staved off elimination with a seven-game series win over Dallas in the first round.
There's little good about LA's current situation. But perhaps the best thing about that 0-2 deficit? It's not something the Clippers haven't seen before.
LA famously went seven games against a Mavs squad where neither team won a home game through six tries; Dallas took two in Southern California before the Clippers stole two back in North Texas, and on and on until Leonard — who had 21 points, five assists, four rebounds and two steals Thursday night — paced the Game 7 decider to take the series in Los Angeles.
Maybe this time will be different. After all, the Jazz are the No. 1 seed in the West compared to a fifth-seeded Dallas team that featured a whole lot of Luka Dončić and only a little bit of everybody else.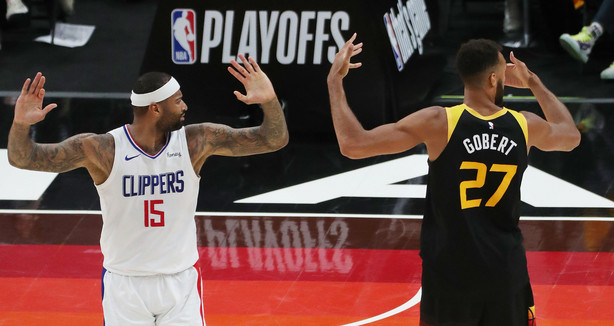 But the Clippers can certainly take something from having already overturned a two-game deficit. Been there, done that, right?
"It gives us confidence," said LA guard Reggie Jackson, who had a team-high 29 points Thursday night just 48 hours after finishing with 9 in Game 1. "But you know what they say about a series; it doesn't start until someone loses home court. We get to take it back home, and we've got to just take care of business on Saturday."
To do that, they'll have to stop — or at least, slow down Donovan Mitchell, who posted 37 points after dropping 45 in Game 1. The fourth-year pro is averaging better than 32 points per game in the playoffs and seems to be building plenty of momentum as the series goes on.
He's not the only one, though. Jordan Clarkson is averaging over 18 points per game off the bench, roughly the same scoring contribution as starting wing Bojan Bogdanovic and three-time defensive player of the year Rudy Gobert. The Jazz have weapons everywhere — from deep, from inside, on pick-and-roll action.
It'll take more than one player — no matter how good Leonard is or how clutch "Playoff P" Paul George may be at times. It'll take a team to defeat the top team in the West.
"We're going to have to trust each other," Jackson said. "Honestly, we have to move the ball and move bodies. Go out there and be aggressive, make sure we shore up things defensively. It'll probably be a little bit easier to communicate in our own arena, but we've got to be louder."
Even without a win, the Clippers won't leave Salt Lake City completely empty-handed. For a moment — however brief it may be, in the end — they had the Jazz on the ropes.
LA used a sticky zone defense in the second half to overturn a deficit that ballooned as high as 21 points that caused Mitchell to kick a chair on the sideline in frustration before Utah responded with a 12-2 run to put the game away for good.
There was plenty to take during that spurt, if you're an Angeleno: The defense. The physicality. The shot-making. George actually looked liked … well, Playoff P, even for a moment.
"We found something," Lue said. "We've just got to take the challenge one-on-one, and it starts right there. I liked what I saw, resilience, fighting back to take the lead. We just don't make the shots down the stretch, and they made them."
The second-half effort was commendable. Plenty of fans lining the aisles up to the rafters in the full-capacity Vivint Arena were nervous. You could tell as the boos got louder, the chants turned rougher, and every whistle against the Jazz was magnified by a thunderstorm of boos directed at the officials.
Whatever voodoo magic the crowd, the Jazz supporting staff or Quin Snyder concocted to finish the job worked, though. Pushing a lead to double digits early helped, though.
And for that, they can thank Mitchell (again).
"You can't dig yourself a hole like that against a good team," Lue said. "Then you've got to expend all your energy to get back into the game, and then you can't finish.
"Once again, Donovan Mitchell got them off to a great start, and they just kind of took off from there."
It won't stop at limiting Mitchell, but it probably has to start there.
"I think we definitely have to try to limit him out there," Leonard said of the Jazz go-to scorer. "He got off to a great start, and he got them going. That's the head of the snake, and he's playing great right now."
Perhaps the biggest takeaway for the so-far visiting Clippers? They feel like they haven't played their best game of the postseason. Sure, Utah has been great two games into the series, but LA is confident it can play better.
It needs to — or the Clippers may just stay in Los Angeles.
"We've got to give them credit; this is a tough opponent. They weren't No. 1 in the West for no reason," George said. "This is a tough team. But we're approaching this the same way Dallas was. We still feel we have a lot of possessions we can clean up, and a lot of possessions that are hurting us.
"As tough as this matchup is, we still feel like there are moments throughout this game and this series where we're making plays that are self-inflicted. It's a lot of uphill, but we're optimistic that we can get this under control. Go back home, one game at a time, and tie this series up."
×
Photos
Related Links
Related Stories