Estimated read time: 4-5 minutes
This archived news story is available only for your personal, non-commercial use. Information in the story may be outdated or superseded by additional information. Reading or replaying the story in its archived form does not constitute a republication of the story.
HERRIMAN — The United States could soon host another World Cup.
No, the site of the 1994 World Cup is not bringing soccer's biggest game back to the states, save for the united bid for the 2026 tournament in partnership with Mexico and Canada.
But the country has officially been approved to submit a bid for another World Cup — the Rugby World Cup — by the sport's governing board, announced Thursday.
Last August, USA Rugby partnered with a number of stakeholders across the country to conduct a feasibility study that would "evaluate the potential of hosting a Rugby World Cup in the United States," according to a release from Major League Rugby. That study yielded "positive results across financial, host city, stadium, competition and rugby development categories," the league said.
The next step of the process involves transitioning the feasibility group into a bid planning team to submit a formal proposal before world rugby's January 2022 deadline. That team will be led by executive chairman Jim Brown, a Park City resident who previously served as the managing director of the United bid committee bringing the 2026 World Cup to the United States, Mexico and Canada and spent 11 years working in various functions with FIFA.
And of course, Brown will lean on Utah's professional rugby outfit, the Utah Warriors, who play their home games at Zions Bank Stadium in Herriman.
"We are thrilled to hear the news that the United States and USA Rugby have been formally accepted as a candidate to host one of the upcoming Men's Rugby World Cup events in 2027 or 2031 and a possible Women's Rugby World Cup in 2029," said Kimball Kjar, a longtime Utah resident and former BYU coach who currently serves as Warriors CEO and chairman. "We have already seen tremendous growth of rugby here in the United States and in our own local community with Major League Rugby and we believe this announcement can continue to be transformative for the sport here in North America.
"The Utah Warriors are committed to supporting USA Rugby and CEO Ross Young in this bid process. We are particularly excited to work with and support Park City, Utah resident Jim Brown as he serves as Rugby World Cup Bid Executive Chairman as he prepares the United States' bid for these upcoming Rugby World Cup Events ahead of the January 2022 proposal deadline with World Rugby."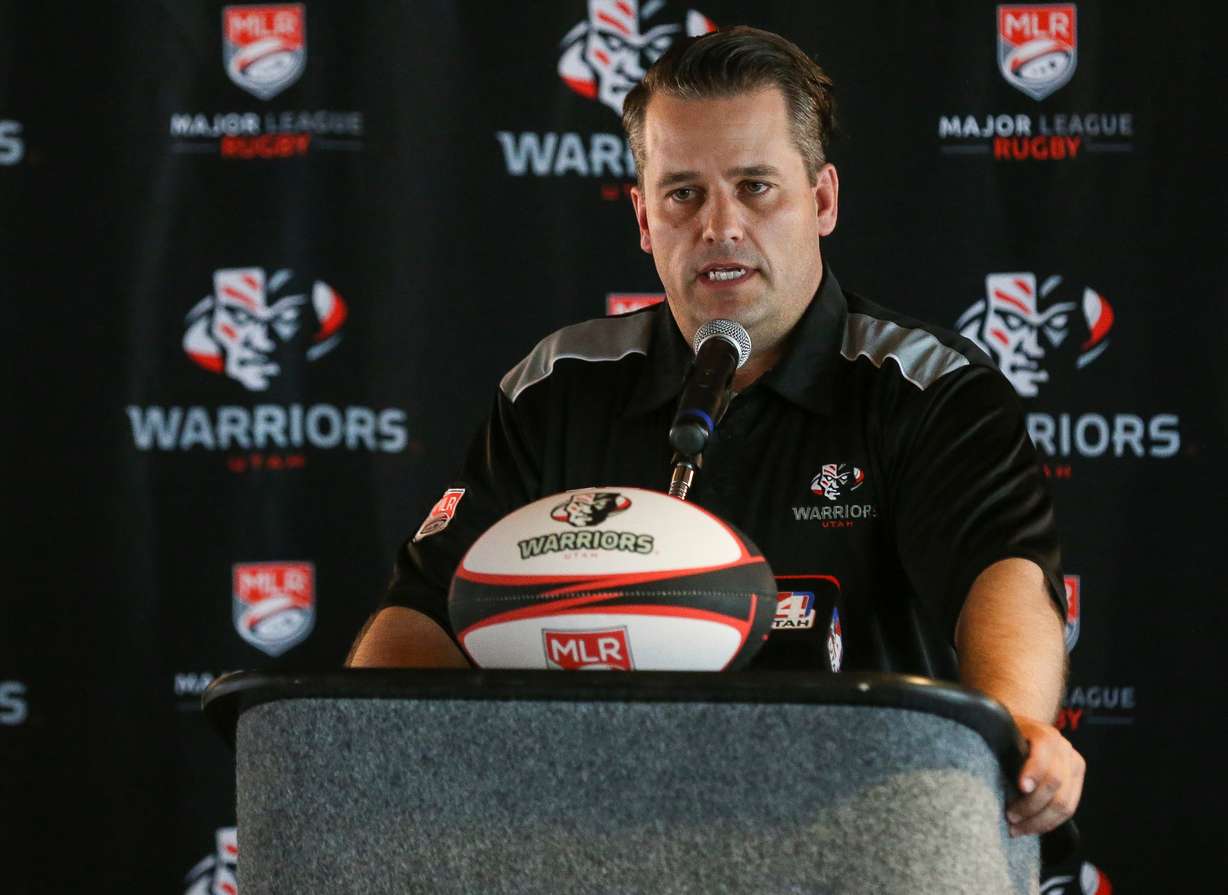 Major League Rugby, the 12-team league in which the Warriors play, felt similarly.
"Major League Rugby is excited about the USA Rugby announcement with regards to the possible 2027, 2029 and 2031 Rugby World Cup. As a major stakeholder, everyone involved with MLR is committed to bringing this global event to North America," MLR commissioner George Killebrew said Friday. "The passion and interest in rugby continues to grow and we are seeing that with one of our most successful seasons in league history. As an established league we will be instrumental in working with USA Rugby to lay the foundation for success in advance of the matches. The Rugby World Cup will be an amazing international sporting event and MLR is all-in on supporting USA Rugby's efforts to win the bid."
The bid, which can be awarded to one of three tournaments, will involve the men's competition in 2027 and 2031, as well as the women's World Cup in 2029 — and may include a combined bid for both tournaments "if the process determines this approach is feasible and constructive," the committee says.
But the feasibility committee showed a financial benefit to hosting the World Cup, due largely to stadiums, audience and commercial interests uniquely associated with the United States — a country that rugby insiders have long called a potential hotspot for the predominantly international sport's future growth.
"In August, we set out to do a full evaluation and expert analysis to answer a question long asked, can the United States host a Rugby World Cup?" Brown said in a statement from USA Rugby. "The process was an undertaking; however, we are delighted to confirm that the US could not only meet the technical requirements of hosting the men's and women's events, but also reach new levels of team and fan experience. We look forward to sharing results with the USA Rugby community and begin this journey towards rugby's biggest stage."
The bid campaign will be funded by rugby stakeholders across the United States, with USA Rugby serving in a "collaborative effort," the organization said. USA Rugby filed for Chapter 11 bankruptcy in March 2020, amid the COVID-19 pandemic-related shutdown, and successfully exited those proceedings Sept. 1.
That means the organization, which was reorganized under terms of the filing, can move forward as an organization will still being held accountable to a payment plan to secured creditors over a five-year span.
Founded in 1987, the Rugby World Cup has never been held in the United States or anywhere in the Western Hemisphere. South Africa won the most recent title in 2019 in Japan, which hosted 1.6 million people across 45 matches — a 27% decrease from the 2015 tournament held in England.
×
Related stories
Most recent Sports stories