SALT LAKE CITY — In what was viewed as a "big, important day" in fuel production, Utah leaders and Chevron officials celebrated the recent opening of a first-of-its-kind facility that uses the biggest innovation in the gasoline alkylation process since the 1940s.
Lt. Gov. Deidre Henderson was among those on hand on Monday afternoon as Chevron and Honeywell celebrated the operation of ISOALKY, the world's first commercial-scale ionic liquids processing unit, located at the Chevron plant in Salt Lake City. Its opening comes after about a decade of testing a new process that began at the same refinery.
"This technology ... is a pretty big deal for us," said Bryon Stock, the general manager of Chevron's Salt Lake City refinery. "In the particular field of alkylation, nothing like this has happened in probably the last 80 years. So, that's why we're here celebrating."
The facility, which actually went online in January, puts in an alkylate through an ionic liquid, Stock explained. The new process will help with octane, or performance, and can be used in the production of Tier 3 fuel, which has the ability to reduce emissions 12%-80% depending on the model of vehicle.
Laura Leonard, vice president-general manager of Honeywell UOP, explained the gasoline people fuel up with is a "complex mixture" of hydrocarbons. And alkylate factors in providing the power and "clean-burning properties" of gas. It's a process that began through the use of sulfuric acid in 1939.
Hydrofluoric acid was introduced as another alkylate in the 1940s, she added, pointing out that nothing has really changed about the process since then despite decades of research into alternatives. A little more than 20 years, researchers began to wonder if they could use ionic liquid, which is a liquid salt, in the process.
Experts eventually put that idea to the test in Utah. In 2009, Chevron and Honeywell approved a pilot program at the Salt Lake City refinery to test ionic liquid processing and were thrilled with the results. In 2016, the companies officially announced they would begin an ionic liquids alkylation process based on research conducted at the Salt Lake City facility, touting it as a cheaper, safer, more efficient alternative.
Honeywell hailed the process in 2016 as having less of an impact on the environment, too, since it used 400 times less catalyst than the previous methods. Stock said the Salt Lake City refinery was able to ditch hydrofluoric acid because of the innovation that came with "an additional safeguard": workers don't have to wear special protective gear to operate around the plant like before.
"It marked a milestone in the history of transportation and fuels," Leonard added. "This is a game-changer for the industry, and it stands as a reference for refiners around the world who want a practical and safe alternative to acid technologies. ... This technology is not just a replacement of the conventional technology; it's an improvement on that existing technology."
It's a process that can be used for multiple types of fuels, and that older refineries can be retrofitted to use the new method, she continued.
"We couldn't be more proud of this technology," she said.
After nearly 2 million total work hours over the course of three years, Chevron converted its Salt Lake City refinery into the world's first commercial ISOALKY facility. It was completed with 10,500 cubic yards of concrete, 3,400 tons of steel, and 6,000 welds. It features 18 miles of piping and 65 miles of electrical and instrumentation cable.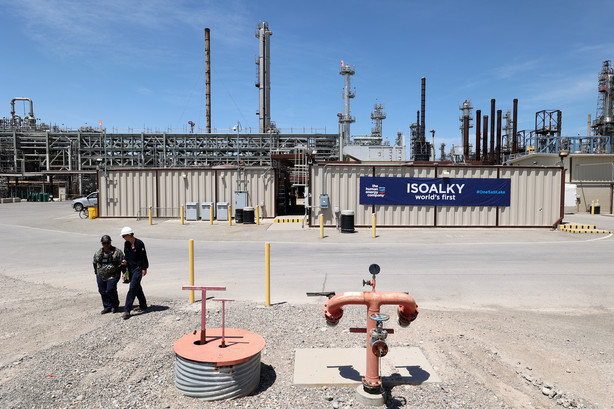 More ISOALKY facilities are expected in the future. Chevron owns the claim to the technology but partnered with Honeywell to license out similar facilities across the world in the coming years, starting with a facility in China, according to company officials.
The Chevron refinery produces gasoline for Utah and some of the surrounding regions. Stock said the refinery doesn't set gas prices, so it's unclear if a cheaper and more efficient alkylation process will show up when paying at the pump.
Given the growing concerns over air quality, in recent years Utah leaders and lawmakers have pushed for energy alternatives and cleaner ways to produce fuels. For instance, the Chevron refinery was one of a handful of Utah refineries that began producing Tier 3 gasoline to help with emissions.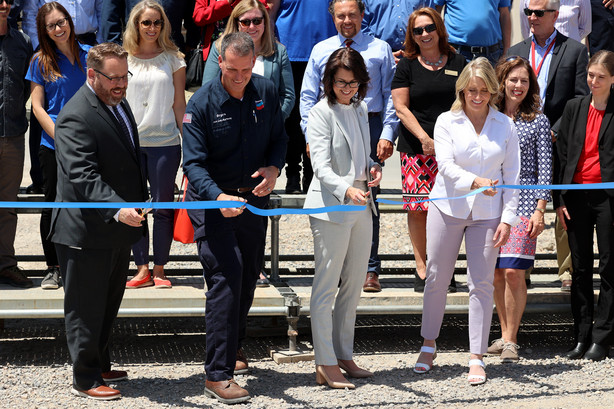 While Henderson joked she was "intimidated" by the scientific jargon presented Monday, she lauded the new facility and all the work conducted to get it running.
"The vast majority of people in Utah — and I guess, everywhere — we just go and fill up our cars at the pump and have no idea what goes into that, and maybe we don't think about it too much," she said. "But as a policymaker in the state, and a leader in the state of Utah, and someone who wants to breathe deeply and to make sure all Utahns have clean air and are healthy and have a good lifestyle, I'm really grateful for this technology."
Henderson added that is excited to see the future of the product, which was mainly developed in Utah. At the same time, Stock said he believes the Salt Lake City refinery was chosen to develop the new technology because of the growing common goals between the companies and the Beehive State.
"We consciously chose to make this investment in Utah because Utah has been a fantastic community partner," he said. "We have a shared interest in improved air quality and cleaner air in the state of Utah. We want to be a part of the solution, and this technology offers us an opportunity to help be a part of that solution."
×
Photos