SALT LAKE CITY — One team from the state of Utah is still playing college football, and that squad is purely emblematic of the state.
Beyond a roster composed mostly of players from the Beehive State, just look at the coaching staff.
Snow College will play for its first NJCAA national championship in over a decade Saturday at top-ranked Hutchinson Community College (3 p.m. MT, CBS Sports Network) in the final college football game of the split 2020-21 season for a state program. It will mark the first national championship game for the Badgers since back-to-back appearances in 2007 and 2008.
When first-year coach Zac Erekson leads the No. 2 Badgers (8-0) in a bid for the program's first national title since 1985 at War Memorial Stadium in Little Rock, Arkansas, (which will host for the national title game for the next three consecutive years), he won't just be representing Snow or the tiny town of Ephraim (pop: 7,102). The Badgers will be representing all of Utah football.
"We've got eight coaches: four Cougars, one Aggie, two Hilltoppers from Western Kentucky, and a coach from Adams State," Erekson told KSL.com after practice in the swallowing humidity of Little Rock. "Six of us have some strong ties to the state of Utah — we grew up here or played college football here. I think it starts with us being able to share the same vision, relate to a lot of our kids, and then our job as coaches is to put the kids in the best position possible to be successful."
A Springville High product who lettered 12 times in four sports for the Red Devils, Erekson played his freshman football season at Dixie State before transferring to BYU and playing receiver on the 2006 Mountain West championship team. Much of his career has been built in Utah, as well, including a run as head coach and athletic director at Skyline High before taking a job as an assistant in Ephraim.
Ditto for his coaching staff, which includes defensive coordinator (and former BYU defensive lineman) Jan Jorgensen, a native of Helper, Carbon County; former BYU linebacker Butch Pau'u; one-time BYU defensive back Tanner Jacobson; and AJ Pataiali'I, a West Jordan product who played at Snow and Utah State before spending parts of three seasons bouncing around the NFL.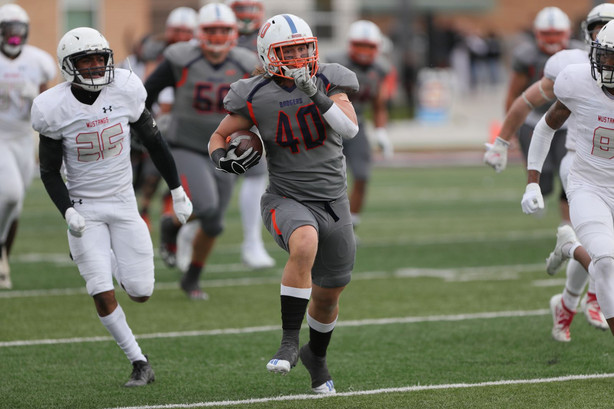 Not only does the staff's Utah ties help them recruit the state, scouring the Wasatch Front and beyond for the most overlooked prospects to develop into Division I and four-year college players in their system, it also helps the Badgers build a culture that is emblematic of the rural Utah landscape where the program resides.
"My staff, our administration, the kids; those are the real heroes," said Erekson, who lives in Mapleton with three kids and his wife Juli, who was recently named head women's golf coach at Utah Valley University. "None of this happens without them. I have the best staff in the world, and the best athletic director and president. They've been a huge support, and at a small junior college, you've got to wear a lot of hats."
That local culture — one that prides itself on "discipline, effort, team and honor," Erekson says — has been a hallmark of Erekson's first season in charge of the Badgers in a season that had as late of a start as any team in the country. In July, the NJCAA postponed its entire Division I athletic program — a group that includes 512 schools spread out over 45 states, including 54 football programs — to the spring due to the COVID-19 pandemic.
That was the first of the signs of disruption in a year that has been filled with them.
"It's going to be bizarre playing football in the spring," then-Snow College coach Andrew Mitchell told KSL.com at the time. "We had everything ready to go in the fall, but now it's just going to be in the spring.
"It's really kind of flipping our year."
A few months before the season, Mitchell abruptly resigned to take a job as an offensive analyst at TCU. That left the program that had been independent since the Western States Football League folded following the 2018 season.
Road to Little Rock
Rather than join most of their fellow schools from Arizona in abandoning football, the Badgers pressed forward — an independent team without a league whose nearest football rival at the NJCAA level came from a group of schools in Kansas.
And Snow? Well, the program has thrived in such a setup.
The Badgers went 5-3 in 2019, the first year of the "new normal" for Ephraim-based football. When the fall 2020 season was pushed to the spring of 2021, Snow was uniquely positioned to arrange one of the best schedules in the country, finally returning to the land among junior college's elite programs.
It took a new coach, a reorganized staff, and a new way of doing things. But Erekson is no stranger to success as a high school coach — including an eight-year stint in Texas where he helped lead 5A Abilene Cooper to a 12-2 record in 2011 and helped produce a lengthy list of Division I prospects that includes former Texas Tech quarterback Clayton Nicholas and BYU running back Trey Dye, among others.
The same mentality followed him to Snow, where he was met by a similar style of coaching from Jorgenson and the rest of the staff.
"We just let our kids play," Erekson said. "We don't claim to be offensive or defensive savants, or the next great football minds. There's very little ego on our coaching staff. For us, it's about the players, putting them in the right position, and then letting them play."
That "let them play" mentality proved immediate dividends, when the Badgers opened with a come-from-behind 31-30 win over then-No. 2 Iowa Western in the 2021 season opener. That caught the attention of the national landscape, and Snow's profile skyrocketed as it maneuvered through its schedule unbeaten, with five victories by 40 points or more and an average margin of victory of 37.63 points.
Paced by Garrison Beach at quarterback, the Badgers' offense was rolling. The Sky View High product directed a symphony from under center in Ephraim, orchestrating a group that piled up 200.3 yards through the air to go along with 213.3 yards on the ground.
Because of that balance, the 62.7% passer for 1,532 yards and 22 touchdowns with seven interceptions is often overlooked — mostly for running back Seth Kaelin, a Skyline High product who averaged 100.3 yards per game for 703 yards and nine touchdowns in seven contests.
But there's little question as to who leads the offense, Erekson said — much like a certain former BYU signal caller from his own college days.
"We've got a great running back, a great offensive line, but Garrison's the guy who has kept this thing together," the Badgers coach said. "When stuff gets out of whack, it's No. 6 that gets everybody back on track.
"He reminds me a lot of John Beck when I was at BYU, in how they go about their business. John wasn't loud or flashy, but he elevated everybody around him. Garrison's is the same way. He elevates everyone on our team because of his work ethic and attitude. He even does that with me."
Defensively, the Badgers are led by the same blue-collar mentality, a run-stuffing group that allows just 37.8 yards per game on the ground. Former Alta High standout Mitch Medina is the heart of the defense with 38 tackles and an interception, UTSA transfer Robert Fuentes leads the team with 5.5 sacks, and BYU target Kieonte Scott patrols the defensive backfield with 19 tackles, 4.5 tackles for loss, two interceptions and 10 pass breakups for the Badgers.
Utah transfer Stockton Lund leads the special teams unit, a 51-yard field-goal kicker who has booted from nearly 60 in practice — days that plenty of Badgers got through the extended offseason, when they were in school and training while waiting for case counts to subside enough to play a truncated season.
"A lot of these guys have been here since July 6, busting their bust when we thought that we would play in the fall," Erekson said. "They never went home; they stayed and they grinded. And now it's starting to pay off for them."
---
NJCAA national championship
No. 1 Hutchinson CC (7-0) vs. No. 2 Snow College (8-0)
War Memorial Stadium in Little Rock, Ark.
Saturday, June 5
Kickoff: 3 p.m. MT
TV: CBS Sports Network
×
Related Stories