SALT LAKE CITY — There will be no junior college sports in Utah during the fall and winter seasons.
For a lot of sports, football in particular, the calendar has just flipped over.
Less than a week after NCAA Power Five programs began making plans for a conference-only football season, the National Junior College Athletic Association (NJCAA) announced its decision to move most of its fall and winter sports to the spring in a statement following a meeting of the association's presidential advisory council and board of regents.
"It's going to be bizarre playing football in the spring," Snow College football coach Andrew Mitchell told KSL.com. "We had everything ready to go in the fall, but now it's just going to be in the spring.
"It's really kind of flipping our year."
The NJCAA recommended the move last Thursday, according to association president and CEO Christopher Parker at the time, and finalized the terms of the decision Monday afternoon.
"Our greatest focus is and always has been providing the best opportunities for our student-athletes," Parker said Monday. "Through a unified effort from our Presidential Advisory Council, the Board of Regents, and leadership staff, our most recent plan of action provides a path that keeps our student-athletes competing at the highest level with proper safety measures in place. As we move forward as an association, we will continue to provide opportunities for our student-athletes, coaches, and all those involved with the NJCAA to be safe and successful."
Every junior college sport except for cross country and half marathon, men's and women's bowling, and Division III women's tennis will shift to a spring championship season.
The move impacts Utah's three junior college athletic departments — Salt Lake Community College, Snow College in Ephraim and Utah State-Eastern in Price — that will participate in a fall season. As of Monday afternoon, the schools will plan to play in front of fans — at least, in so far as any organization can forecast plans from July to January in the current climate.
But that's why the NJCAA made its decision the way it did — not only to offer more time to its member schools, but also to signal a need for the greater population to change, if fans want to have some semblance of normalcy by the start of 2021.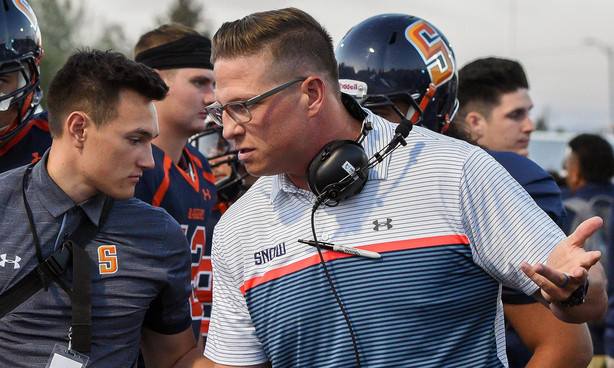 "We're hopeful that everybody in the public uses this as a moment to pause," SLCC athletics director Kevin Dustin said. "We really have to get serious about the science, about wearing the mask and all those things.
"If we really want sports as much as we say we do, then we're going to have to start living by the rules to allow those sports to come back."
Most sports, like football, men's and women's soccer, and men's and women's basketball, will be allowed to schedule scrimmages during a brief practice-only session in the fall.
Snow College is the only sanctioned juco football team in Utah. The Badgers have competed as an NJCAA independent since the Western States Football League was dissolved in 2018.
The NJCAA has 512 members in 45 states, with 54 football programs.
"We were concerned if all of our schools were going to start on time," Dustin said. "This isn't a Utah issue; it's more of a national issue. And that was certainly reflected in the president's recommendation.
"Some schools had tried to make decisions to cancel sports all together. By moving them to the spring, the NJCAA gives those schools a bit of a lifeline to see if they can keep those programs."
The NJCAA football season will run from March through May of 2021, an eight-game season followed by the NJCAA national championship on June 3, Mitchell said.
All other NJCAA bowl games will be determined at a later date. But the likelihood of extra bowl games may be unlikely, Mitchell admitted candidly, based on fewer potential sponsors for bowl games in the spring.
And while it will "blow up" the Badgers' current fall season — as NJCAA independents, they are in charge of their own schedules — Mitchell added that a lot of powerhouse programs in Iowa and the Great Plains area have already asked to schedule Snow, both home and away.
"So far, this is going to help us," Mitchell said. "There have already been schools that have reached out in similar situations. We're going to have a really solid eight-game schedule now.
What is also flipped — thought it has yet to be altered at the NCAA or Division I level — is the recruiting calendar. If junior colleges play in the spring, how will that affect National Signing Day, which is traditionally held in late December and early February?
And just like Division I programs worry that a spring football season could lead to top NFL draft prospects skipping the season, Mitchell and his staff may face the same problem with second- and third-year sophomores who are bound for Division I schools.
That concern goes beyond football, too.
Men's and women's soccer will play a four-scrimmage fall — similar to their spring season — beginning August 15, and will commence an abbreviated, 14-match spring season that runs April 3 through May 15. The NJCAA national championships are currently scheduled for June 2, 2021.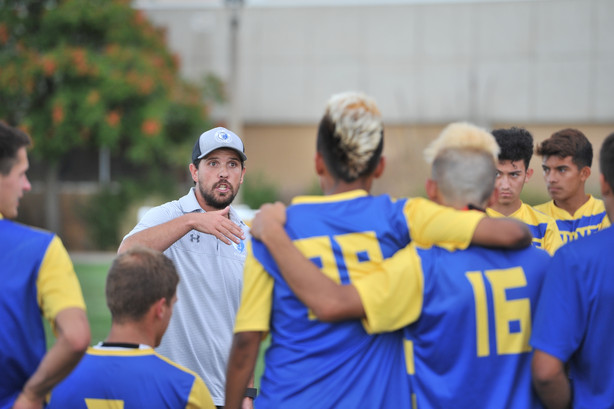 "I think the NJCAA is trying to protect our student-athletes, and if COVID-19 cases go down and we're able to have a full spring season, then it is a good thing," said Salt Lake soccer coach Mark Davis, who in addition to sending players to Division I every year also works with sending off missionaries for The Church of Jesus Christ of Latter-day Saints from his program, typically in the spring. "That being said, where it affects us and the NJCAA is with my players who are looking to transfer after the fall semester.
"That definitely will affect us," he added. "But all and all, we're trying to see the benefit of it. We're trying to keep it incredibly positive, keeping our players engaged for the entire fall semester and getting their grades up."
Every NJCAA Division I sport except cross country and half-marathon will run on a similar schedule. Volleyball, for example, will hold up to five scrimmages in the fall and commence its spring season January 4 through the NJCAA championships April 8-10.
Men's and women's basketball may play up to five scrimmages from Sept. 15 through Dec. 15, prior to official practices beginning Jan. 11, 2021.
Games will start Jan. 29, with region championships completed by April 3, district championships by April 10, and the national championships held April 19, 2021.
Spring sports like baseball, softball and track and field will be minimally affected. That means from January to June, more than 150 student-athletes will be competing on junior college campuses like SLCC around the country.
"It's stagnated a little bit, but for all intents and purposes, it challenges staff, it challenges referees," Dustin said. "There's a trickle-down effect to how this might go across the board.
"But I think we'll find the most plausible plan to play in the spring."
If schools stick to the proper protocols in conjunction with local health departments, then moving athletics to the spring season could prove beneficial.
"It wasn't my first decision, but it's time to make this a positive — and I think it can be a positive," said Davis, whose leadership and faculty at SLCC has been forthcoming and communicative with him the whole step of the way. "If we can buy into the fact that we develop for 60 days and get stronger and come closer as a family, so that our culture grows, and we're stronger than we've ever been.
"I legitimately think this can be the best team we've ever had."
×
Related Links