Estimated read time: 5-6 minutes
This archived news story is available only for your personal, non-commercial use. Information in the story may be outdated or superseded by additional information. Reading or replaying the story in its archived form does not constitute a republication of the story.
ST. GEORGE — With fire conditions remaining extremely dangerous, especially in southern Utah and northern Arizona, a group of agencies announced larger fire restrictions across the region set to begin Wednesday ahead of the Memorial Day weekend crowds.
Color Country Interagency Fire Management officials on Monday announced a wide range of new fire restrictions for nearly all unincorporated county, state and federally administered public lands across Beaver, Garfield, Iron, Kane and Washington counties.
The order states:
No campfires or other open fires are allowed outside of agency improved and maintained campgrounds or homesites in southwest Utah. Cabins or homesites on unincorporated private land within the five counties are required to have running water for fires. Devices fueled by liquid petroleum are not included in the ban.
No campfires are allowed at Zion National Park, including the Lava Point campground.
Campfires are allowed within constructed pits at Glen Canyon National Recreation Area's established campgrounds that are "below the waterline only (and) in areas completely void of vegetation."
Exploding targets and tracer ammunition aren't allowed within the restricted areas.
No cutting, grinding, welding of metal, or use of acetylene torches in areas near vegetation.
No smoking near vegetation or outside of a developed recreational site, personal vehicle or building.
No fireworks or other pyrotechnic devices can be launched outside of incorporated city limits. Launching fireworks anywhere in Utah is illegal until 11 a.m. July 2.
All of the listed restrictions will begin at the stroke of midnight Wednesday and remain in place until further notice. The Beaver County section of Fishlake National Forest was excluded from the restrictions that will go into place this week.
The order doesn't include any incorporated areas within the region; towns and cities may have their own fire restrictions.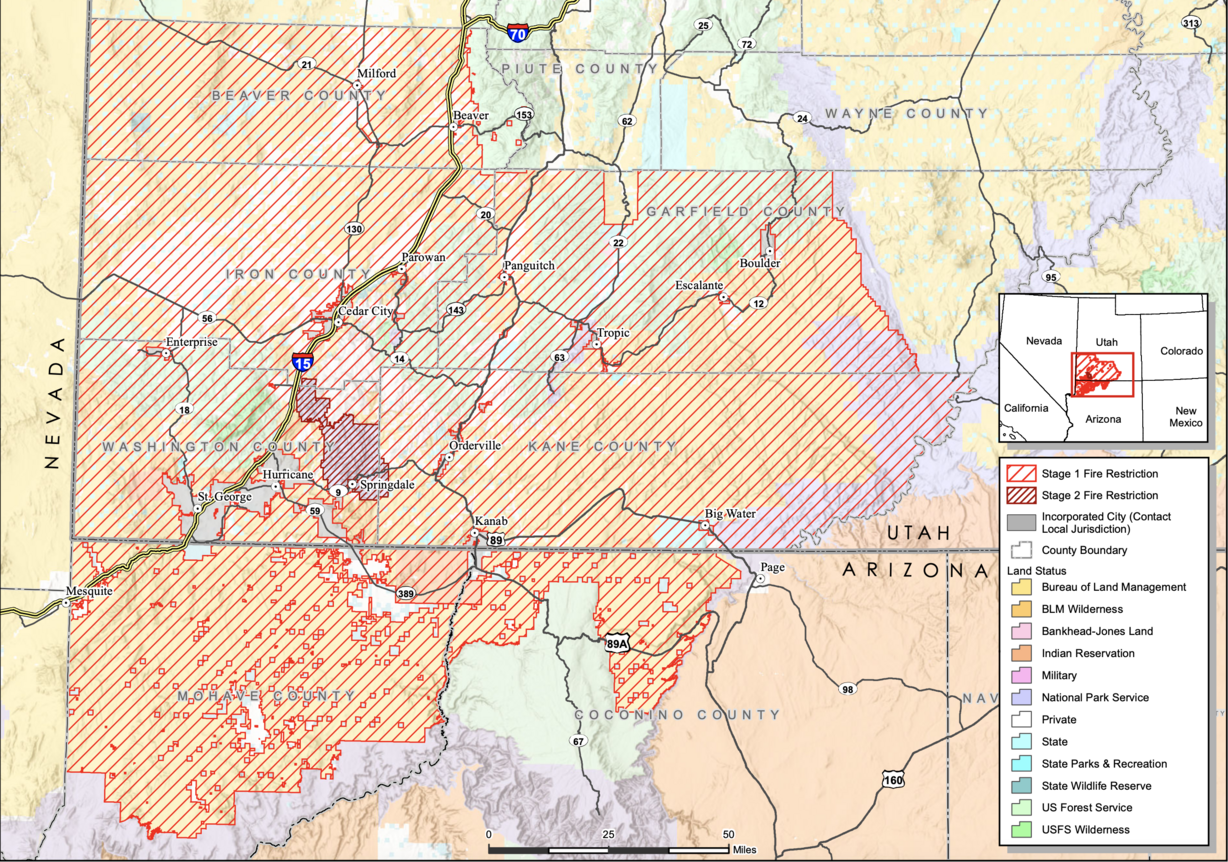 Color Country Interagency Fire Management officials said the region's ongoing drought and "record low" precipitation levels along with "higher than usual" visitor numbers factored into the decision to issue the order this week. Mike Melton, the Utah Division of Forestry, Fires and State Lands's southwest Utah area fire management officer, said the winter's low and nearly melted snowpack in the region advanced dry conditions at least one month ahead of schedule. The region's mountainous areas are where the worst conditions are right now.
That means the area is experiencing peak fire danger conditions now instead of late June and early July.
"We're nearing records in the energy release components and just the fuel moistures themselves," he said. "The high elevations are critical, and the other areas are nearing critical. When we (issue) these restrictions, we use them as a tool to prevent unwanted fires."
The order goes into effect just before the Memorial Day weekend, which is when visitation to recreation areas in the region typically begins to rise. Melton said the order was deliberately released ahead of the holiday weekend to prepare for the recreation rush.
It also goes into effect as crews have already dealt with "increasing numbers of human-caused wildfires," and the long-range weather outlooks haven't offered any signs of fire danger relief, said Bureau of Land Management Color Country fire management officer Josh Tibbetts in a statement Monday.
The Utah Wildfire Dashboard — run by the BLM and Utah Division of Forestry, Fires and State Lands — shows that 245 fires have happened in Utah already in 2021. At least 94% of the fires are listed as human-caused, compared to just 11 total confirmed naturally caused fires. The map shows many of the fires in southwest Utah were human-caused and several have happened along or near the I-15 corridor.
"We are responding to more vehicle-related fires this year because of cheatgrass coupled with dry conditions at lower elevations," Tibbetts said.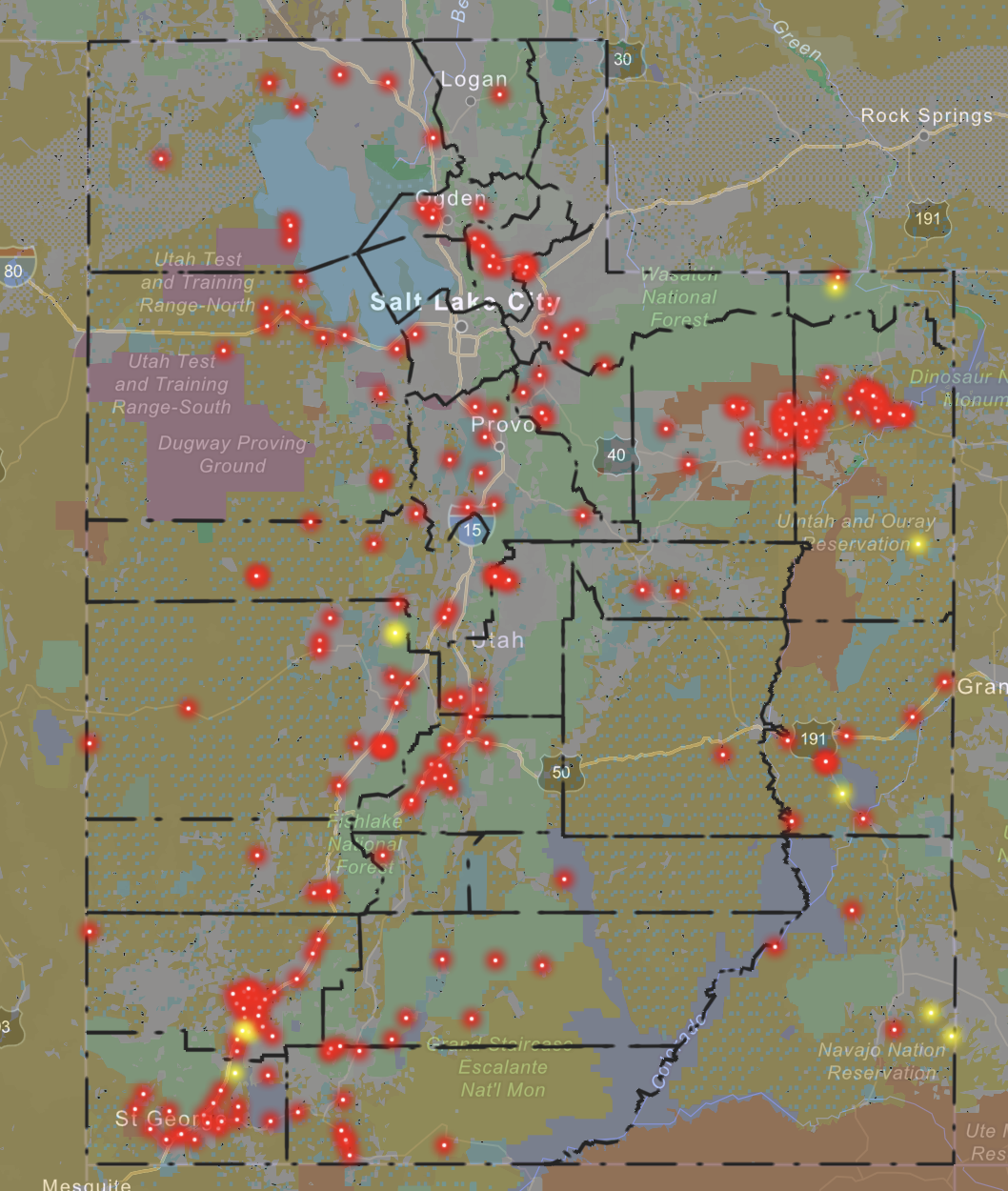 There was also a small fire near Zion National Park's south entrance earlier this year.
The announcement Monday comes a week after the BLM announced it banned the discharge of explosive material or exploding targets, fireworks, or any steel component ammunition on any land managed by the bureau in Utah. Utah fire management officer Brett Ostler also ended the closed fire season early for the five southwest Utah counties included in the new Color Country Interagency Fire Management order.
Gov. Spencer Cox said last week that Utah's drought conditions and fire season outlooks looked "really bad."
"We need everybody to be especially cautious," Cox said about recreation and fire risk this summer.
None of this is to say fire experts don't want people to recreate in Utah at all this Memorial Day weekend or throughout summer. They just want people to make decisions that will avoid causing a wildfire given the current conditions.
For instance, Melton explained that propane is a safer alternative to the traditional campfire because it doesn't produce embers and the heat source can be stopped with the turn of a valve instead of strategic work to make sure the heat source is adequately out. That's why liquid petroleum products were excluded from the ban.
In addition to avoiding recreational activities that could start a fire, he added that it's also important that drivers secure any chains so they don't drag them on a roadway. That's another leading cause for new fires.
"Be mindful of your actions," Melton said. "People's careless actions do have consequences that can be quite devastating to the surrounding area."
×
Related stories
Most recent Outdoors & Rec stories