SALT LAKE CITY — If the feeling is that only previous winners of a major championship should feel confident to win another, then Tony Finau's belief at this year's PGA Championship at Kiawah Island may be misplaced.
But that's not the case, at least not for Finau. The Rose Park native has been close so many times before — including a T4 finish at last year's PGA Championship, which marked his sixth top-10 finish over the last nine majors, going back to the 2017-18 season.
Finau hasn't won on the PGA Tour since the 2017 Puerto Rico Open; could a breakthrough finally be coming in South Carolina?
"Only a certain amount of guys actually believe they can win, deep down," Finau said during his pre-tournament press conference. "I believe that I'm one of those guys, with my track record and my golf game.
"I look forward to the challenge this week … There are only a certain amount of guys who believe they can win, and hopefully I'm that guy this week."
Kiawah Island golf course also suits Finau's game as well as any course on tour. The 7,876-yard, par-72 course will play even longer this week as it navigates around the windy oceanside course located about 25 miles southwest of Charleston.
Other names that have been tossed about as potential winners include long hitters like Rory McIlroy, Xander Schauffele and Jon Rahm, according to ESPN's panel of golf media.
LIVE Now: @tonyfinaugolf#PGAChamp Player Interview https://t.co/sSmocjKDaX

— PGA Championship (@PGAChampionship) May 18, 2021
And that's why Finau used one of his early practice rounds to play the court as long as it could be — moving back tees, tabulating pin positions, and testing his long irons during a round attempted by only him early in the week.
"I think our job as players is to be prepared for all of it," Finau said. "That's why I wanted to play it at its max length: to just play it at its toughest element, and know from there, I can move my sightlines as the tee moves up. I think it's easier to play that."
If anyone can survive that pace, it's Finau, who averages 309.8 yards per drive while hitting 520 of 1,004 possible fairways. He's hitting 66.5% of greens in regulation, and is .351 off the tee — putting him squarely in the top-35 on the PGA Tour.
That's why the Utah native was hitting 3-iron into the wind at the par-3, 238-yard 14th hole or driver/3-wood on the par-5, 608-yard No. 16.
"They're going to switch up the tee boxes a lot," said Finau, who will also take advantage of the PGA Tour allowing limited use of Rangefinder technology to navigate the course. "I'm sure they'll do a great job of switching up a little bit, and giving us some leniency on length into the wind."
Finau, who recently moved his family from their home in Lehi to Arizona to aid his training year-round, is playing as well as anyone on tour — despite being one of the few non-major winners in the top-20 of the World Golf Rankings.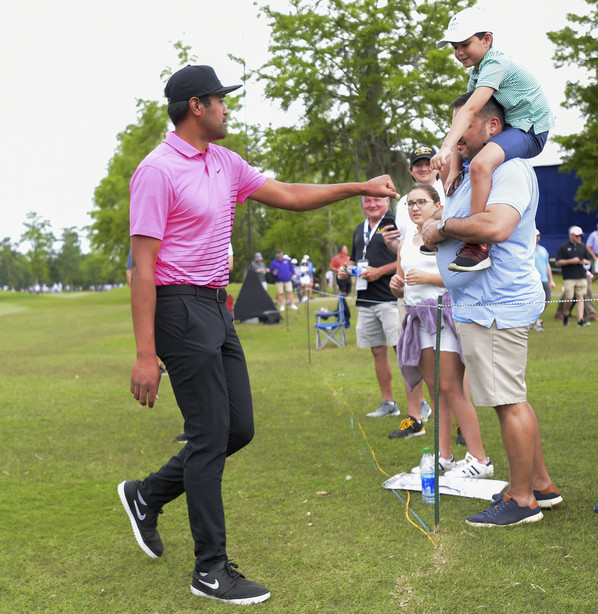 The No. 14-rated golfer has made 13 made cuts this year, Finau has finished in the top-25 13 times with six top-10 finishes and two runner-up appearances. That includes a T10 at The Masters and T8 at the U.S. Open, while also carding 12-under-par 272 for second-place honors at The Genesis Invitational in February.
Much of that run goes back to this time last year, when Finau shot a sparkling 66 to finish at 10-under 270 and tied for fourth before Collin Morikawa surged to his first PGA Championship title in the Bay Area.
"It was a big round for me," Finau said. "I had a chance to win coming down the stretch there. Morikawa made an amazing eagle on 16, which kind of put the tournament away for a lot of us hovering around 10-under. He was able to put the golf tournament away with one swing.
"Barring that, any of us could've won that tournament, and I was one of them. But I was one of the few in the thick of it to win a major championship; I think that was a big stepping stone for me."
He'll also take inspiration — or at least, some good luck — from another Utahn in the field at the 103rd PGA Championship. Joe Summerhays, a local teaching pro who is cousins to recently retired touring pro Danny Summerhays, will tee off at 10:36 a.m. MT as the only other Utahn in the field.
Strange things have happened, but Summerhays isn't considered a contender at this week's major championship. But his appearance could mean good news for Finau.
"Whenever I am in the PGA, we get somebody (from Utah) to play well," he told the Deseret News. "Hopefully, I play well, make the cut, and then watch Tony win it."
Because whether you win it or not, there's just something special about a major.
"I look forward to the four major championships," Finau said. "Tiger referred to them as the four weeks that mattered to him; a lot of the top players in the world feel the same. As my career has evolved throughout the years, I'm starting to feel the same.
"The major championships are our threshold for pro golf. I haven't won one yet, but I'm starting to show up for a lot of them. Hopefully I knock the door down, and hopefully it's this week."
103rd PGA Championship
Tee times at the Ocean Course at Kiawah Island, South Carolina
Thursday, May 19
10:36 a.m. MT — Sami Valimaki, Joe Summerhays, Richy Werenski
11:03 a.m. MT — Tony Finau, Matt Fitzpatrick, Corey Conners
Friday, May 20
5:11 a.m. MT — Sami Valimaki, Joe Summerhays, Richy Werenski
5:38 a.m. MT — Tony Finau, Matt Fitzpatrick, Corey Conners
×
Photos
Related Stories