Estimated read time: 4-5 minutes
This archived news story is available only for your personal, non-commercial use. Information in the story may be outdated or superseded by additional information. Reading or replaying the story in its archived form does not constitute a republication of the story.
SALT LAKE CITY — In the end, Tony Finau's putter finally warmed up.
It just wasn't quite enough.
Not by much, though.
Finau shot 4-under-par 66 to finish with a four-day total of 10-under 270 and tied for fourth at the PGA Championship, the first major of the modified PGA Tour season Sunday afternoon at TPC Harding Park in San Francisco.
Collin Morikawa won his first major after the second-year pro shot 6-under 64 on the final day.
Morikawa was followed by Paul Casey (66), Dustin Johnson (68), Matthew Wolff (65), Jason Day (66), Scottie Scheffler (68), and Bryson DeChambeau (66) in the top-four, including ties.
"I was playing to win it, there's no question about it," Finau said after his round. "I've got a lot of top finishes in major championships. It's great to put yourself in that position, but when I teed it up this afternoon, I wanted to win the golf tournament — not have a close finish.
"It's great to have played this well. Hopefully, I keep knocking and my day comes soon."
With the fourth-place finish, Finau now has a top-10 finish in all four majors. Sunday marks his best finish at a major since finishing third at the 2019 British Open.
Nothing against Finau, who started the day three shots off the lead — or any of the other contenders, for that matter — but Morikawa was unstoppable playing near his college stomping grounds. Playing in the penultimate group, the 23-year-old Cal product had four birdies on the day, and a remarkable eagle on the par-4 No. 16 to take control for good.
"It just fit my eye," Morikawa said of No. 16, moments after the top tumbled off of the Wanamaker Trophy. "We were hoping for a really good bounce and we got it, hit a really good putt — and now we're here."
Finau and his playing partner DeChambeau got to the same point through nine — that is, 2-under 33. But the two took wildly different paths. While Finau opened with back-to-back birdies before seven-straight par saves, DeChambeau had four birdies but stroked back-to-back bogeys on Nos. 8 and 9.
All the while, players like Casey, Wolff, Scheffler, and Cameron Champ joined the mass just off the top of the leaderboard with Johnson.
With eight players within two strokes of the lead, the final round of the first major of the modified PGA Tour schedule did not disappoint as several young, scrappy players jumped into contention for the Wanamaker Trophy across the afternoon.
At one point, five players were tied at 10-under par, with Finau being just one off the lead.
"I got off to the start that I needed to," Finau said. "It was an ideal start in the situation I was at, chasing down someone like Dustin Johnson and the guys in front. You can't make bogeys early, and I was glad to get off to the start I did."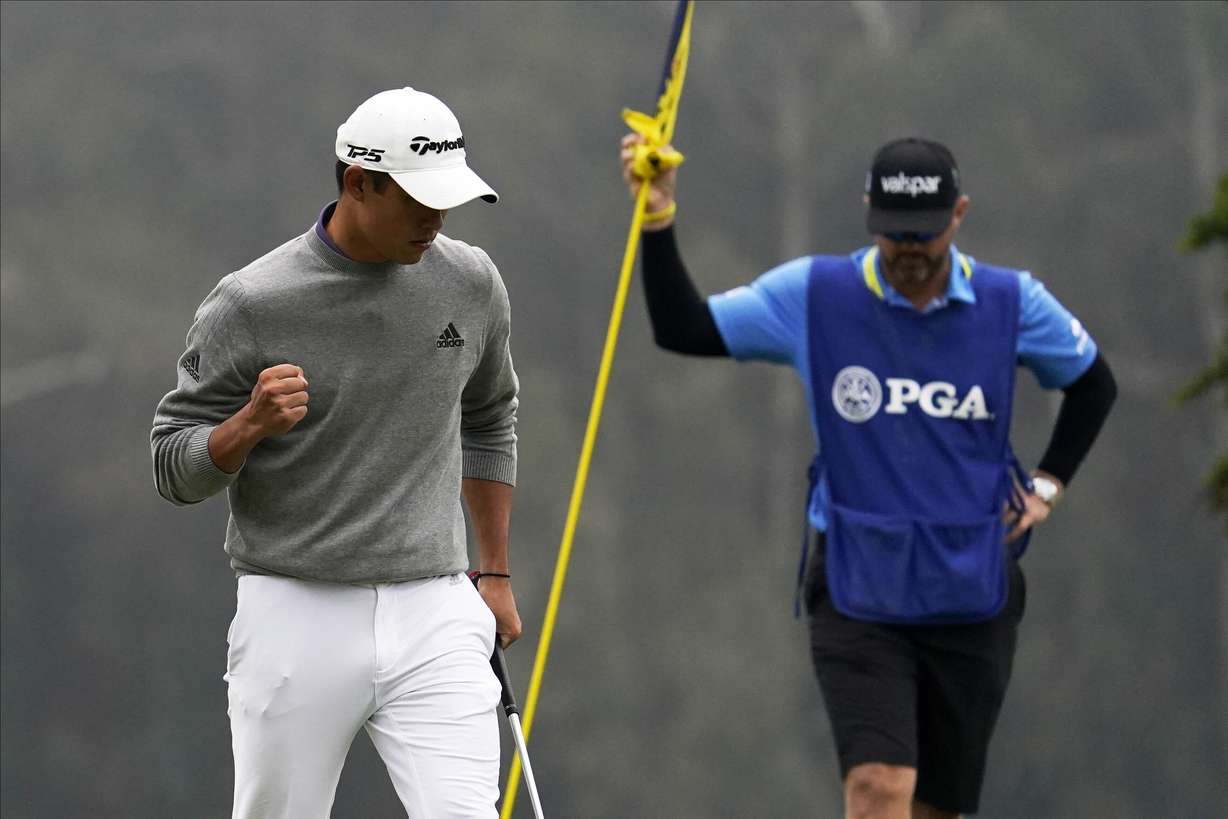 Somebody had to pull away.
That player just wasn't in Finau's pairing.
"Somebody had to pull away and that was it," DeChambeau said. "That's what Collin did. I had plenty of opportunities to do that this week and I didn't do it."
Two of the hardest-striking golfers on tour, Finau and DeChambeau were two of the four golfers who averaged more than 312 yards off the tee all weekend.
But it was the Rose Park native's short game that put him in contention, including a two-putt for birdie on the par-5, 552-yard 10th hole to pull within one of the lead. After playing bogey-free golf through the No. 12, Finau dropped in a 22-foot putt for birdie on the 13th hole to keep himself one off the lead.
He followed with a birdie on the par-4, 454-yard 14th hole to push into a six-way tie for the lead. He then hit the pin on a chip-in for birdie on No. 17 before settling for a short par putt and heading to No. 18 one shot behind Morikawa.
But Finau could get no closer in the 38th top-10 finish of his career.
"I've got plenty of experience in major championships," the West High graduate said. "I know how many crazy things happen, so just try to stay as patient as you can. Try to get to double-digits as fast as you can, and hopefully, you have some holes left to make some more birdies. I felt like I did that.
"Overall, I was happy with the weekend that I had. Not my day today, but a very encouraging week for me."
Finau will be off next week before opening the 2019-20 FedEx Cup Playoffs. The Salt Lake City native ranks 22nd in the Cup standings, with the top 30 qualifying for the end-of-season PGA Tour Championship.
×
Photos
Related links
Most recent Golf stories