SANDY — JC Sanchez didn't end his season with Real Salt Lake Academy with a shutout in Tuesday's Class 2A state championship match at Rio Tinto Stadium.
What he got instead was even better.
The junior goalkeeper has anchored a program with six shutouts and just one goal allowed for a Griffins side that barrelled into Tuesday's Class 2A state championship match at Rio Tinto Stadium. But through it all, he wanted one thing: a goal to call his own.
With six minutes left in the final match, he finally got that wish.
Sanchez scored on a penalty kick in the final 10 minutes, and the second-seeded RSL Academy rolled to a 6-1 win over Waterford at Rio Tinto Stadium — capping the first-ever state championship for the third-year Griffins on the home field of the professional team that bears the same name.
Alex Morales, Jordan Martinez, Ezies Landa, Paul Kim and Noe Vandamme each added a goal for the Griffins (13-5), who got four assists from leading scorer Shawn Curtis.
But Sanchez's goal meant something special to the keeper between the pipes during that offensive run to end the season.
Everything was perfect — the precise placement, the strike, beating the goalkeeper. Right down to the post-goal celebration, when Sanchez found the team photographer and ran into the camera.
Then he forgot to stick the landing.
.@rsl_academy wins its first @UHSAAinfo 2A state title by scoring 6 goals against Waterford, including this penalty from goalkeeper JC Sanchez. pic.twitter.com/tqJoCIQtkA

— KSL.com Sports (@KSLcomSports) May 18, 2021
"It feels like you've won the World Cup, like you scored the winning goal," said Sanchez, who got up and laughed off the fall. "It's just an unreal moment.
"It's probably No. 1 moment in my life, for sure."
RSL Academy finished the season on a 75-2 spurt across their final 10 matches. That may seem odd, considering the Griffins only scored one goal in a narrow finish over Rowland Hall in Monday's semifinals.
But that proved to be key to Tuesday's win, as well.
"We had a lot of pressure on us this year to get here and do well. But yesterday's semifinals were really tricky," RSL Academy coach Oliver Brittain said. "I think yesterday, we only scored the one — but we created enough chances to score three, four or five; I think a lot of it was nerves.
"Getting it out yesterday made today work easier. We were a lot calmer, and we knew what to expect."
David Paul scored in the 67th minute for Waterford (11-5) to prevent the shutout — only the eighth time all season that RSL Academy has conceded at least one goal, including a four-match winless streak to start the season against 5A and 6A competition.
Morales put the Griffins ahead in the 33rd minute, when the junior juked the Waterford defense, rounded an outstretched goalkeeper inside the six-yard box, and tapped in the go-ahead goal.
The striker's 12th goal of the season set RSL Academy on a path, and Martinez doubled the advantage just four minutes later.
The forward with nine goals on the season nearly bagged another before halftime, too. But Martinez's breakaway on an empty goal caromed off the post with 14 seconds left, and the Griffins took a 2-0 lead at halftime.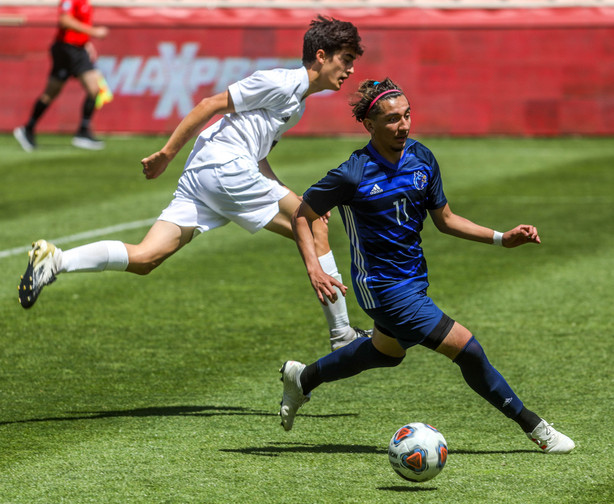 Regardless of the score, RSL Academy — that charter school in Herriman that is affiliated with the Real Salt Lake organization but not the one that just hired goalkeeper Nick Rimando that plays in the nationwide MLS Next network — was on the attack, much like it has been all year.
"We love to score, obviously," Curtis said. "But I think one reason why we're so explosive is because we have a really good bond. We're really good and able to be ready and aware of where the next player is going to expect us to be.
"The pass is already on, and we just get the ball, play it through, and let them get the ball and score."
Landa opened the second half with RSL Academy's third goal, finishing his ninth goal of the year with a cheeky chip that sailed over the defense and dipped under the crossbar in the 45th minute.
Kim added a goal in the 54th minute for the Griffins to go up 4-0. Paul broke through 13 minutes later, but RSL Academy finished off with goals from Sanchez and Vandamme to seal the win and their first title in school history.
The Griffins stumbled into the season on a four-match winless skid as they played up against 5A and 6A competition, including a 3-1 loss to Skyridge, a 2-1 defeat to Mountain Ridge and a 2-2 draw with Lone Peak that ended with a loss via penalty shootout. But RSL Academy also beat 4A Ceadr Valley and 6A Herriman, and hasn't lost since April 9 — three days before beginning 2A Central Region play.
All those early-season losses seemed to melt away as Sanchez soaked in the celebration at Rio Tinto Stadium, and laughed as his head coach was drenched in a post-match Gatorade shower.
"With this win, we become a bigger name," Sanchez said. "Other students can know about us, and we want them to come and develop in our program. I think it's just progress for our team and our school."
Class 2A boys soccer state championship
RSL Academy 6, Waterford 1
RSLA: Alex Morales, Jordan Martinez, Ezies Landa, Paul Kim, JC Sanchez (PK), Noe Vandamme.
WAT: David Paul
×
Photos
Related Stories